Meet our crew
The role of our SeaScape skippers
So why are our SeaScape trips so different?? Many reasons – but most of all, it's our SeaScape skippers. All have many years of sailing experience and of course the requisite professional qualifications from the RYA, ASA or AYF. However – unlike the more common bareboat-with-skipper option, where the skipper's responsibility ends with getting the boat to/from port – our skippers' role goes far beyond that.
Lots of people can sail a boat. Not so many have the easy-going, sociable leadership skills it takes to look after groups of very diverse people. Our team are chosen for these characteristics above all. They are people who love to share their knowledge of sailing, and who enjoy being part of the group dynamics on board. They'll keep the boats stocked with food and drink that you like, help arrange trips ashore – or perhaps take you along to meet their own local friends and really experience the behind-the-scenes culture!
Not just someone who drives the boat
Our skippered charters offer the chance for even you old salty sea dawgs to kick back, and have a relaxing vacation too!! No matter how many years sailing experience one might have – local knowledge is still worth all the gold in Davy Jones' locker.
Where are the cool swim-stops that aren't in the guidebook? The best tavernas? And of course – the home-from-home welcome which our local families always give our SeaScape sailors…
Whether you're a total newbie or getting-miles-up-for-yachtmaster – our skipper guys and gals are happy to share their own extensive experience and skills with you on a one-to-one basis.
Meet the crew
Skipper Di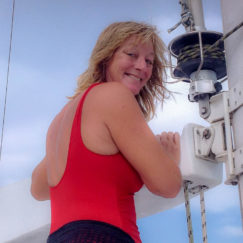 Also known by those who sail in her Aegean realm as "The Goddess Diana," or "Mother Hen"! After completing a degree in Psychology at Sussex University (UK), she spent her early years vacillating between boat-bumming and the software industry. An increasing gathering of potential sailors wanting to join her trips to Greece inspired her to take the plunge and buy our first boat "Vassilis" – and so SeaScape was born!
Her long-held belief in a down-to-earth, "no-glossy-brochure-speak" approach came into it's own even more with the advent of the internet and mobile communications. With the dubious honour of being amongst the first to purchase a cellphone modem in Greece (getting it working was another matter!) – she finally realised her vision of being able to communicate directly and personally with potential sailors – straight from the boat(s) to your home/office.
Whenever she's not actually at the helm of her first "baby", Vassilis – she can usually be found attached at the hip to her laptop, still eternally online.
Greece,Turkey & Thailand are now well-established, but Diane's itchy-feet syndrome hasn't abated. She still heads up exploratory trips for our super-cool community of past SeaScapers, ready for new adventures, new friends!
Captain Ray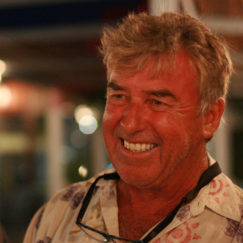 One of our engineers-run-away-to-sea; or perhaps he is regressing, as he started his teenage years as a marine engineer trainee. From the age of 12, he was sailing on clinker built cutters and whalers in the UK; shortly afterwards, heading across the oceans as an engineer on super-tankers. A varied career has followed, including skippering flotillas for a certain well-known competitor, leading groups of young people on volunteer missions overseas… and his most recent "real world job", working in a team developing new technology lasers for eye surgery in Australia.
As our technical manager, Ray is responsible for all our little fleet; ie, if it doesn't work, it's his problem! When asked to write some of his own bio, he claims that he is a "quiet and insular character who likes to get to bed early; not keen on socialising but will do so when necessary". If you sail on his boat, you'll soon learn not to take a single word he says seriously.
Captain Paul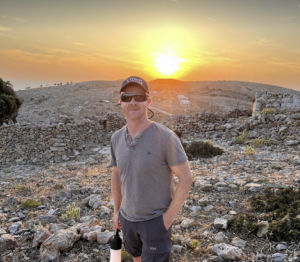 The latest member to join our SeaScape team, Paul hails from a long line of proud Irish fisherman families. Paul has a deep connection with the sea and he loves nothing better than to share that connection with other people. In his former lives, he has been a carpenter, a fireman, a house renovator before finally following his dream to go to sea for a living. We were lucky enough to snag him as our newest skipper for this season.
P.S. He is a guitar player that inspires others to join in on fun sing-a-long's.
Nui
Our infamous (and wonderous) cook on our Thailand trips – Nui can magic up a feast fit for 5* restaurants from just a little boat galley.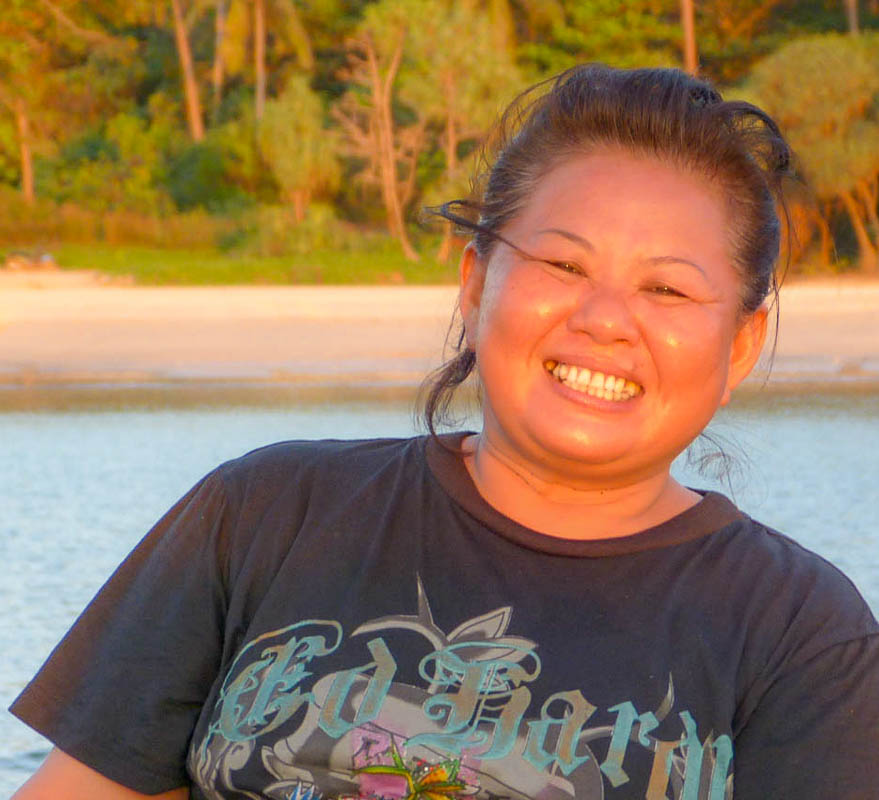 Thai, western, whatever you like – and everything from totally fresh ingredients, there's no "cheat freezer food" on our boat!
There is just one problem with spending a week onboard eating Nui's food; when you go home, no other Thai restaurant will ever taste the same again!
Besides being such a whizz in the galley, Nui's irrepressible sense of humour and Cheshire Cat smile is completely contagious. We have to get all our clients to sign a waiver that they will not stow her away with them back home  – several have tried :).  But Nyami is Nui's home and she's the boss – it's not "Captain's Word is Law", it's Nui's Domain!
Lora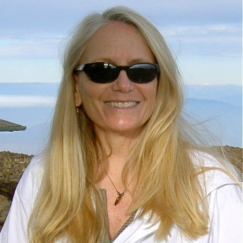 The Face behind the Phone – Lora keeps tabs on all of us, crew and guests!
For those of our Old Salts who have known Judy as part of the "SeaScape furniture" for man years – meet her good friend Lora, our "New Judy"! Lora and Judy were both part of a big group of Seattle-ites who sailed with us multiple times – Greece, Turkey, Thailand. So she has seen our trips from "the other side of the coin" many times, and knows the questions our newbie sailors should be asking before they do.
Like most of us at SeaScape, Lora had her fill of the crazy corporate world and quit her managerial job at a major telecoms company recently. She now embodies all the cool advantages of mobile comms;wherever Lora goes, so does our SeaScape office! Currently, it's Arizona (most of the time).
Despite moving south, Lora and hubby are still Pacific north-westerners at heart; camping, hiking and kayaking are still favourite hobbies. The office probably goes camping also, but not yet kayaking…
Robert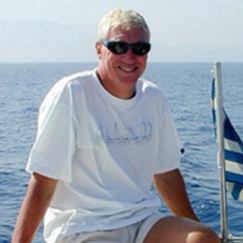 Our Australian accountant and business manager, keeps us afloat financially. Not your ordinary accountant, Robert sold out of his high-pressure city partnership some years ago, preferring a more balanced life of private practice and spending as much time as possible afloat – whether on his own yacht in Sydney, or heading up other SeaScape trips DownUnder.
His other passion in life is the piano; Mr Cool Entertainer has been known to amaze our sailboat neighbours many a time by setting up a mobile "Piano Bar" actually on board! Have Piano, Will Travel – not a bad motto. Teaching non-aussies how to say "G'day Mate!" properly is another of his hobbies…
Besides running the SeaScape finances, Robert also looks after our Sydney base; so if you are also DownUnder, you can call up and talk to him directly about our trips.
Read more on our SeaScape sailboats and team in Greece.