We're somewhat of an oddity in the sailing holiday world.
There are not many other yachting companies who offer singles, shareboat & cabin charter options; even less who make a real effort to "matchmake" their groups, as we do.
For groups looking to charter a whole boat – there are hundreds of other yacht charter companies offering skippered & crewed sailing holidays. Are we pretty much the same as everyone else in this market?
Not really.
How we are different
We don't fit any of the usual niches. Our Adventure Sailing concept falls somewhere in between bareboat-and-skipper and the traditional fully crewed yachts.
Our trips are active, participatory, "real" sailing adventures. We provide all the ingredients – the provisioning, local knowledge and sailing expertise; all you have to do is turn up and have fun! You won't be stepping on any toes if you want to sail the boat yourself – our skippers will be quite happy to let you do that – or show you how! They won't dump you and disappear as soon as you get to port; they're still around to introduce you to our local buddies, organise land excursions, or lead you (astray) to our favourite local watering holes!
If you're with family/a partner and want some personal time to yourselves, that's fine too – our skippers have their own private living space, and no problems with taking a little "downtime" themselves.
Your floating home-from-home
In short, our SeaScape boats are a relaxed, casual atmosphere… like staying with a bunch of good friends.
Everything will be there and ready to go; no wasting precious vacation time provisioning/fueling/loading the boat, etc. You don't have to worry about how much marina fees might be, or if an anchorage is safe for the night. What you will get is invaluable "local knowledge", and the super-enthusiastic welcome that our local friends always extend to our sailors.
Your skippers won't run around you like white-shirted servants, but they WILL be there to look after you like visiting relatives – ready, willing and more than able to help you have the best vacation ever!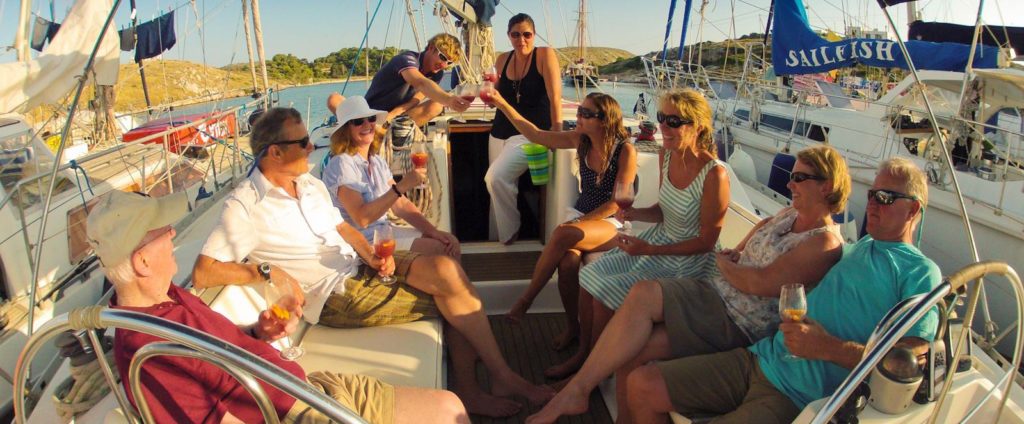 Learn more about the SeaScape Skippers
Check out our past sailors' comments