16th Oct 2022
The first fully operational Thai season since the pandemic – YAY!!! We're back out there !!

Our full shareboat program is back !!  Throughout the season, we'll have nominated dates where you can join as a single, couple, with friends…. without the hassle of trying to organise a whole group to charter a boat.  And mostly – knowing that you will find like-minded people onboard; other adventurous, gregarious souls who may well turn into your next best friends!
One "sorry guys" deal – after several years of holding the same shareboat price of 1695 eur/pp; finally inflation has caught up with us too, and we have to raise our rates to 1795 eur/pp for this season.  However, we know there's several of you who have been pondering joining us – we don't want this to pop up as a surprise to you when you call  / email us and say "sign me up"!
So until Nov 30th, any deposits paid by then will lock in the 1695 eur/pp price.  After that… sorry, but no extensions.
Current shareboat trips:
Here's a quick run-down of the groups which are building momentum right now. We find that once the first few people sign up, it tends to attract others of a similar mindset, so if any of these group dynamics "float your boat", drop us a line for more info !
Jan 13-21    This one just got launched –  so far, we have a 30-somethings couple, space still for both other couples and singles!
Feb 9-17      Almost full – a group of mostly singles, ages 60s-ish… we could really use one more single gentleman to even up the ratio !
Mar 5-13        We'll have a 45th birthday to celebrate on this trip !  Mixed group, both couples  & singles; come join the celebrations  🥂
Mar 21-29      Our BIG singles trip !  We'll have two boats sailing together, lots of social fun and mix n' match between the boats. Please note: this not NOT a "Yacht Week" kind of party-party, hook-up, do dumbass stuff you'd never want your mother to know about sort of trip.  It's a trip for solo travellers who would love the company of others to explore, experience, share the fun.   Yes, Cupid has been known to pay a visit on such trips, but it's not the main aim of the game.   (And OK, we won't tell your mom.  At least if it's not TOO dumbass).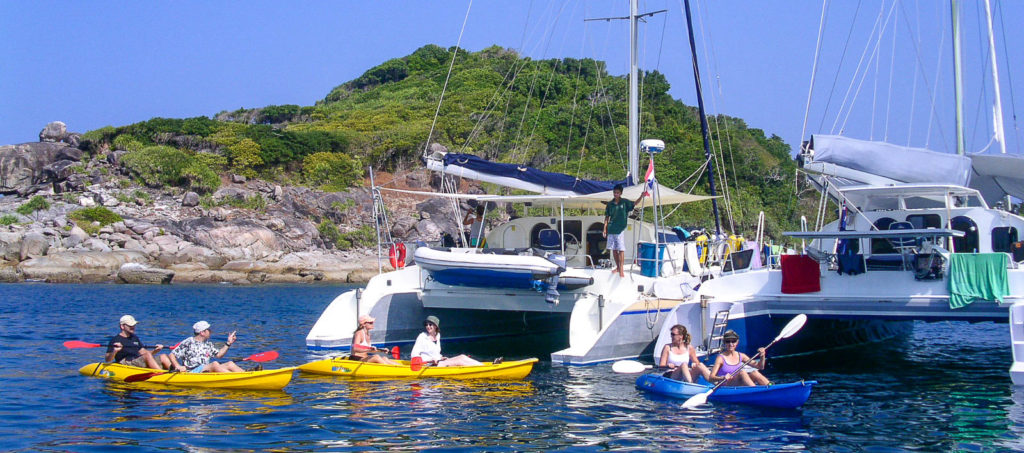 (What IS a "shareboat" anyway??)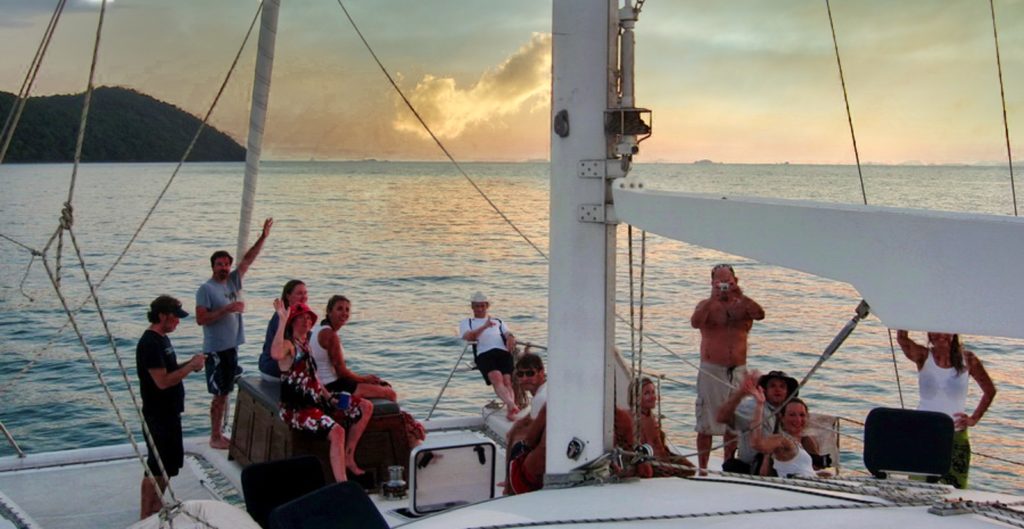 Sail / yoga trips
We'd just got our sail & yoga combo trips launched right before the pandemic, and they were GREAT!  Now with teachers moving on globally, we're having to start from the beginning again to gather the right team.  If you'd like to stay in the loop, just drop us a line.
Here's a cool preview of one of our yoga days onboard this summer in Greece: