May 25th 2023

SAILING GREECE 2023
Yippee, another "normal" post-covid season coming up in our lovely Dodecanese islands !  Bookings are open for private charters, and our shareboat (cabin charter) schedule is available here online too.

LATE BOOKING specials! We have some gaps mid June where we'd love to add another shareboat to our trips. So we're doing a super-dooper "two-for-one" special for June 9-15th and June 16-22nd. Yes, you did read that right – bring a friend/partner and both of you get 50% off our regular price of 1395 euros! If you're travelling solo (don't worry, you won't be alone – we get lots of single sailors!) – we'll give you a 40% off deal. All our usual inclusions – which is pretty much everything on the boat. Dinners ashore are the only addition. Contact us for more info.
If you'd like to bring your own group of friends and have a boat to yourself – great !! Just drop us a line and we'll take it from there.
Later in the season, we have a few specific shareboat groups who are looking for a little more company:
1) July 28-Aug 3 – Our big singles trip! As usual, the ladies are the early planners…. c'mon guys, get your act together and come join us 🙂
3) We have a group of young Aussies sailing in early Sept, who would love to have some other like-minded, fun people come join them, to make it a two-boat social event !
What IS a "shareboat" anyway??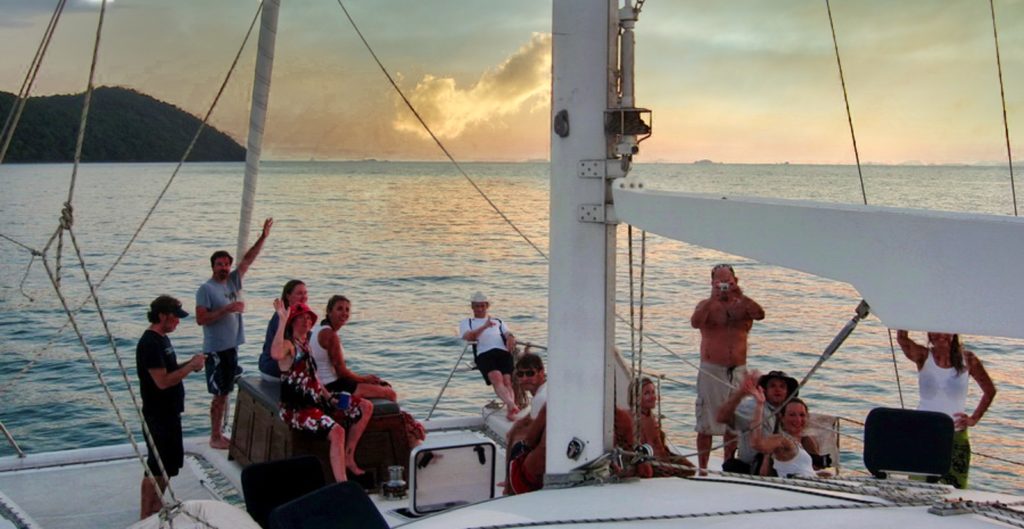 Cabin charter, shareboat, join-in…

What exactly are they anyway? Read more…
Sail / yoga trips
We'd just got our sail & yoga combo trips launched right before the pandemic, and they were GREAT! We're just getting them off the ground again this summer; the first one is in the planning stages right now – Aug 18-24th. If you'd like to be kept in the loop, just drop us a line.
Here's a cool preview of one of our yoga days onboard last summer in Greece:
Our big Philippines groups FINALLY happenned…. after three loooong Covid years!
Yay!!!! After three long years of enormous patience and frustration – we've finally gotten all our Philippines sailors out onto their trips this April – and what amazing trips they were !

We don't have dates set for our Philippines shareboat trips next year as yet; but do email us if you are interested and we'll be doing a "dates vote" sometime soon!