Greece / Turkey Pricing Info
Choose your sailing option
Options for Individuals
Travelling solo, or with a friend/partner?  We're one of the few companies who can offer you the chance to join a group of fellow adventurers on a real sailboat! Check out our shareboat prices below.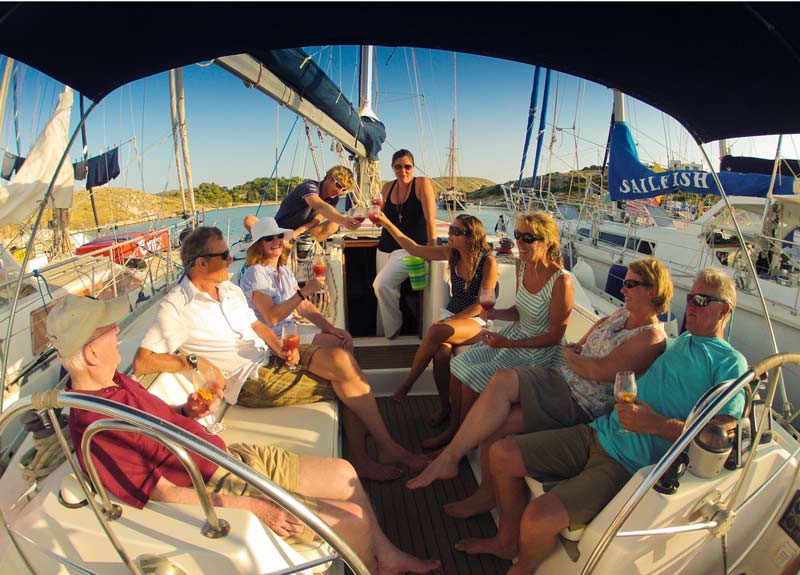 Shareboat Rates
For individuals, couples, or friends travelling together, these are our prices to join our shareboat (cabin charter) trips.
1 week
11 Days
Price per person
1395
2195
Prices are in euros, and based on sharing a double cabin. Sole use of a double cabin is sometimes available. Pls see our FAQs on shareboats for more info.
Read on for What's included.
For our Special Interest trips, such as Photography and Yoga, please see those sections for their respective prices.
Own group rates
With a private group, the boat is all yours – you won't be sharing with anyone else.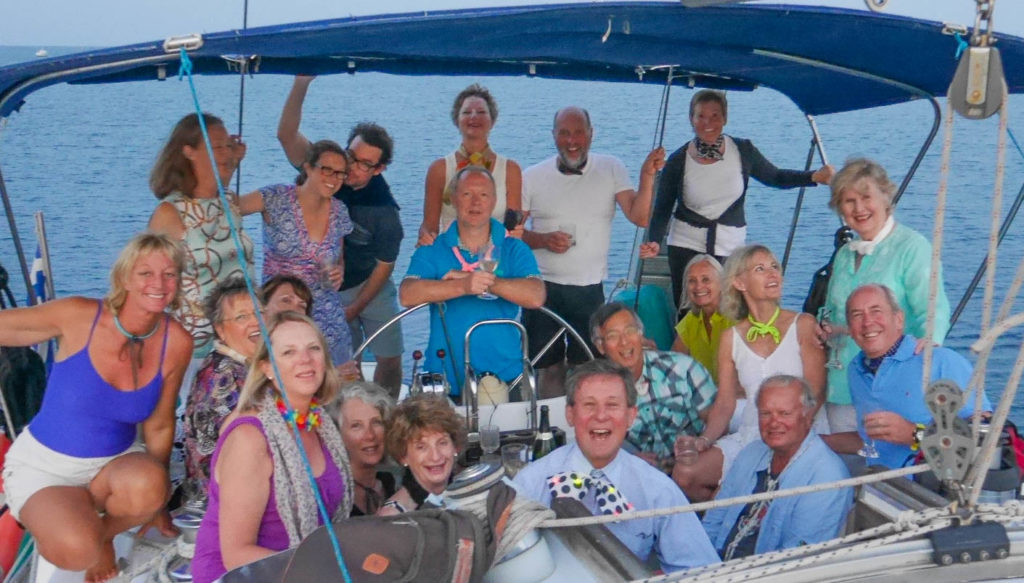 60th birthday party, and it's Bow Tie Night !
We have a range of various boat sizes to suit anything from eg, your dream honeymoon to a mega 60th birthday trip with three boatloads of friends!
With private groups, the price is for the whole boat, not per person. Prices are scaled according to how many people are aboard.
Artemis
Angelina
Omiros & Osiros
Fusion
What's included
The Bottom Line: What will it cost?
Our philosophy is very simple; our costs are as inclusive as we can sensibly make them. We figure most people would prefer to know ahead of time what the total vacation cost is; not have to worry about little additional surprises along the way!
So unlike the more usual yacht charter deal – there's no unexpected extras to catch you out halfway ("Oh, you didn't realise how much this marina costs?" or "That'll be another 300 euros for the fuel bill, thank you very much!" ).
With the more usual bareboat-plus-skipper arrangement, you're up for everything else – fuel, water, mooring, insurance, local taxes, food, on board bar bills – even the skipper's food and drink.
On our Adventure Sailing trips, once you get on the boat, everything on board is covered. We provide provisions for breakfasts, lunches, soft drinks – and on our shareboats, the first evening's Happy Hour drinks are on us! And yes, you are more than welcome to bring your own drink(s) on board too.
The only thing we don't include is dinners – in Greece & Turkey, the local taverna experience ashore is much too much fun to miss! So we go to little places ashore every evening. The skippers will organise a group gathering for those who want to join; if you want to wander off and explore by yourself, that's fine too.
Basically, SeaScape's philosophy is that nasty $$ surprises don't do anything for a relaxing vacation – and we emphatically don't work that way. We'd prefer you to eat, drink and be merry – without worrying how much extra it will cost!
What's Included:
Accommodation on a 49′-55′ yacht in a double/twin cabin
SeaScape skipper
Informal sailing instruction if desired
Provisioning for breakfasts & lunches (on a help-yourself basis)
Complimentary Happy Hour on the first night
All boat running costs (fuel, water, mooring, etc)
All local taxes
What's Not Included:
Transportation to/from the boats
Personal travel insurance
Dinners and other onshore costs
Inclusion
The 'Other Guys'
SeaScape
Diesel
Refill diesel tanks at end of charter
Allow around 200-250 €/wk
Unlimited
Water
20-30 euro per fill
Included
Boat insurance
Typical security deposit around 1500-2000€
Included
Mooring fees
Varies hugely from 0-80 €/night
Included
End cleaning
DIY at end of charter or pay up —approx 80-120 €
Included
Skipper
Anything between 150-200 €/day. "On duty" time generally considered to be sailing only.
Do your own shopping, sightseeing, and make sure you pay for/provide skipper's meals too!
Our skippers keep the boat well stocked with provisions, tell/show you the coolest local places to go.
Your insider connection to the locals and our little SeaScape "family".
Learn to sail?
Not usually.
Depends on the goodwill of the freelance skipper you get.
Informal sailing tips always available!
We're more than happy if people want to get involved in sailing the yachts.
Provisioning
Breakfasts, lunches, soft drinks, unlimited help-yourself snacks, fresh fruit, etc...
Alcohol
First Happy Hour round is on us - then you're welcome to BYO!
Dinner
Usually ashore in a restaurant
(in Thailand, about half of our dinners are onboard, prepared by our amazing cook!)
Meal service
We all help out!
Linen
Make your own beds!
We make 'em the first day; after that, it's up to you!
Price

Varies according to boat chosen.
Plus all the extras.

Add up all the extras for a bareboat-with-skipper and you'll find our prices are generally less.