A Classical Lady with grand style and character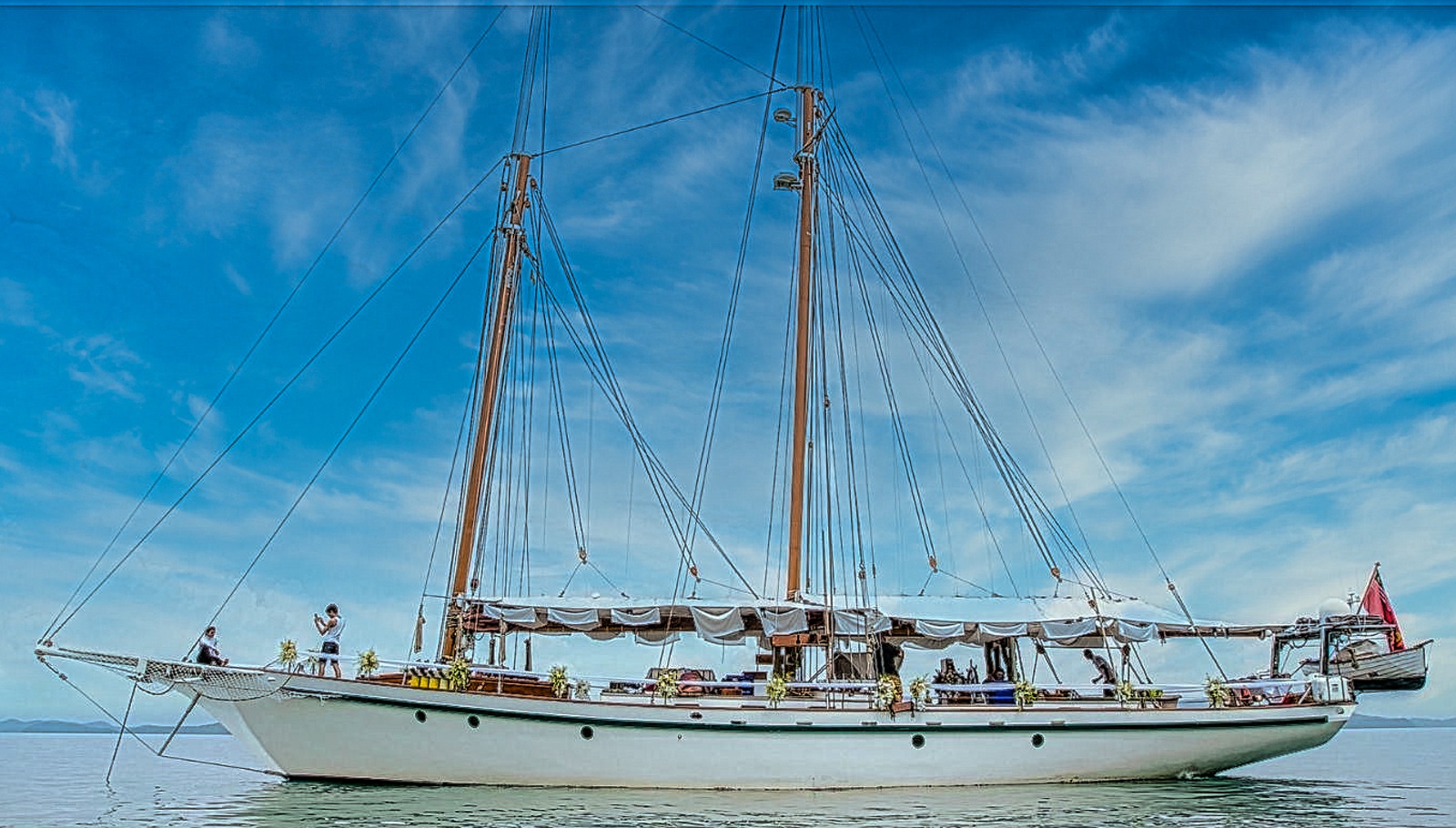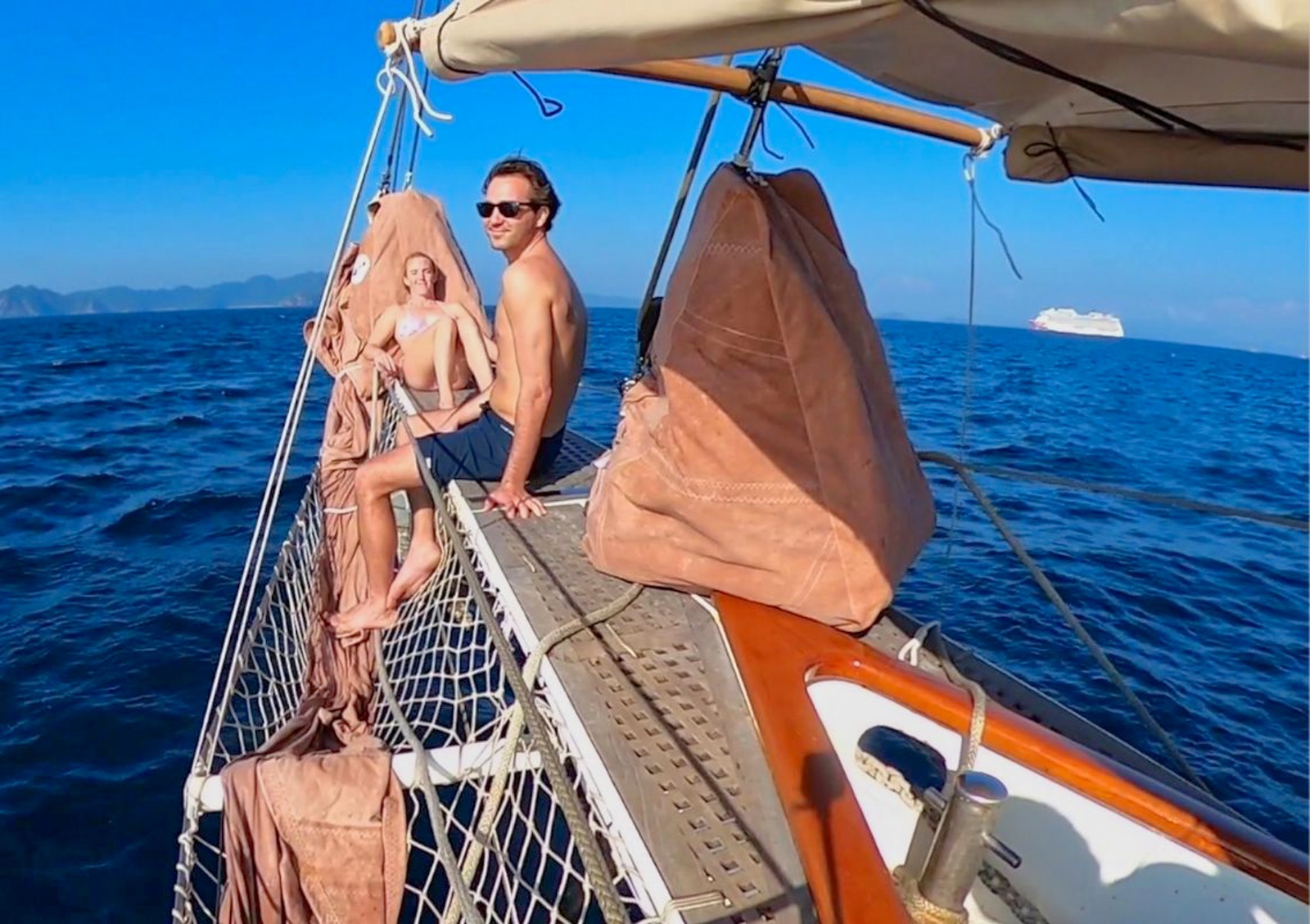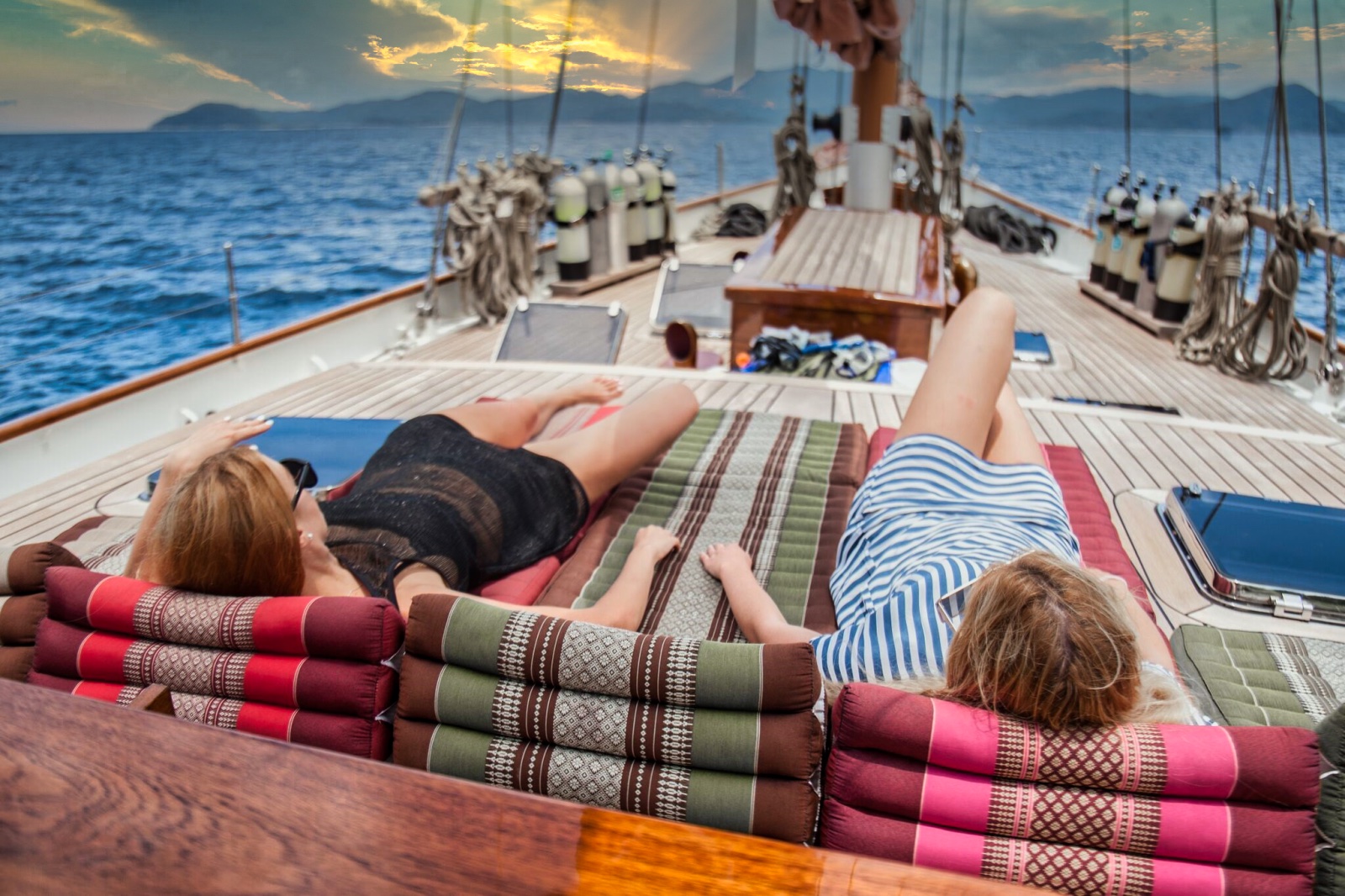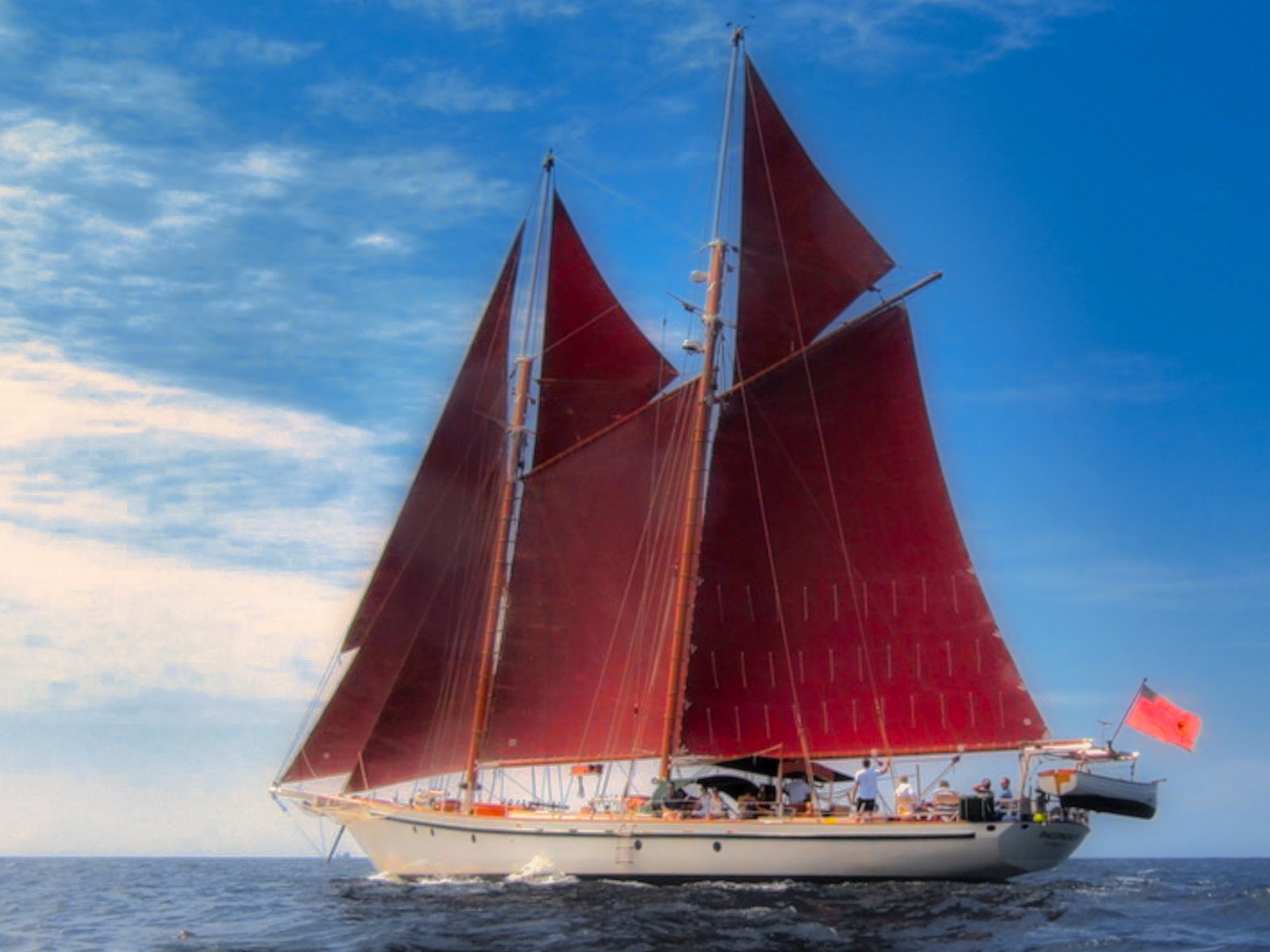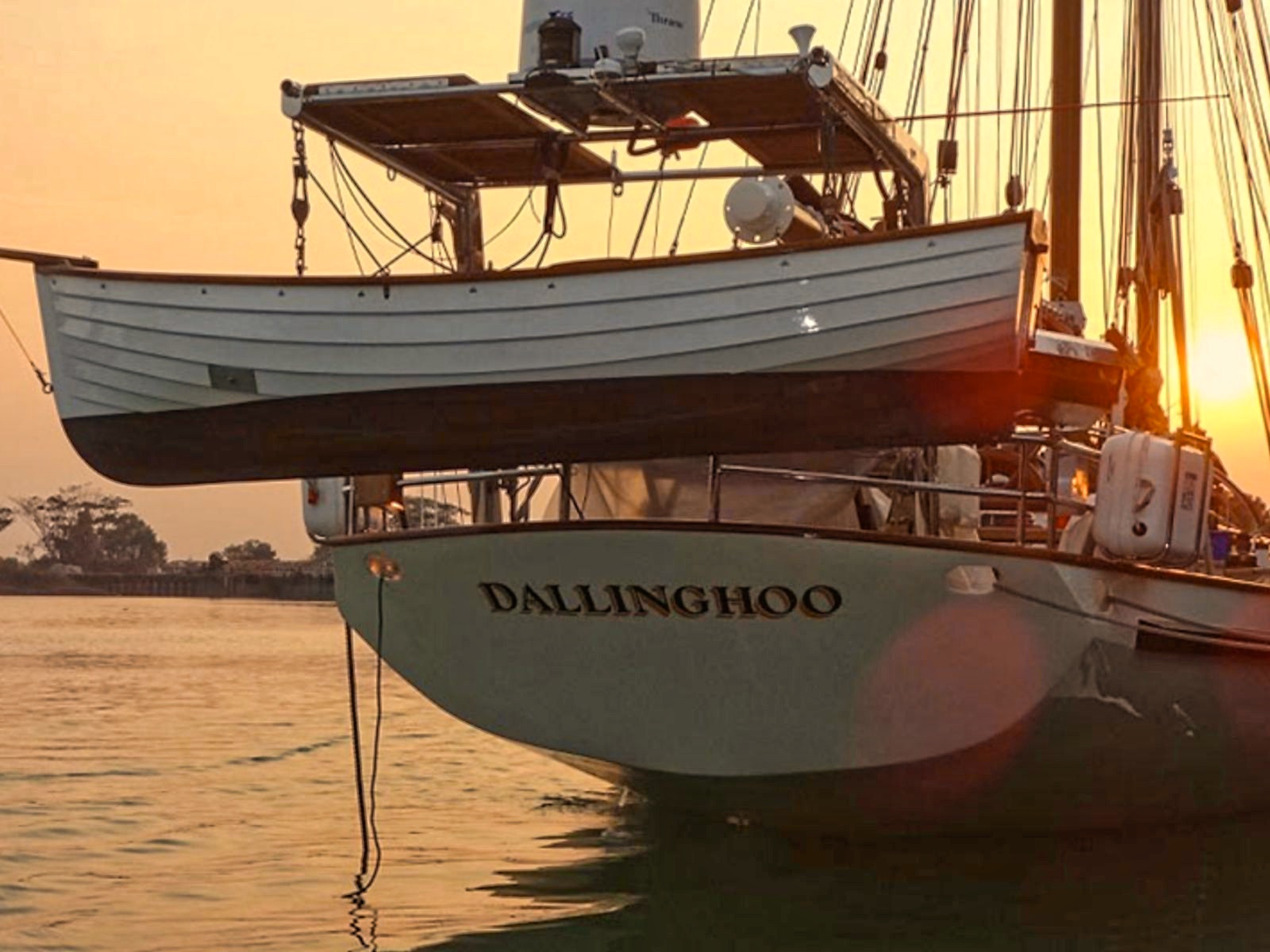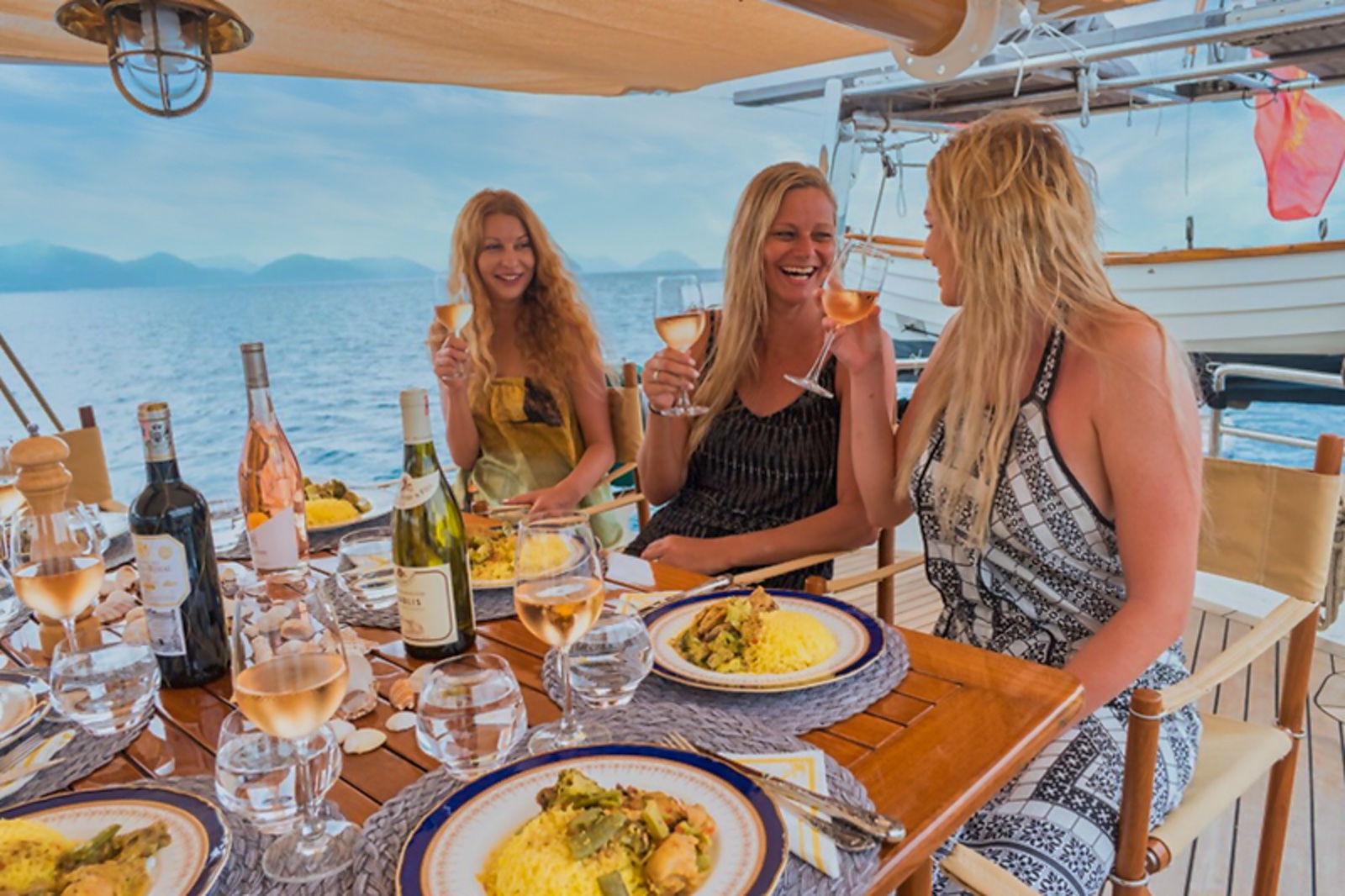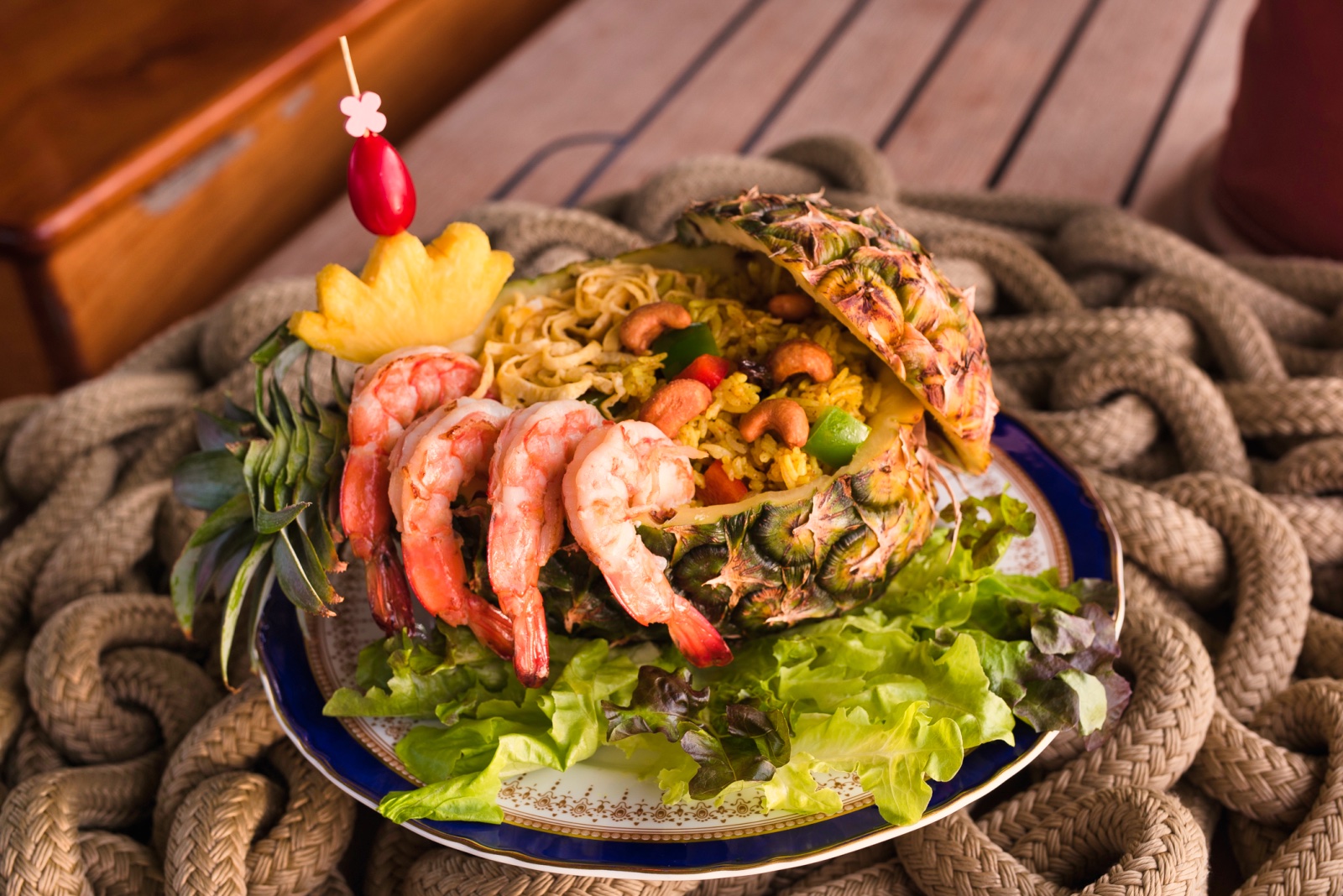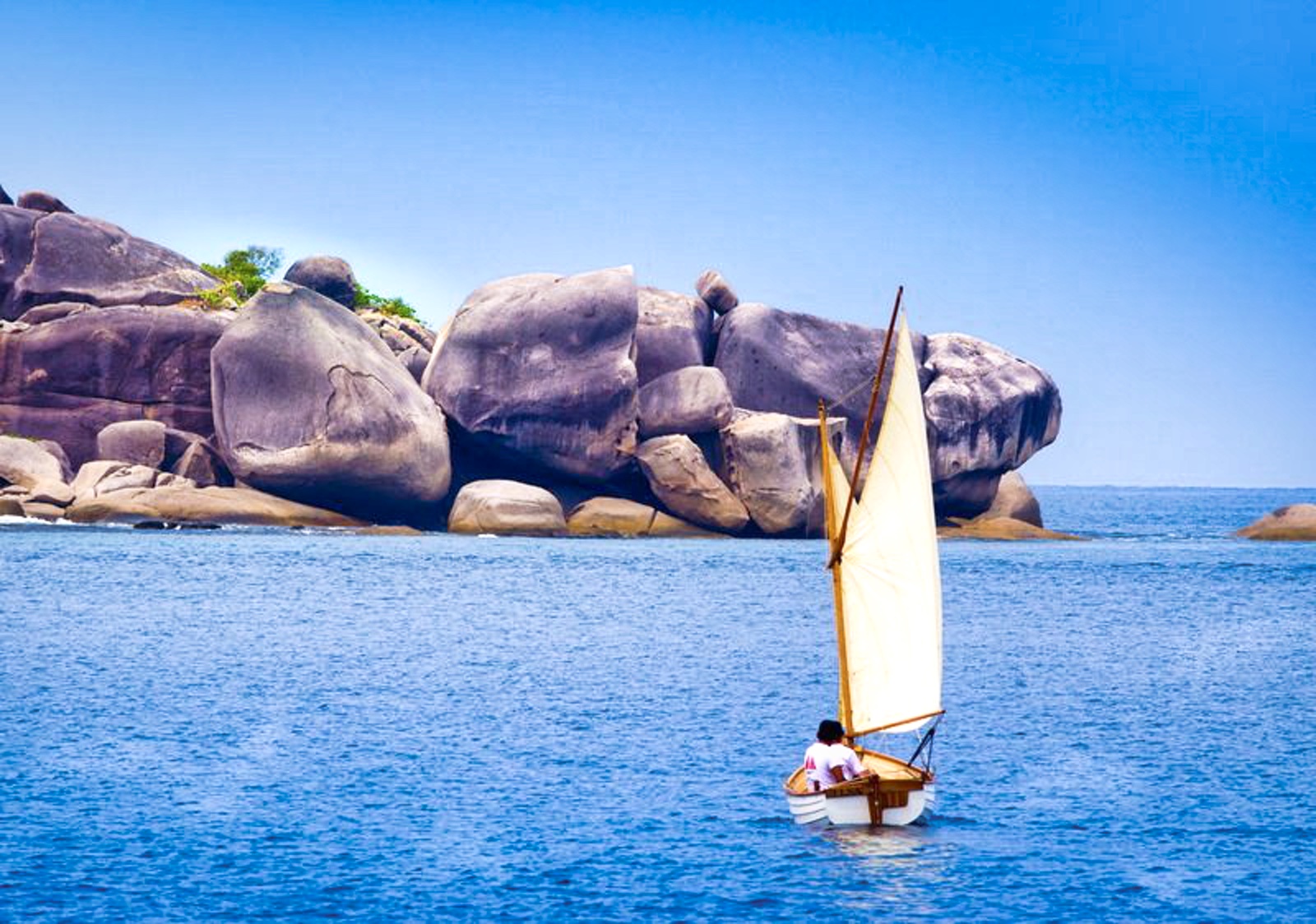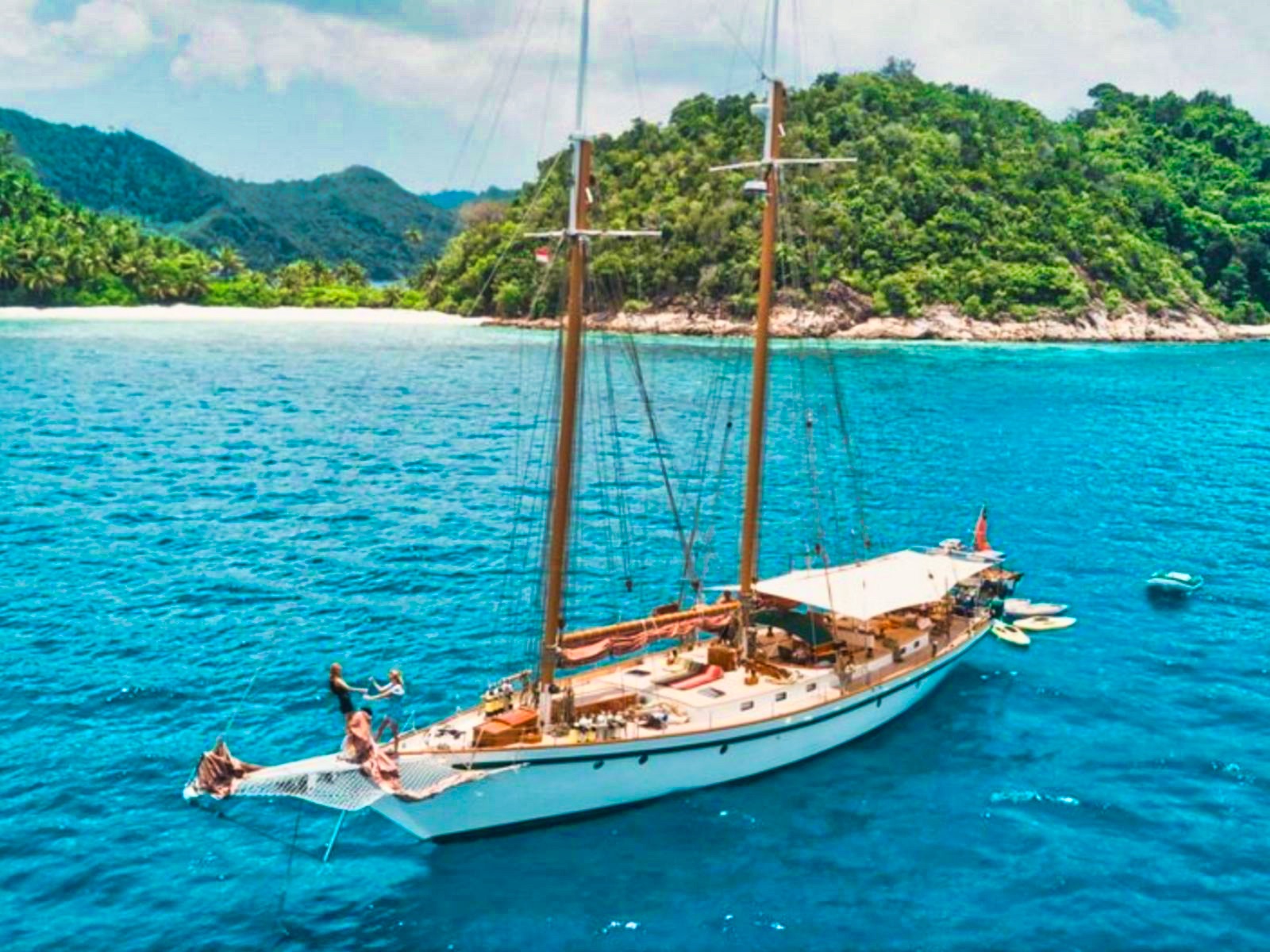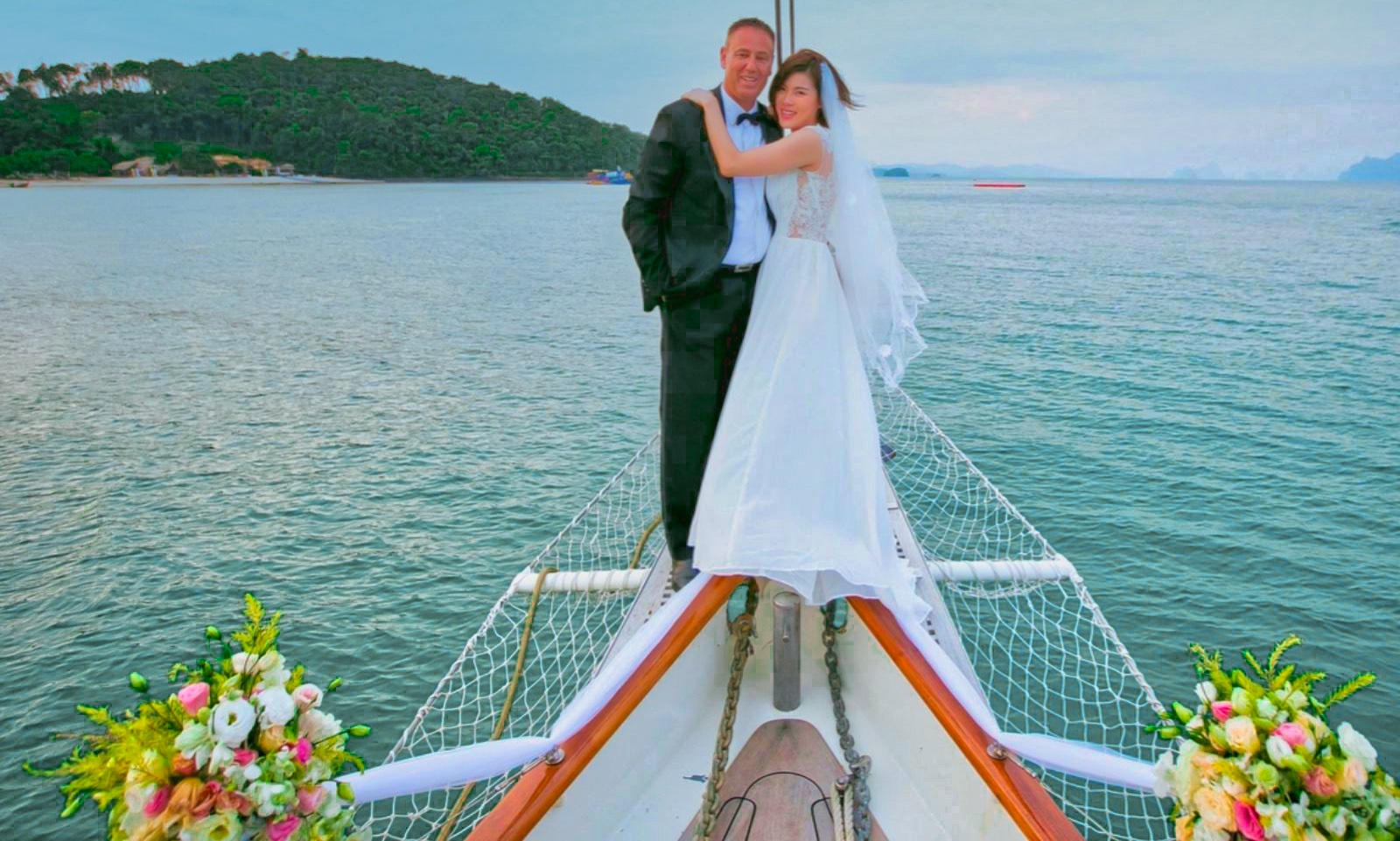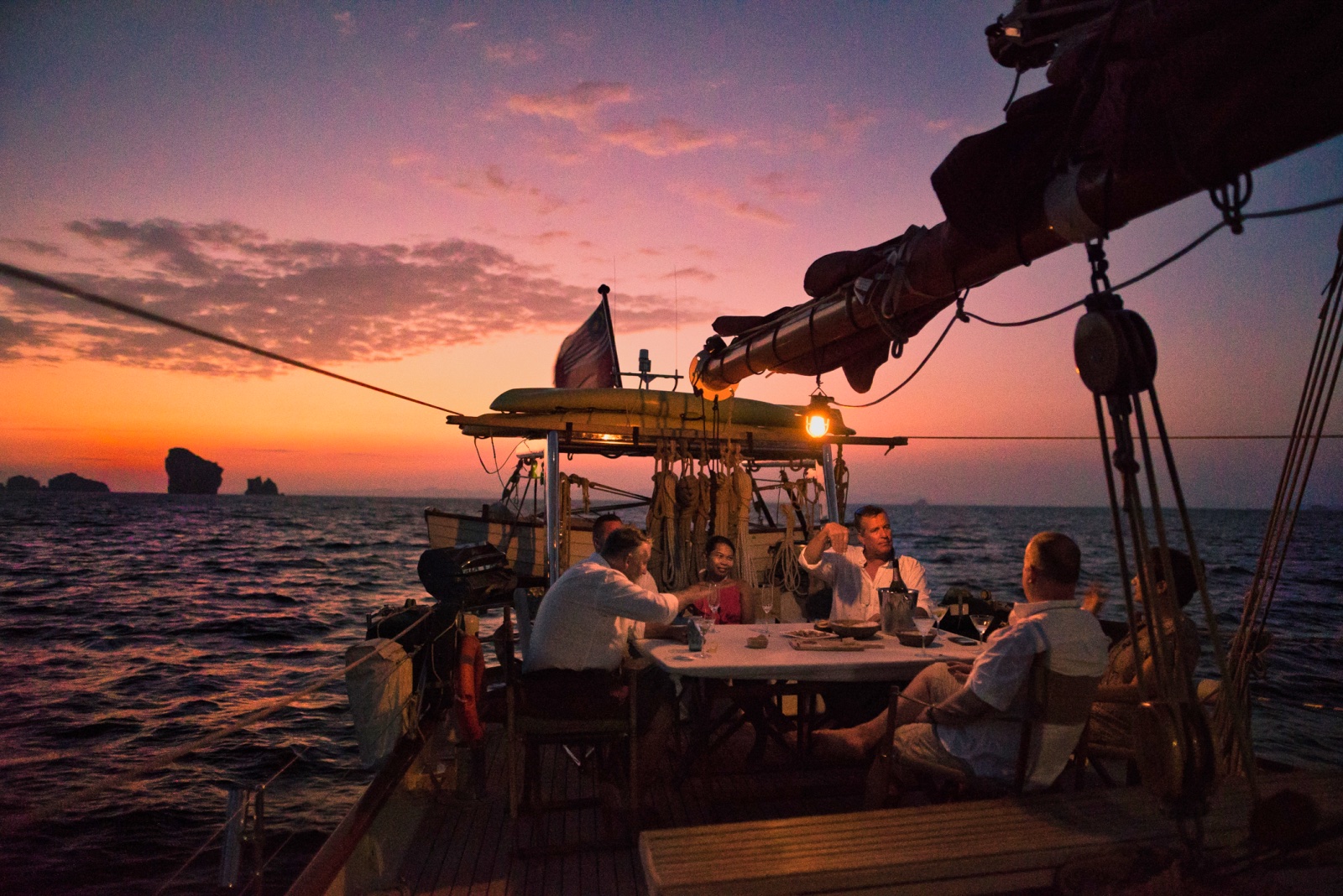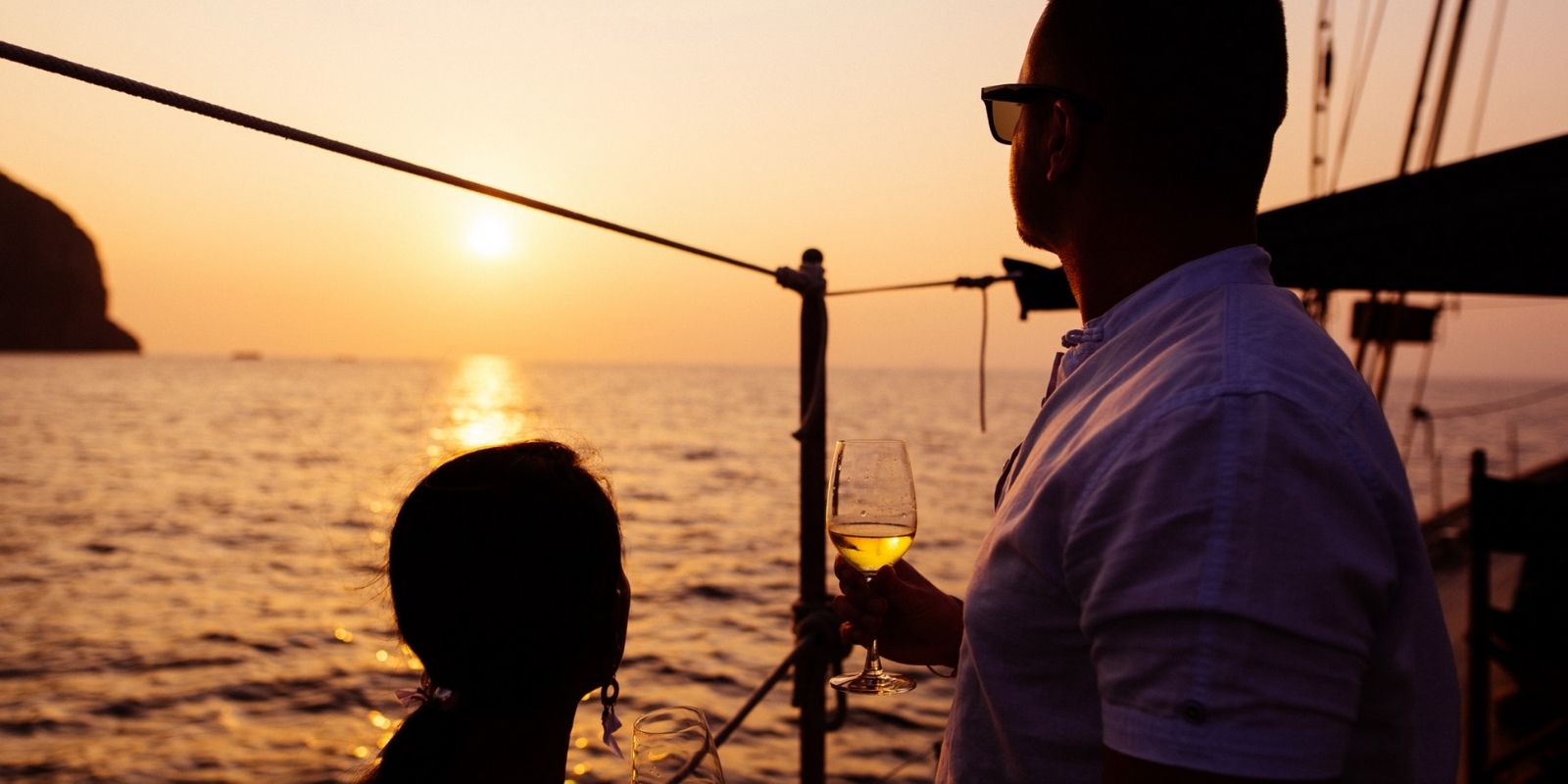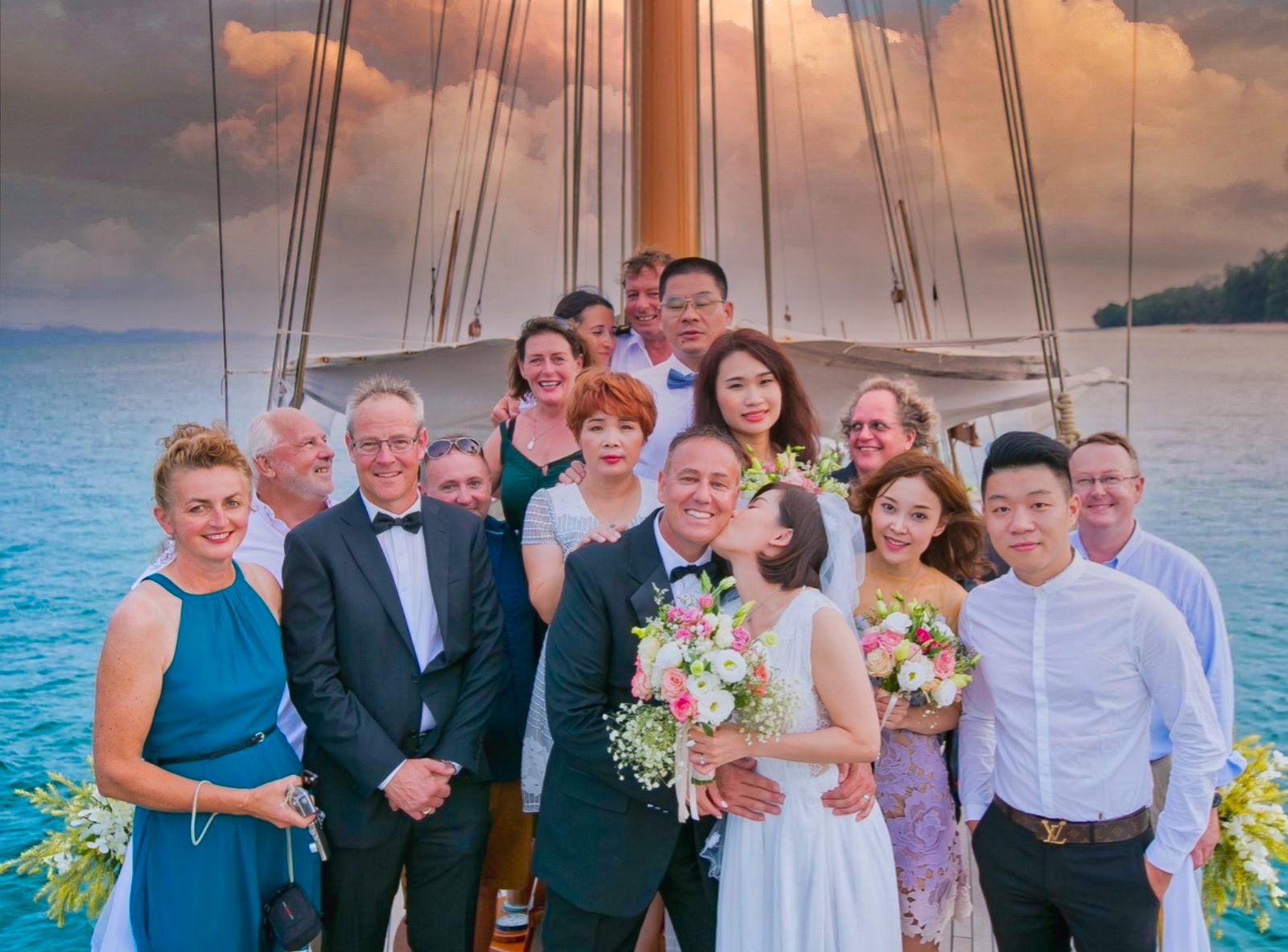 Dallinghoo - people on bowsprit
Dallinghoo deck cushions - ex
Dallinghoo stern & dinghy
Blondes at lunch on Dallinghoo
prawns on deck - Dallinghoo
Dallinghoo sailing dinghy
Wedding couple on Dallinghoo
Sunset happy hour on Dallinghoo
sunset wine on Dallinghoo
wedding group - Dallinghoo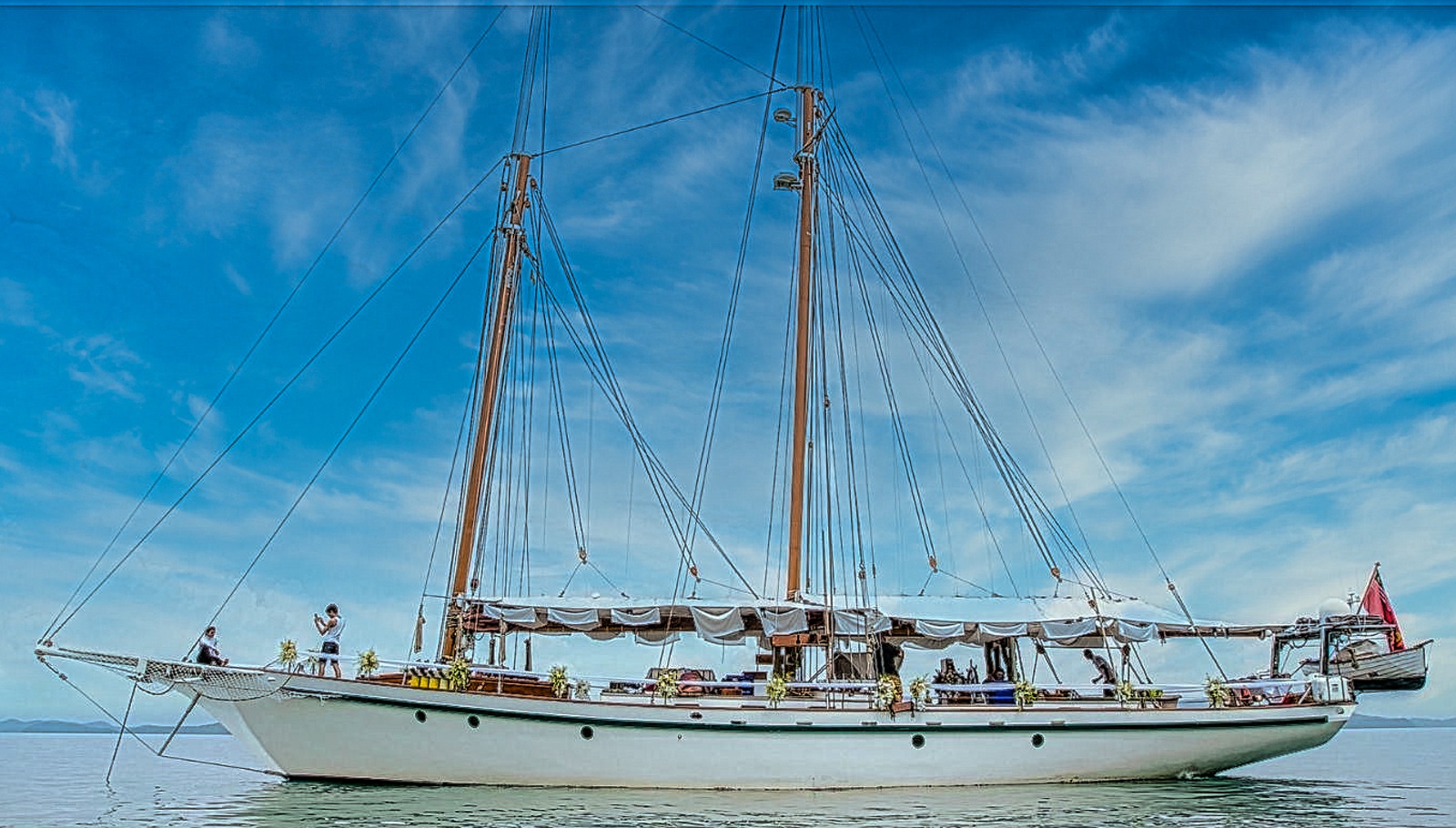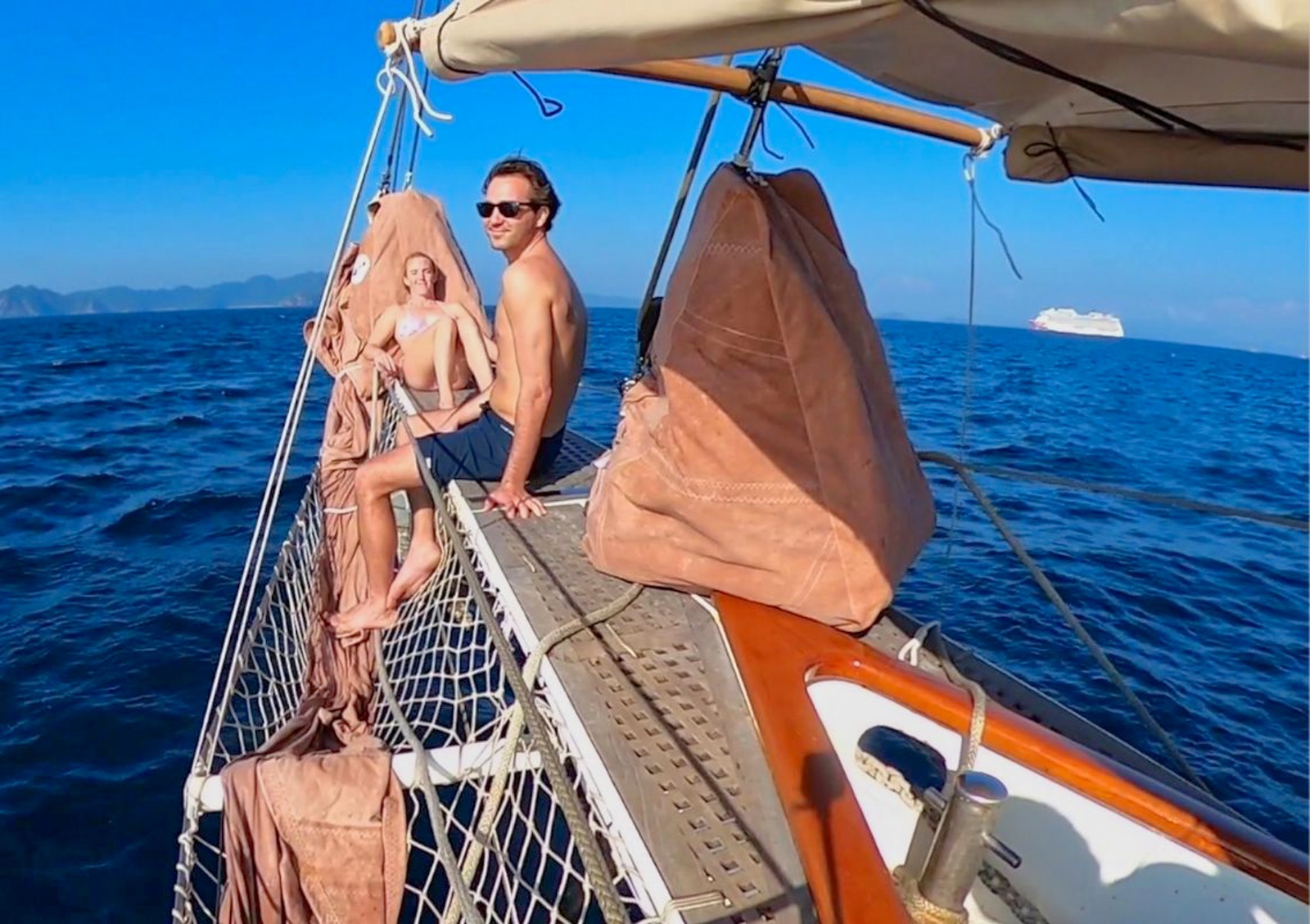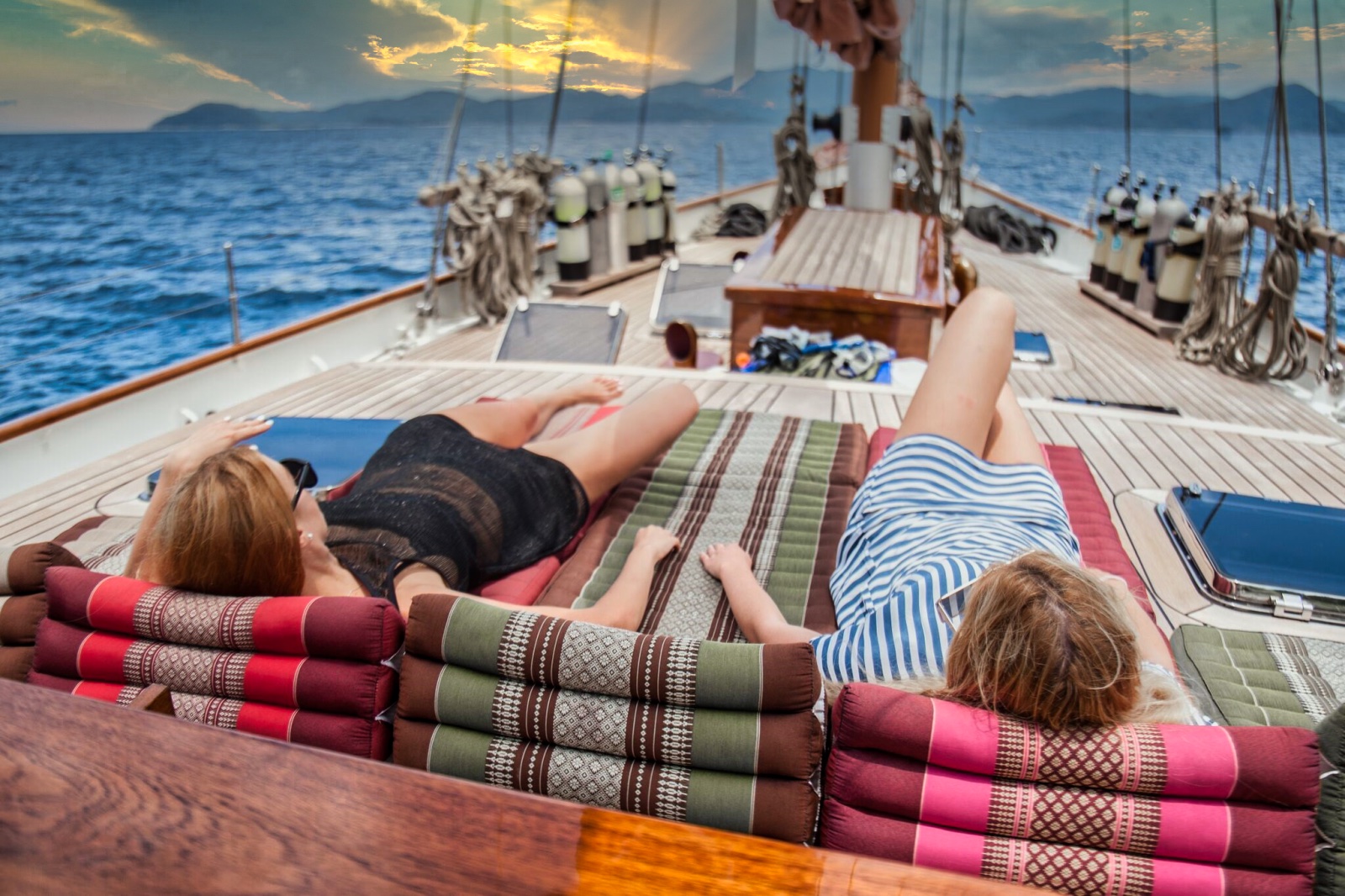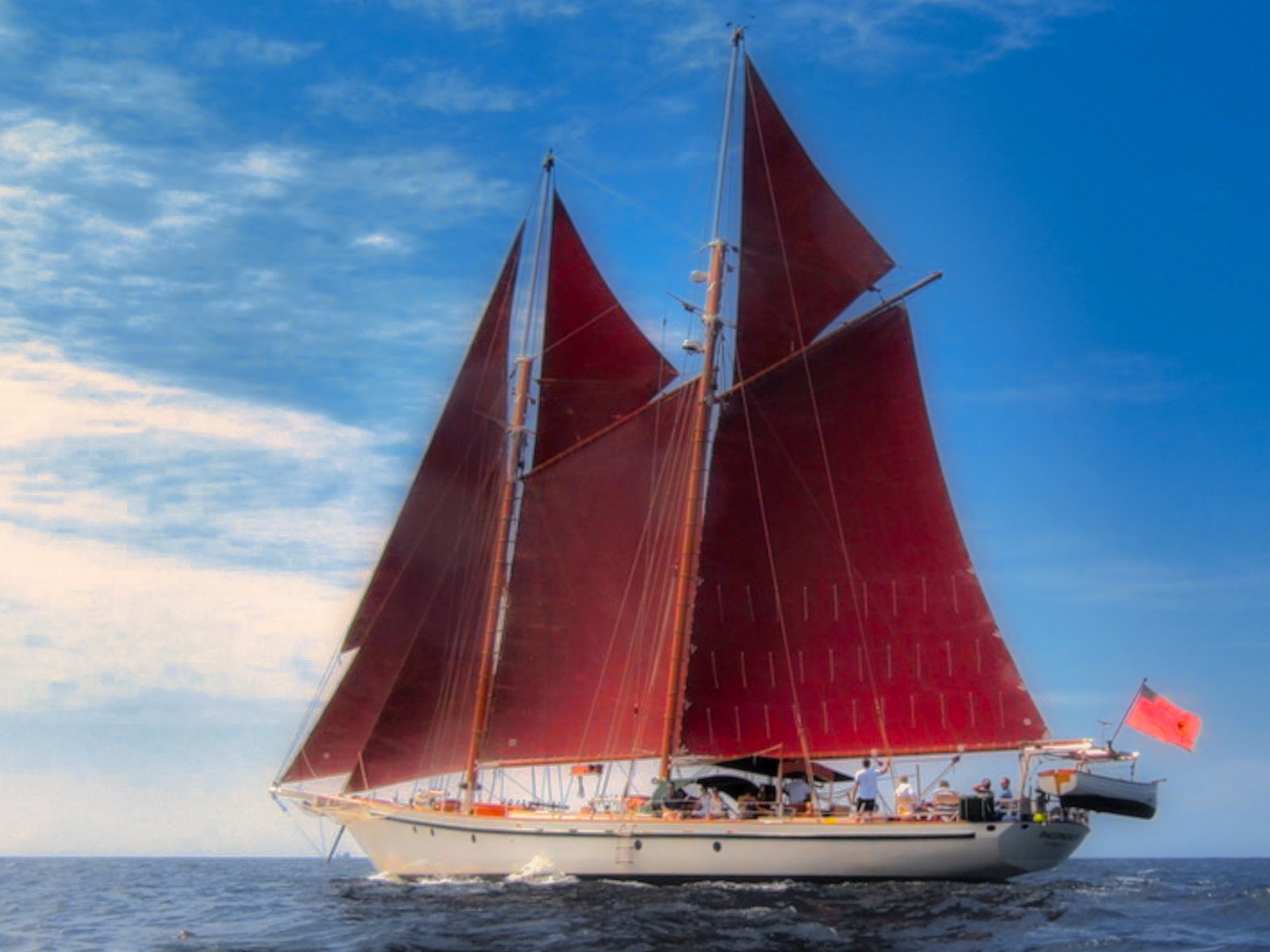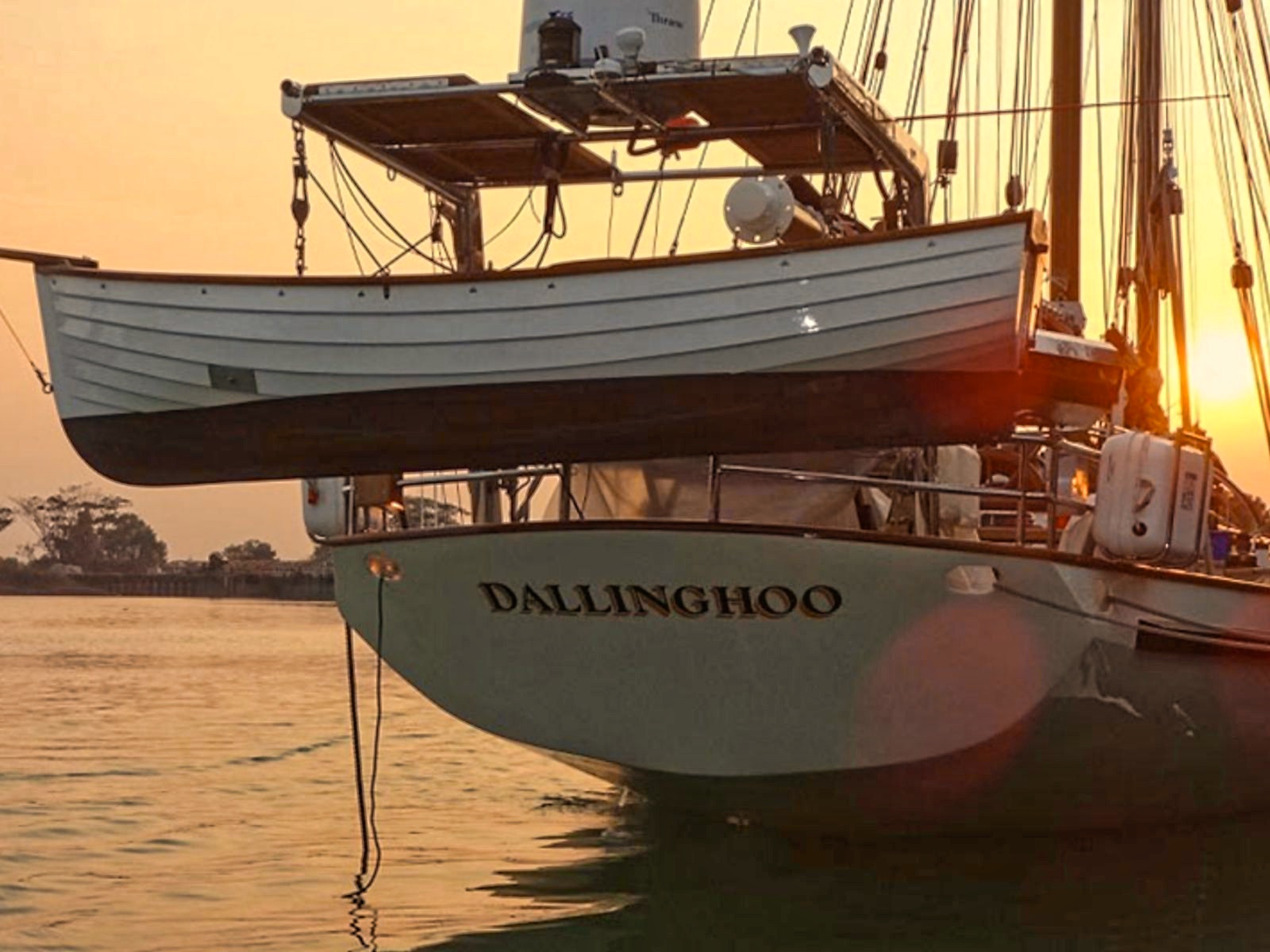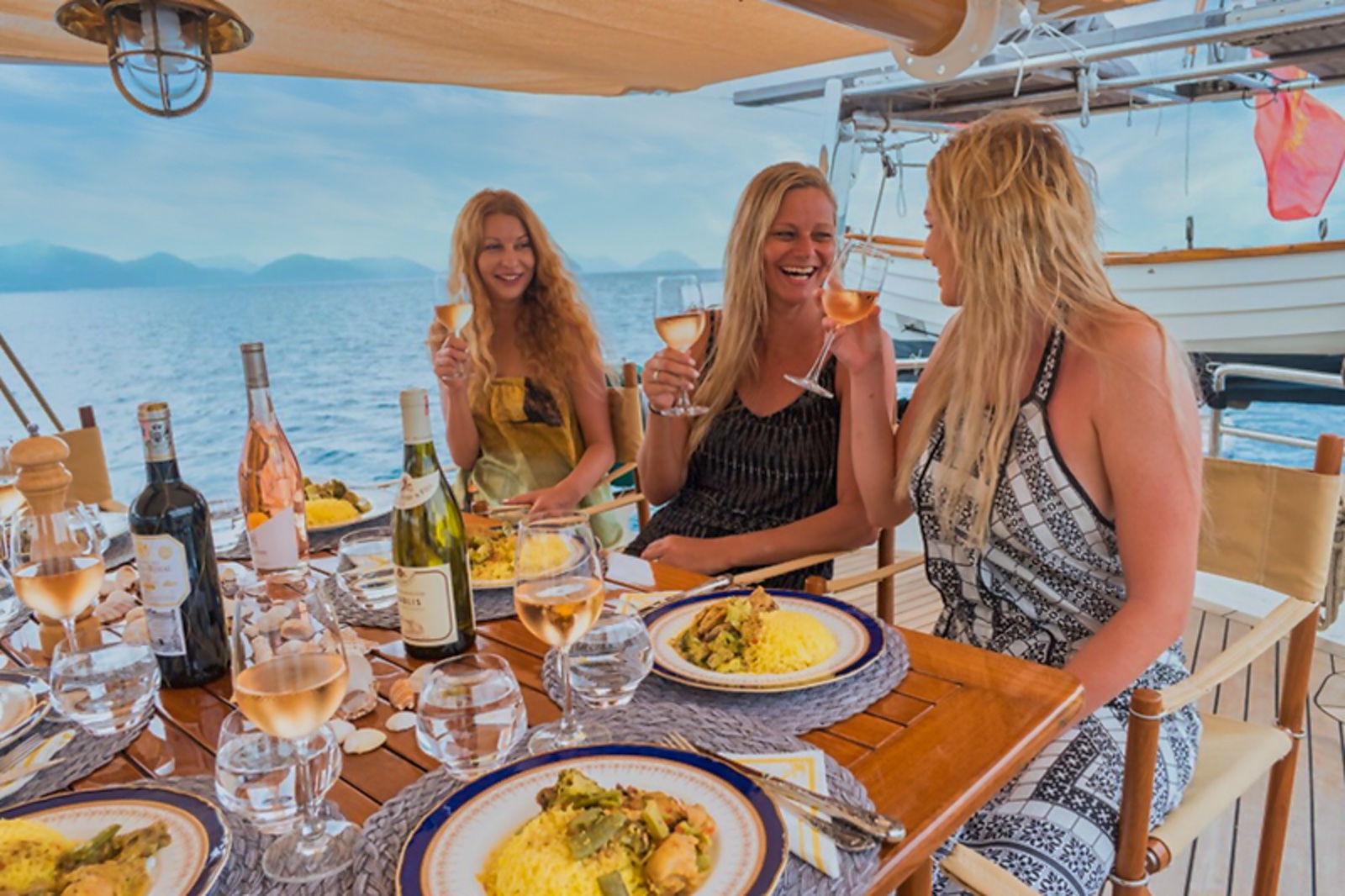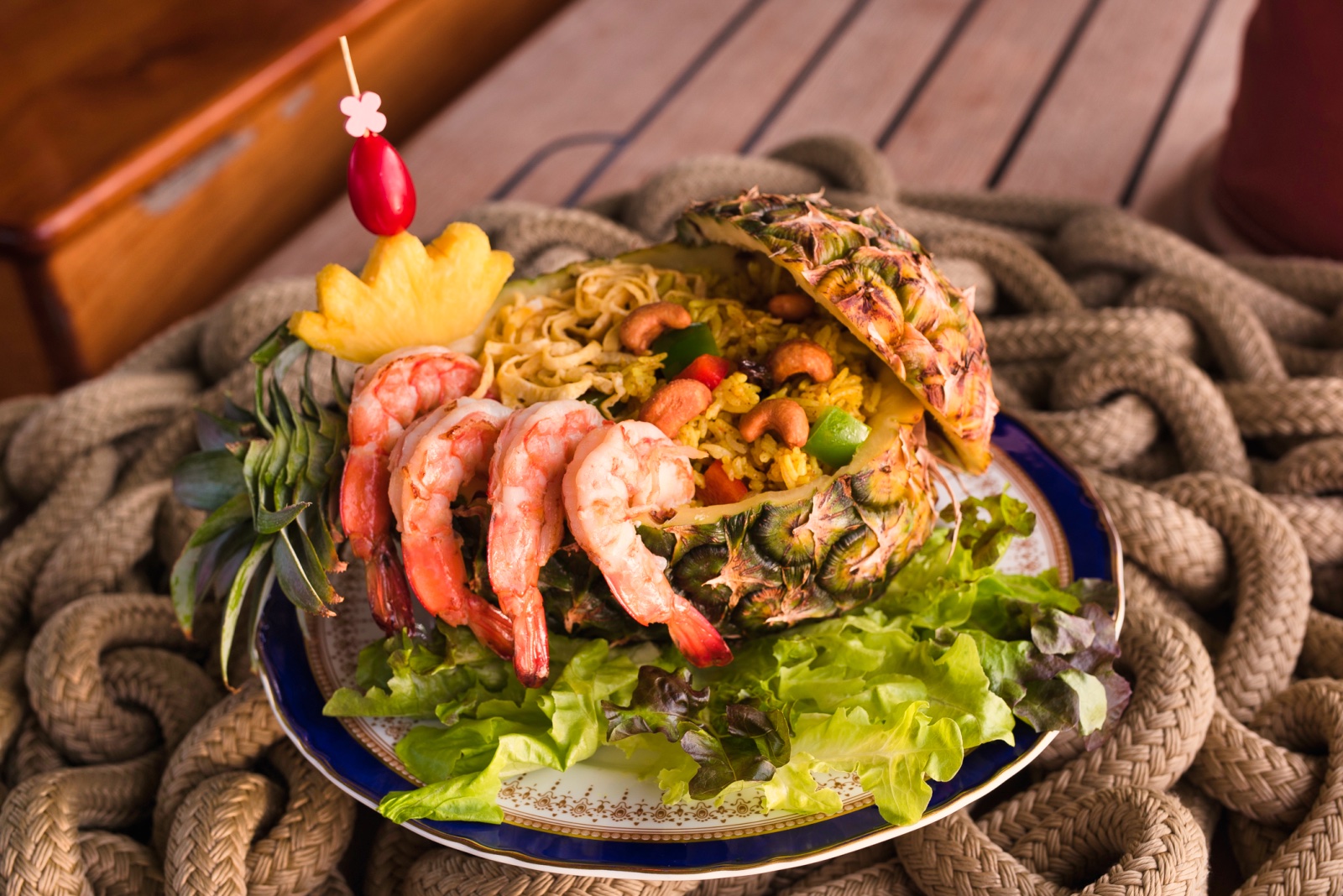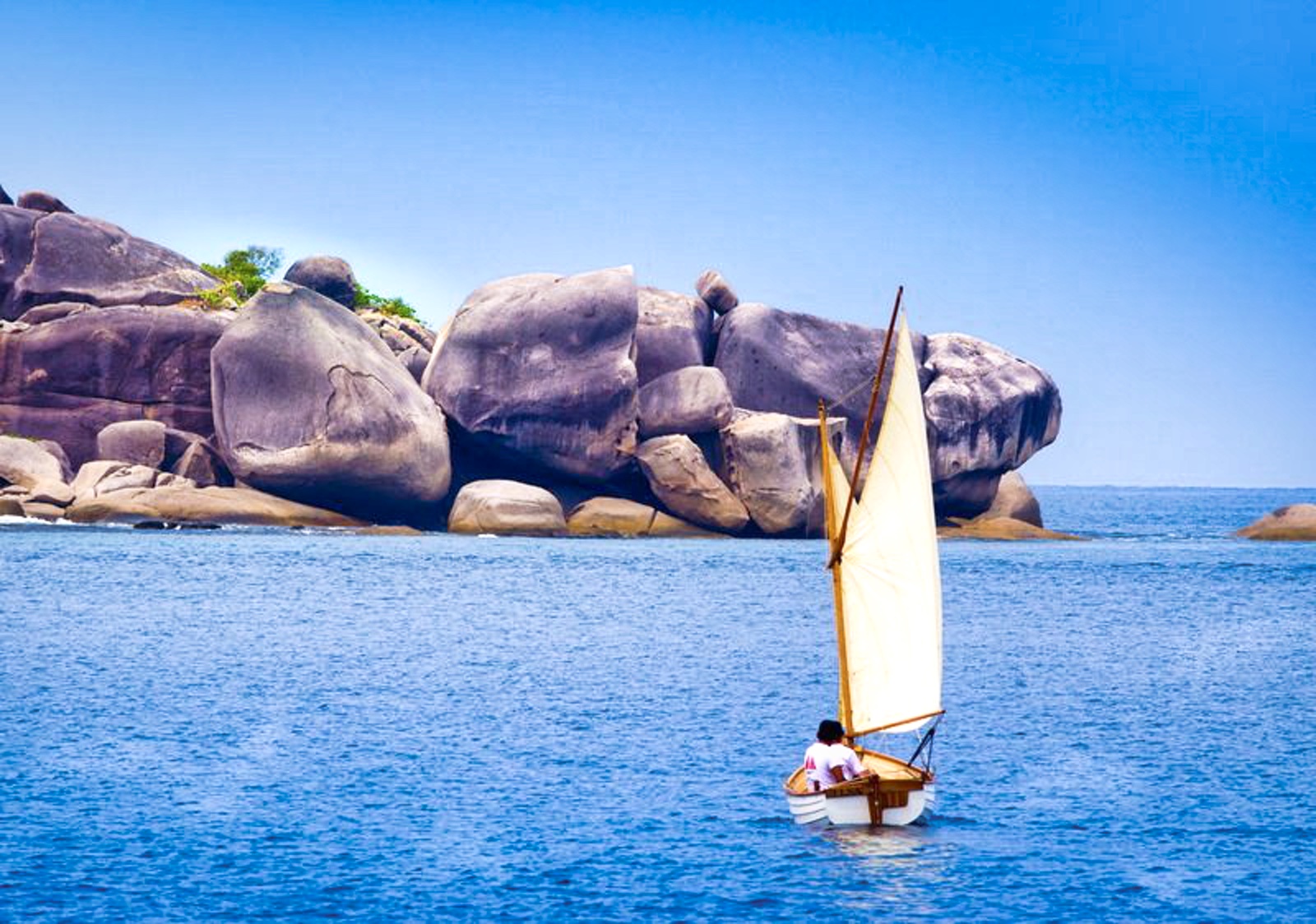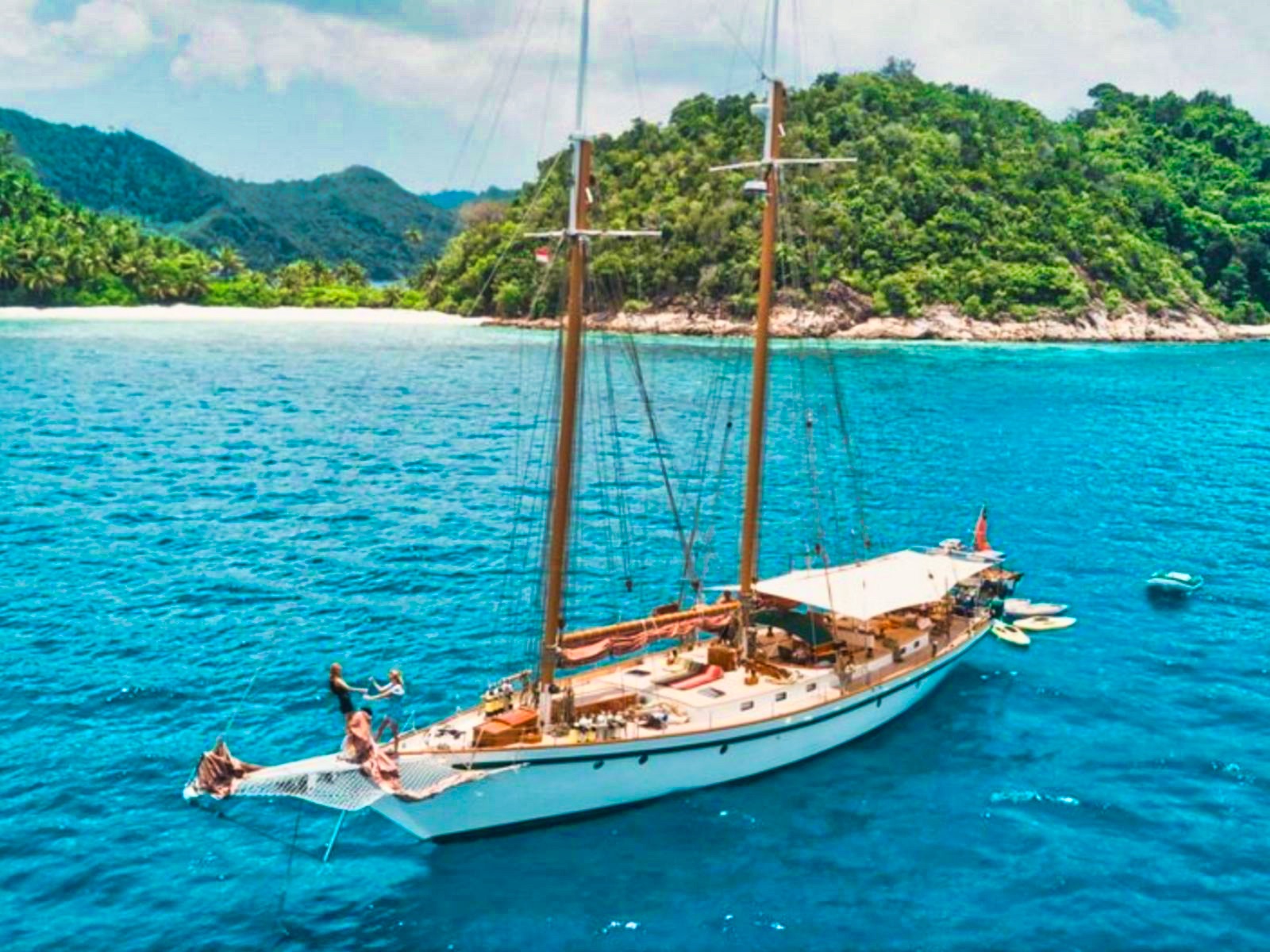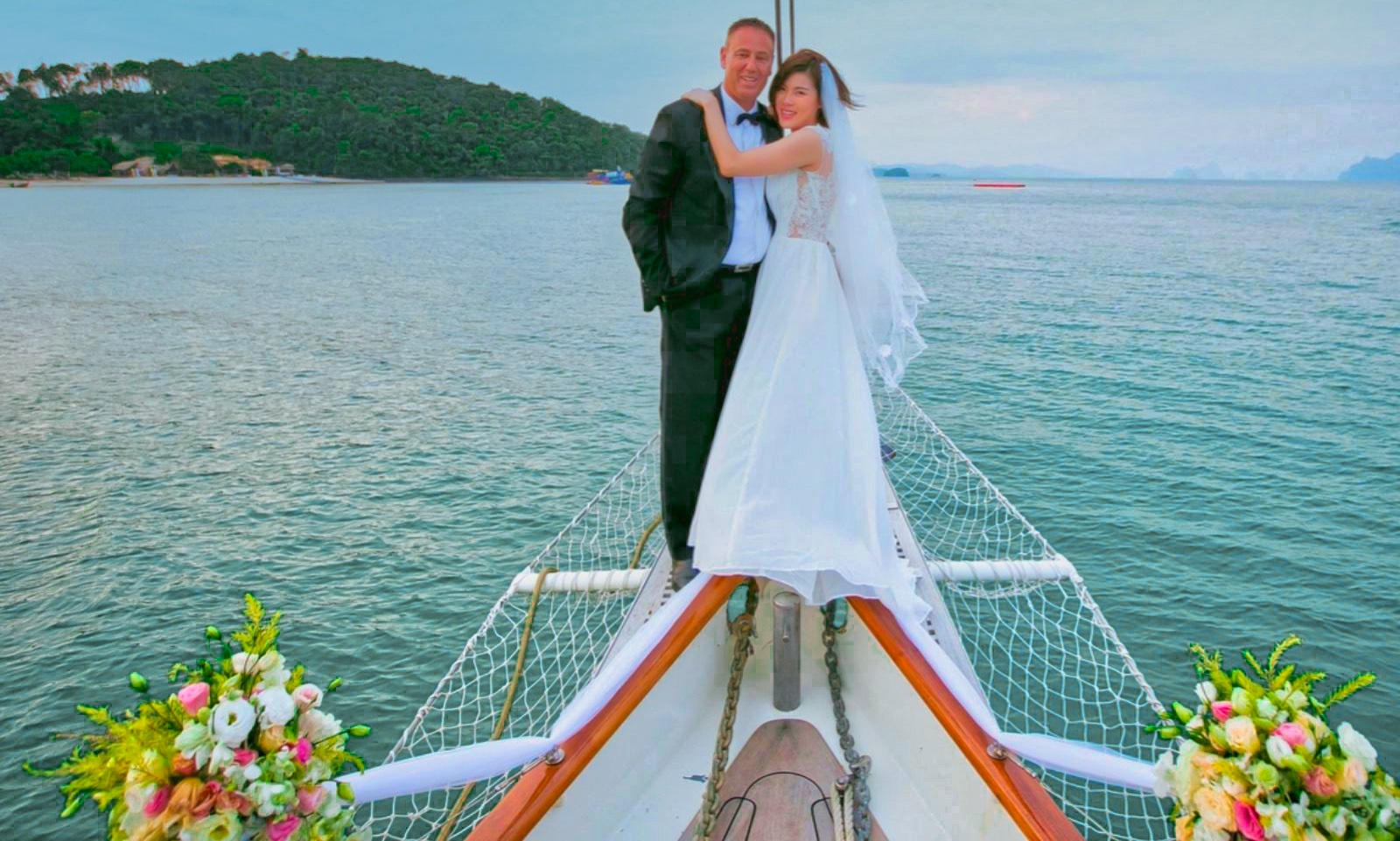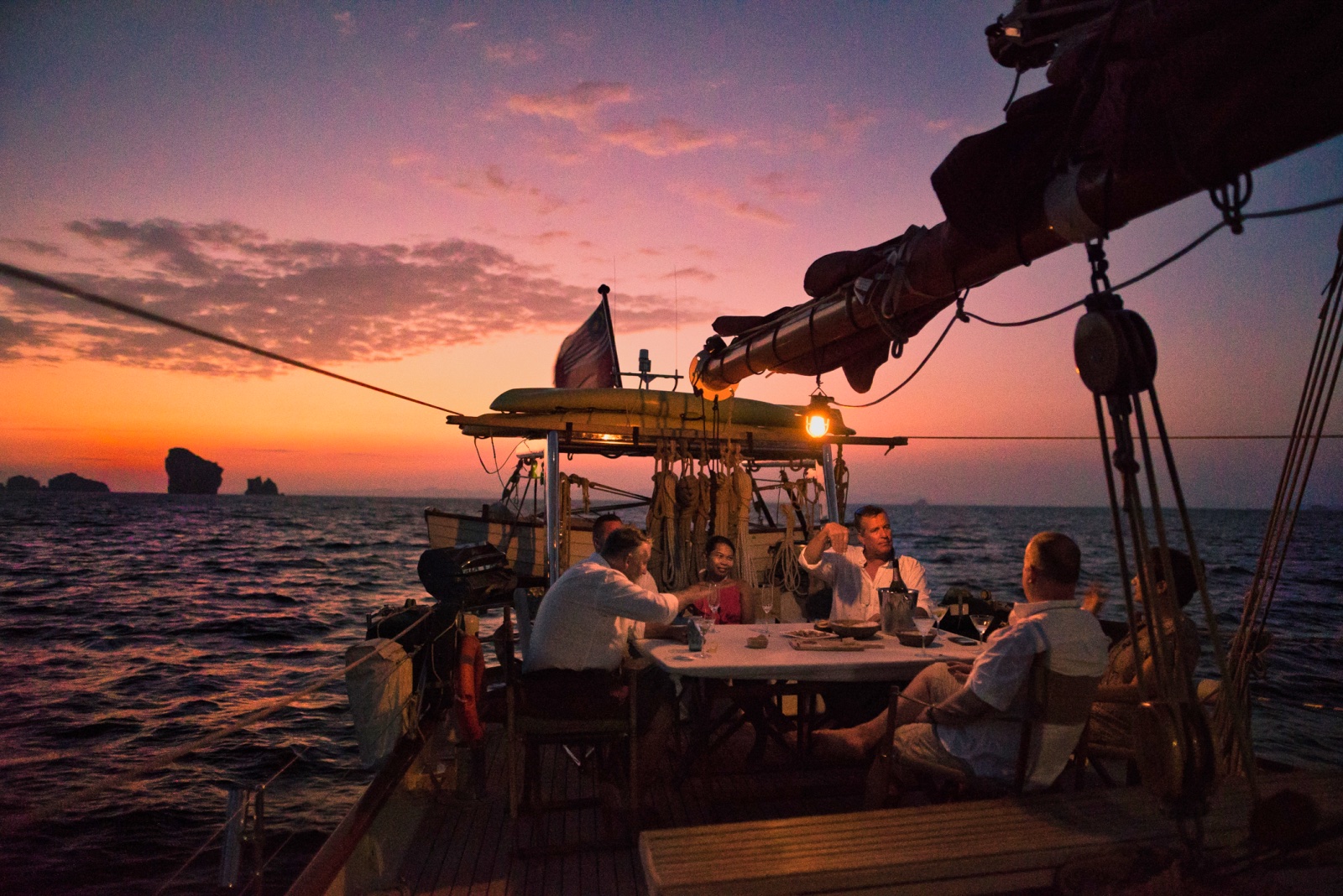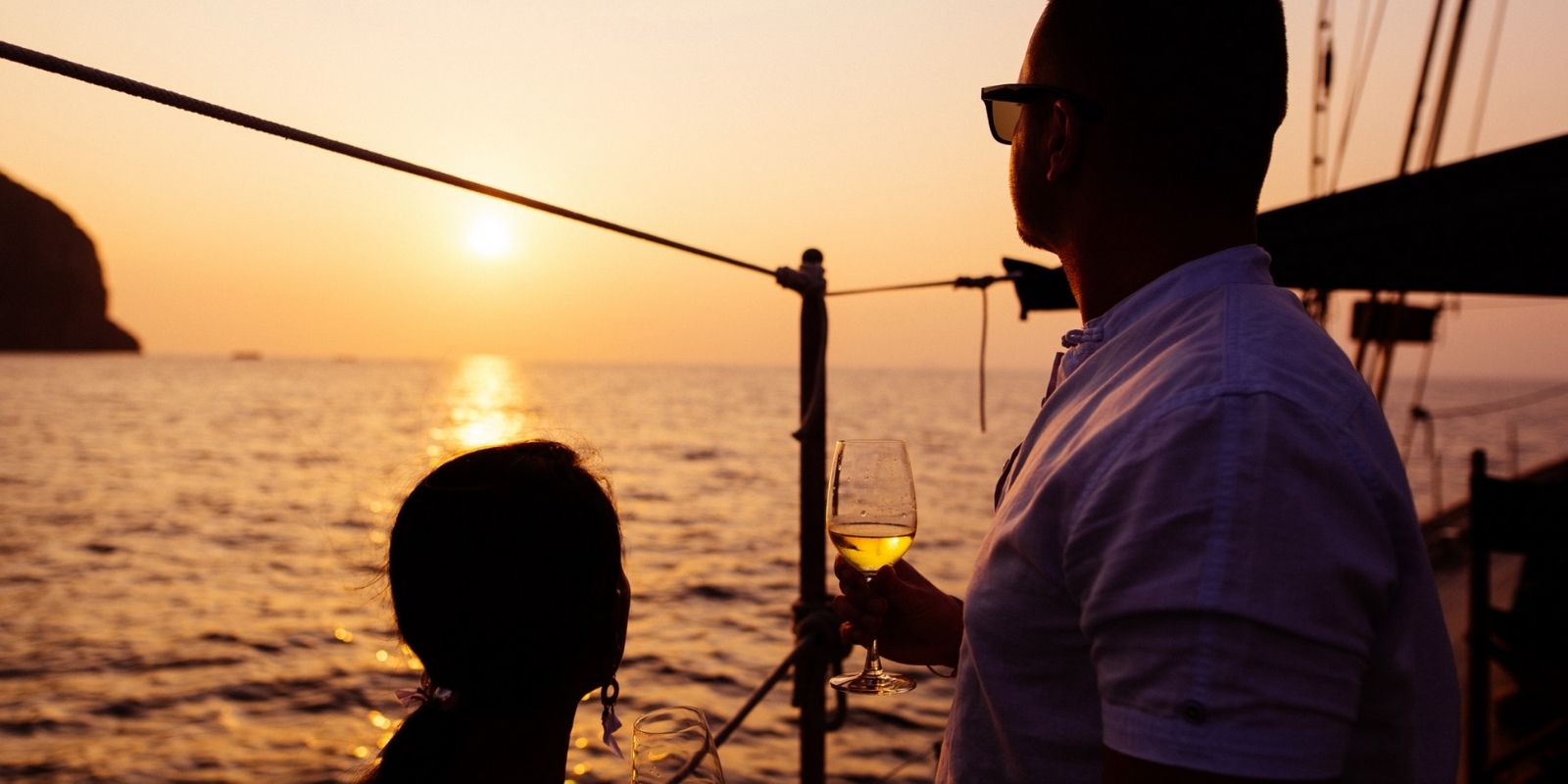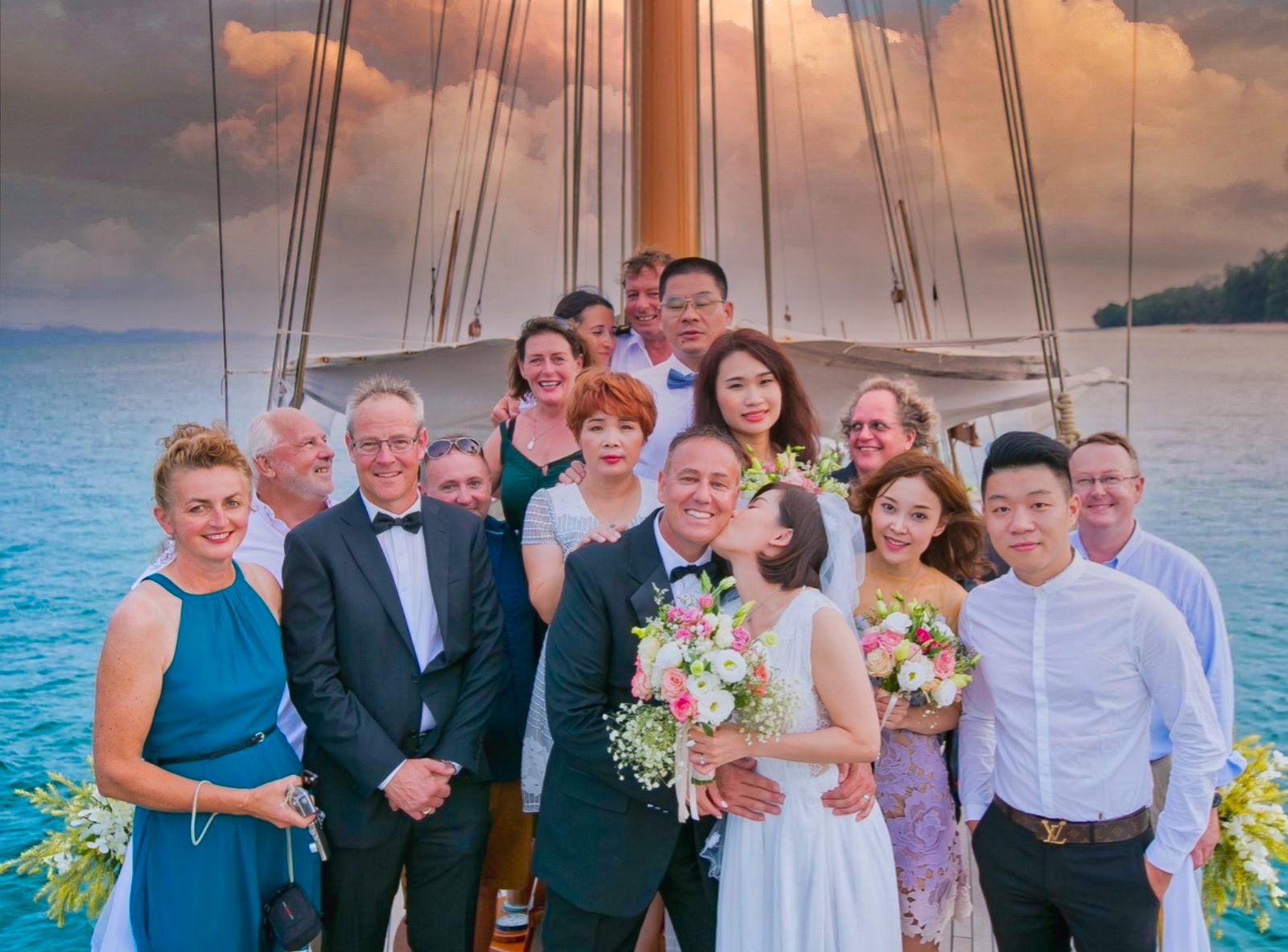 Stepping aboard 30m Schooner Dallinghoo is like taking a trip back in time, to Ye Olde Days of gaff-rigged tall ships, in all their splendour and style. She was built in 1990, then treated to a top-to-toe refit and facelift in 2014-16.
Now she combines all the glamour and traditional feel of a classic yacht, with the latest in modern technology and interior design to make her super-comfortable as a liveaboard sailboat. She still features original Burmese teak fittings and flooring, with bright, cheerful Thai silk adornments to add to her character.
The yacht usually sleeps up to 8 guests in total, with a huge master suite aft; two other spacious double cabins plus a 4th guest cabin which can be a double or twins. All have en suite facilities and air-con. Or for those who prefer their sleep to be more au naturel, each cabin has quiet fans and plenty of ventilation.
Down below, there is a large, semi-circular dining area, which can seat 8 guests with plenty of space and comfort. Or of course, dining under the stars is always a magical option; to match the "magic" of what comes out of the galley, from her amazing Thai chef!
You are more than welcome to get involved in the sailing, and learn about the old art of sailing a gaff-rigged yacht; or sit back and relax on her expansive, shaded deck; taking in the stunning scenery surrounding you. When at anchor, there are plenty of boat toys to play with; kayaks, SUPs and a small sailing dinghy. For certified divers, there is a compressor and dive gear onboard; if anyone is a little "rusty" on their scuba skills and needs a refresher, a divemaster can be added to the crew also.
Layout
6 cabins in total
1 mega master cabin with en suite facilities.
3 large double cabins
1 twin bunkbed cabin
1 quad crew cabin, f'ard.
Sleeps 8 guests in total, either 4 doubles or 3 double + 1 twin.
All cabins have their own heads (toilet + shower)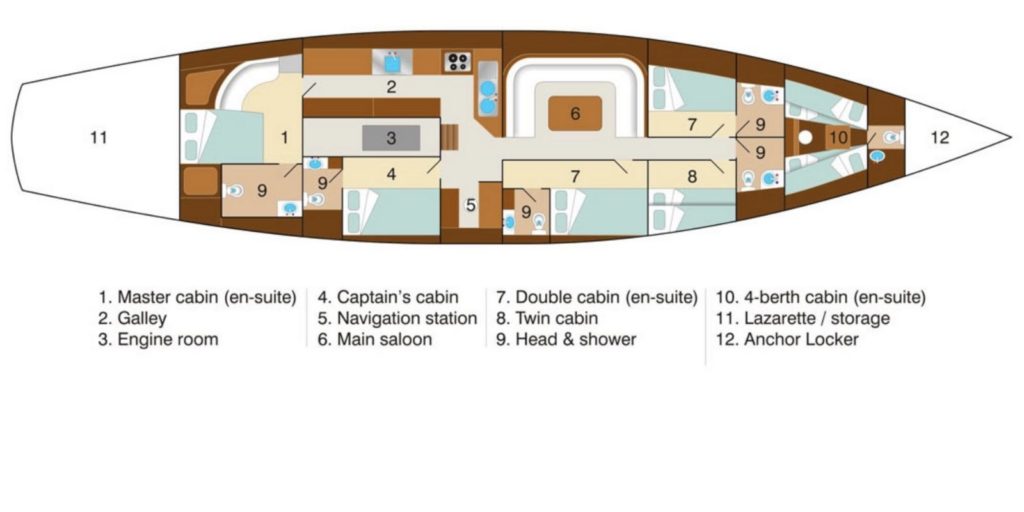 Prices
| Prices per night | High season (Oct-May) | Peak season (21 Dec-4 Jan) | Summer season (Jun-Sept) |
| --- | --- | --- | --- |
| 1-6 guests | USD 3,480 | USD 3,950 | USD 3,480 |
| 7-8 guests | USD 3,830 | USD 4,180 | USD 3,830 |
Skipper
Captain Bruce - see bio below
Thai cook
Top class food, both Thai and Western. Our cooks do all the provisioning, cooking and cleanup for meals on board
4 other crewmembers; engineer, stewardesses and deckhand
3 main meals per day onboard
Plus fruit and snacks during the day
Iced water, tea, coffee
Always available
All boat running costs
Mooring fees, fuel, water, local taxes, end-of-trip
cleaning
4 sea kayaks & 2 SUPs

Small gaff-rigged dinghy
Snorkelling and fishing gear
Dive compressor and scuba gear
Linen and bath towels
Airfares and transfers
Our local knowledge is at your service, though we don't directly book travel
Personal travel insurance
At a minimum, medical evacuation cover is compulsory. We highly recommend a comprehensive insurance to cover the unexpected whilst travelling.
Optional onshore excursions, national park fees
There are opportunities to visit local temples, visit elephant sanctuaries
etc. We can organise these for you at the time if you would like.
Food and drink ashore
Marine National Park fees, permits, personal visas
Payable for some environmentally-protected beaches and bays.
Soft drinks, beer, wine, spirits, cocktails
Available for purchase onboard, or BYO.
Divemaster
Highly recommended if your scuba skills are a little rusty
Life on board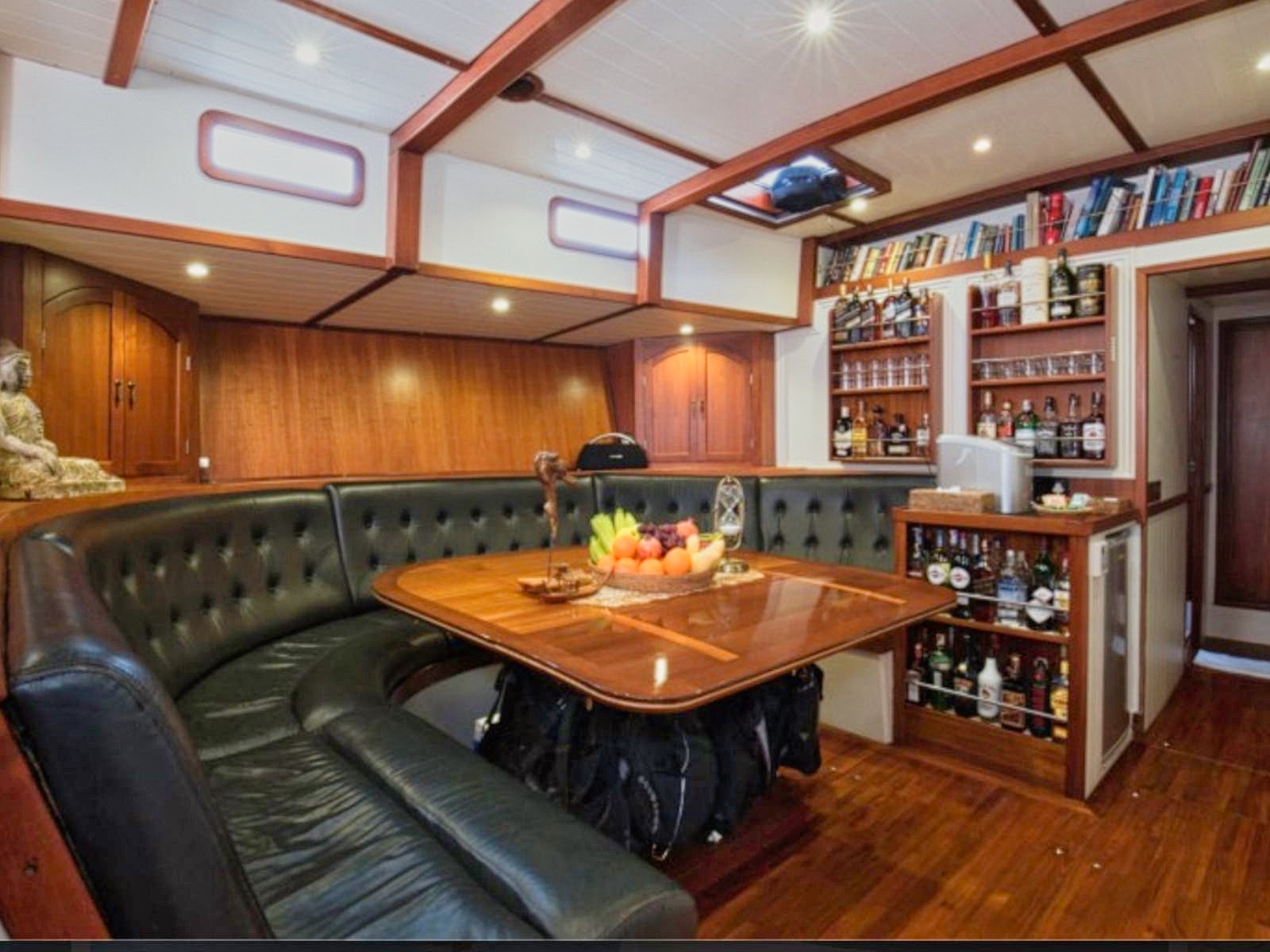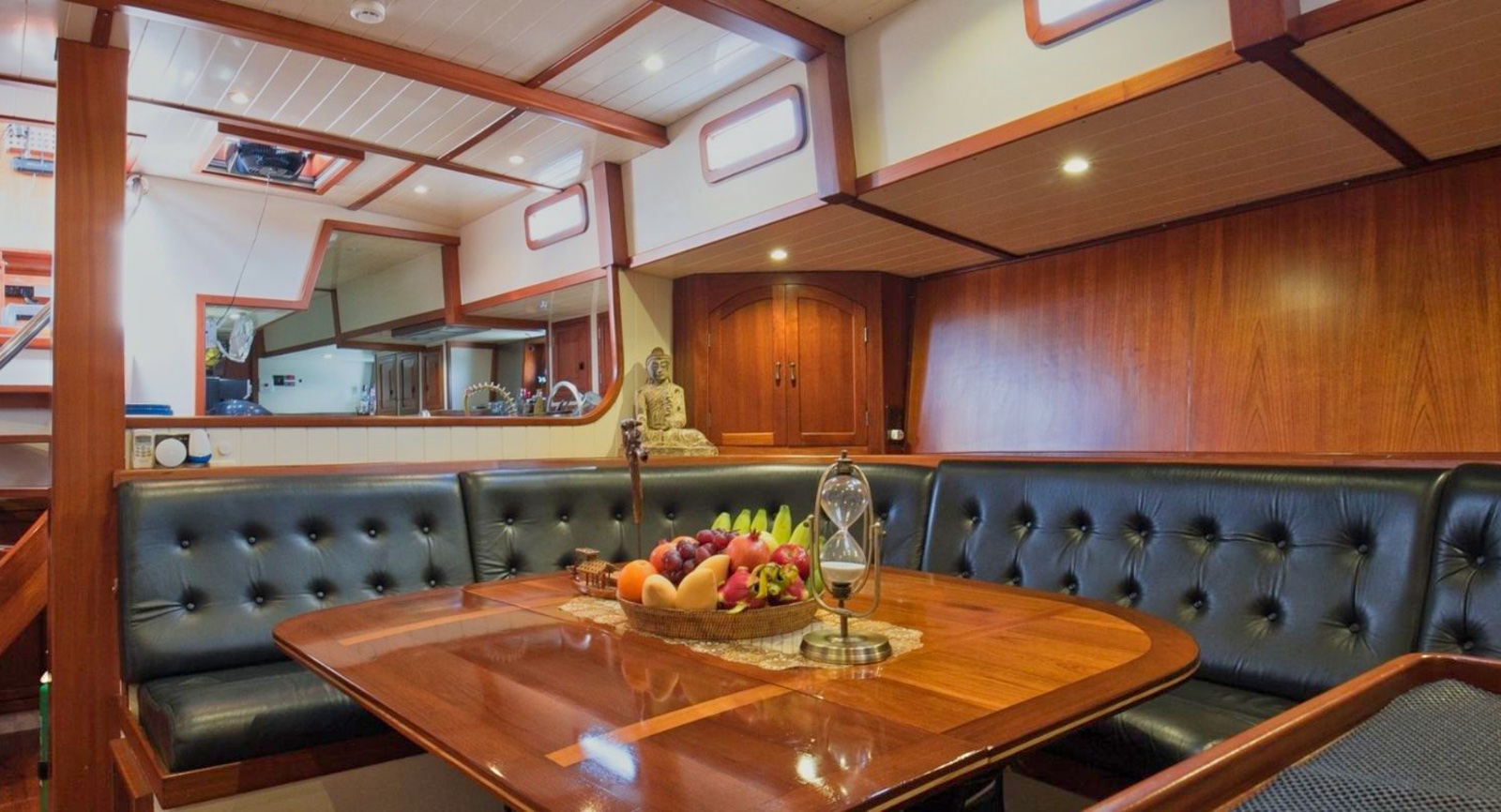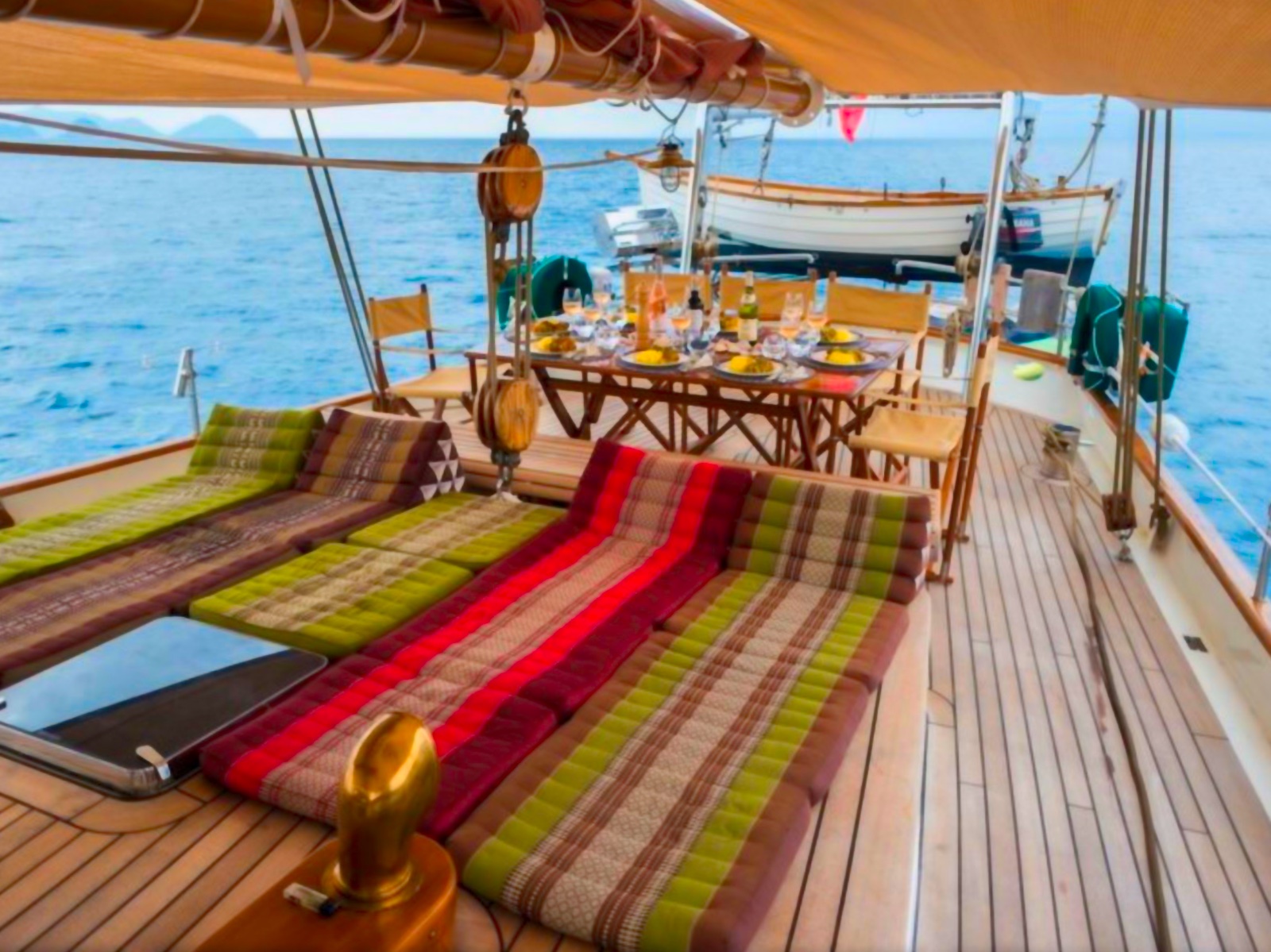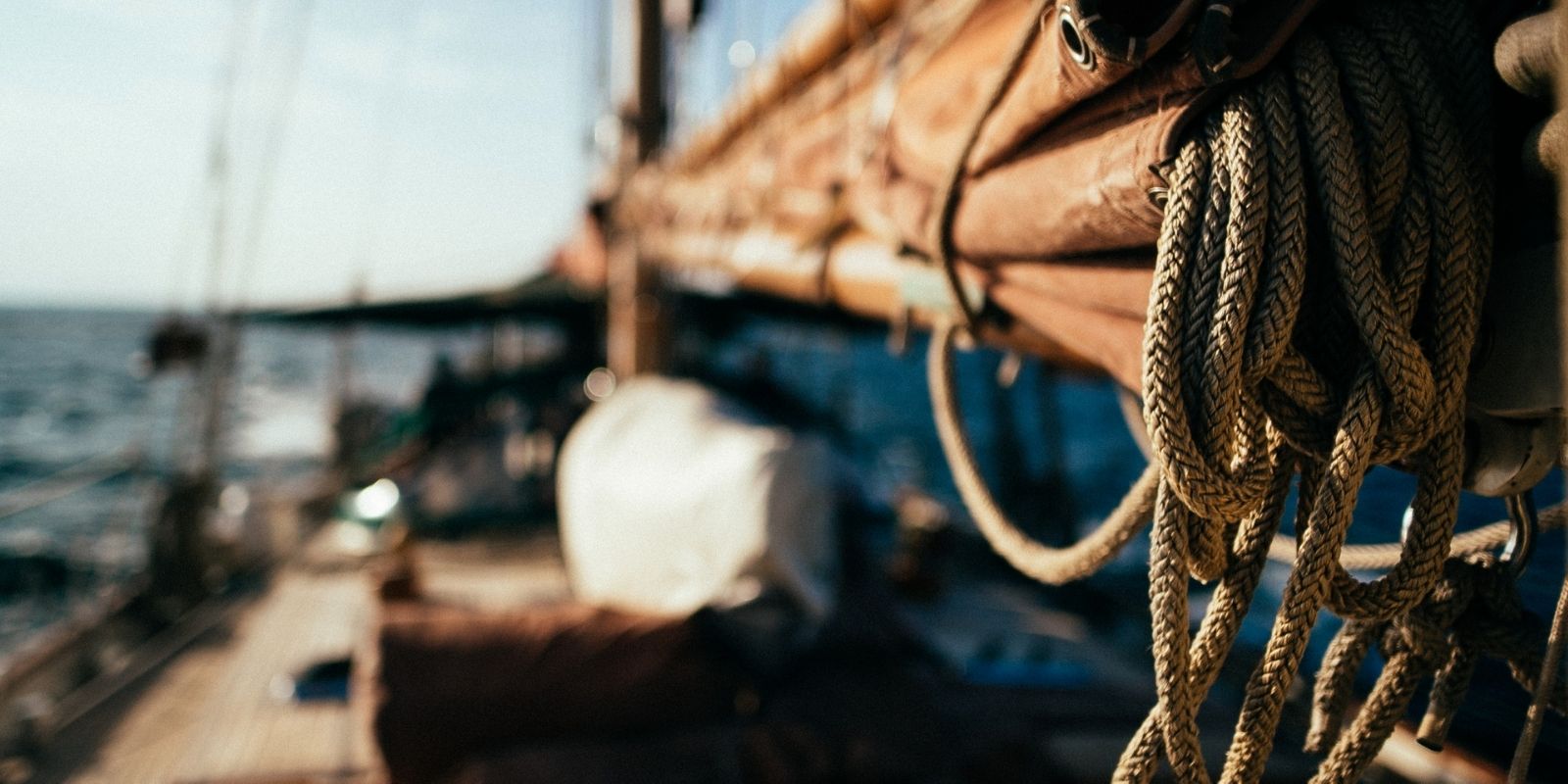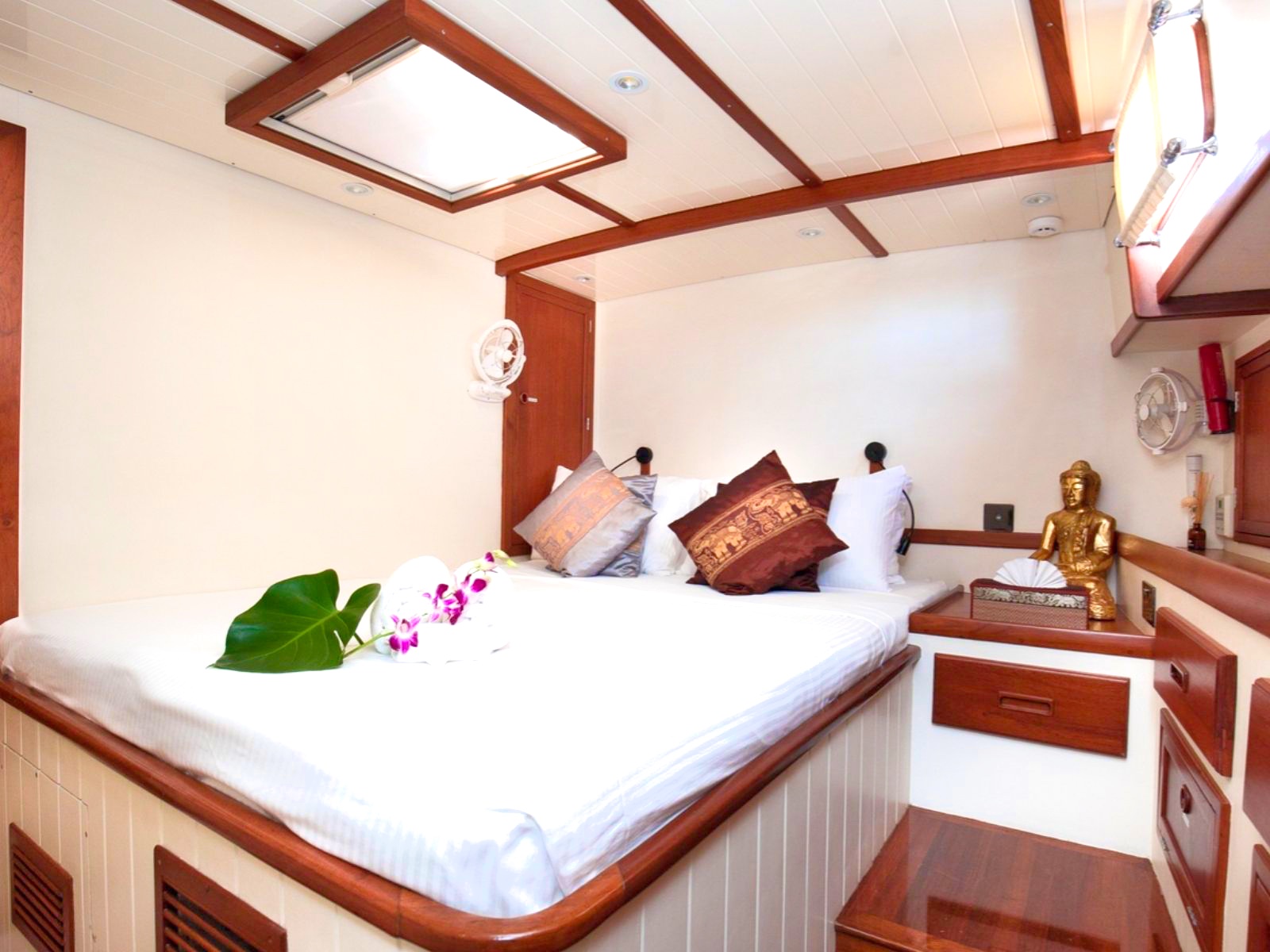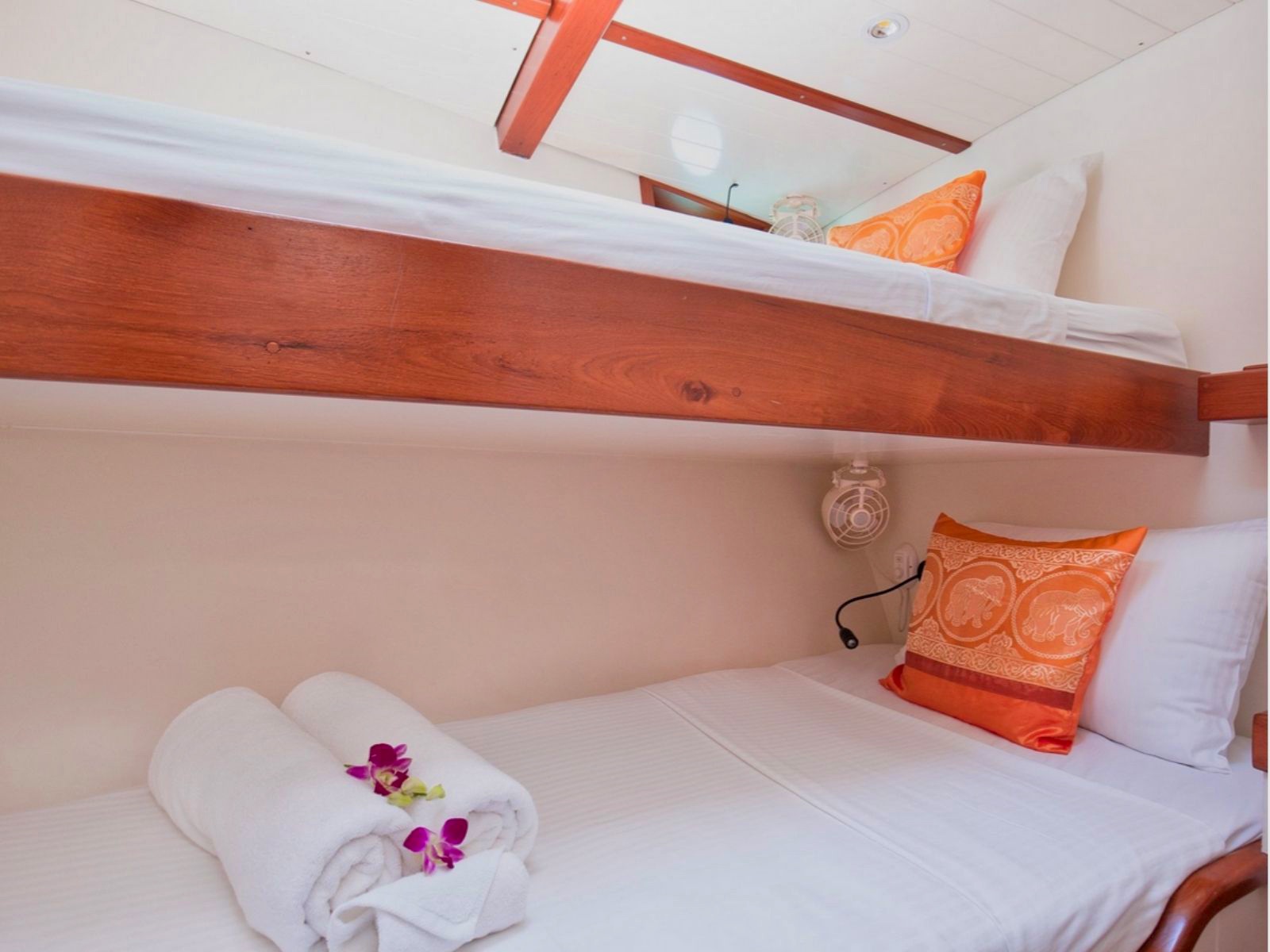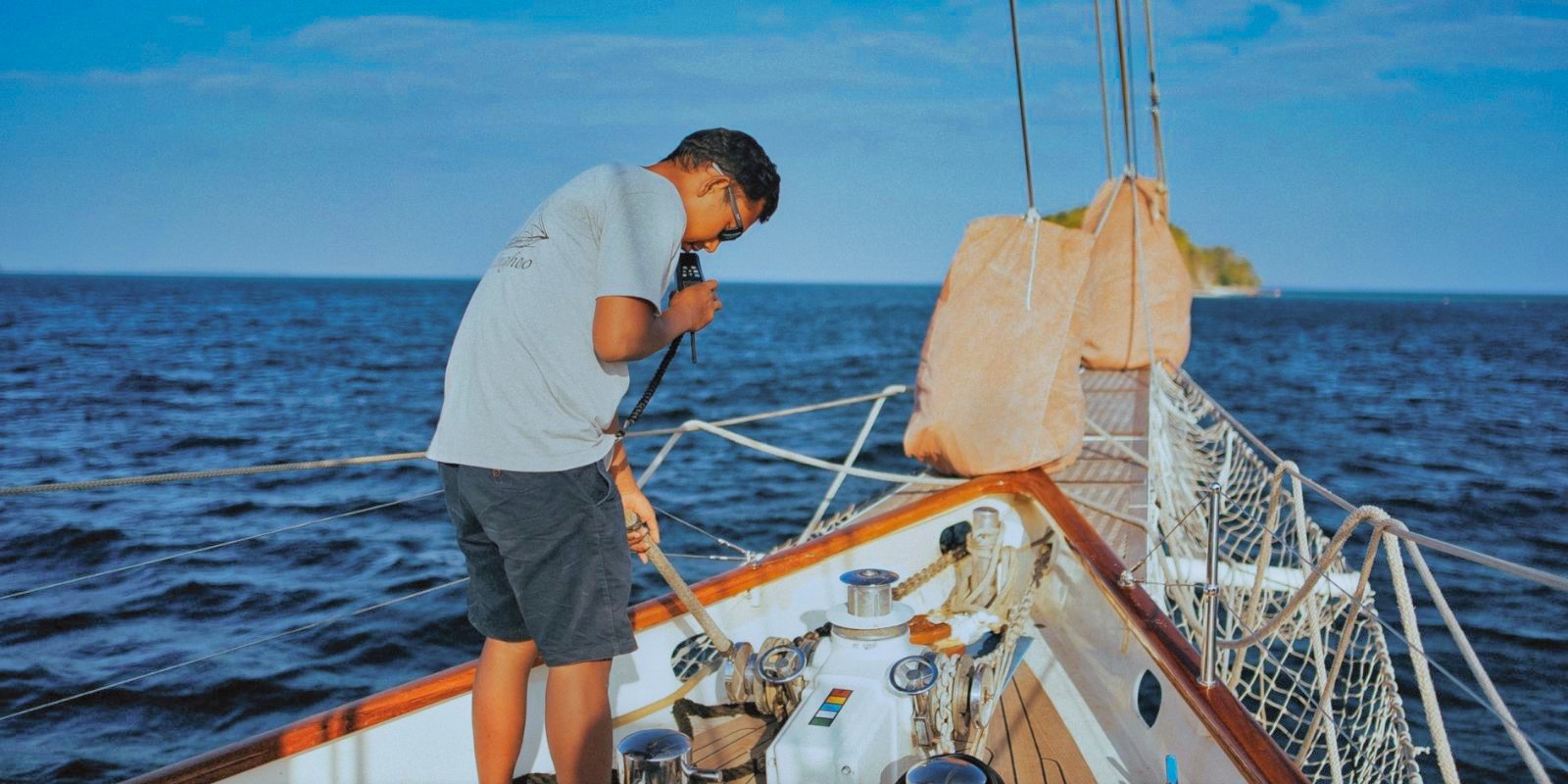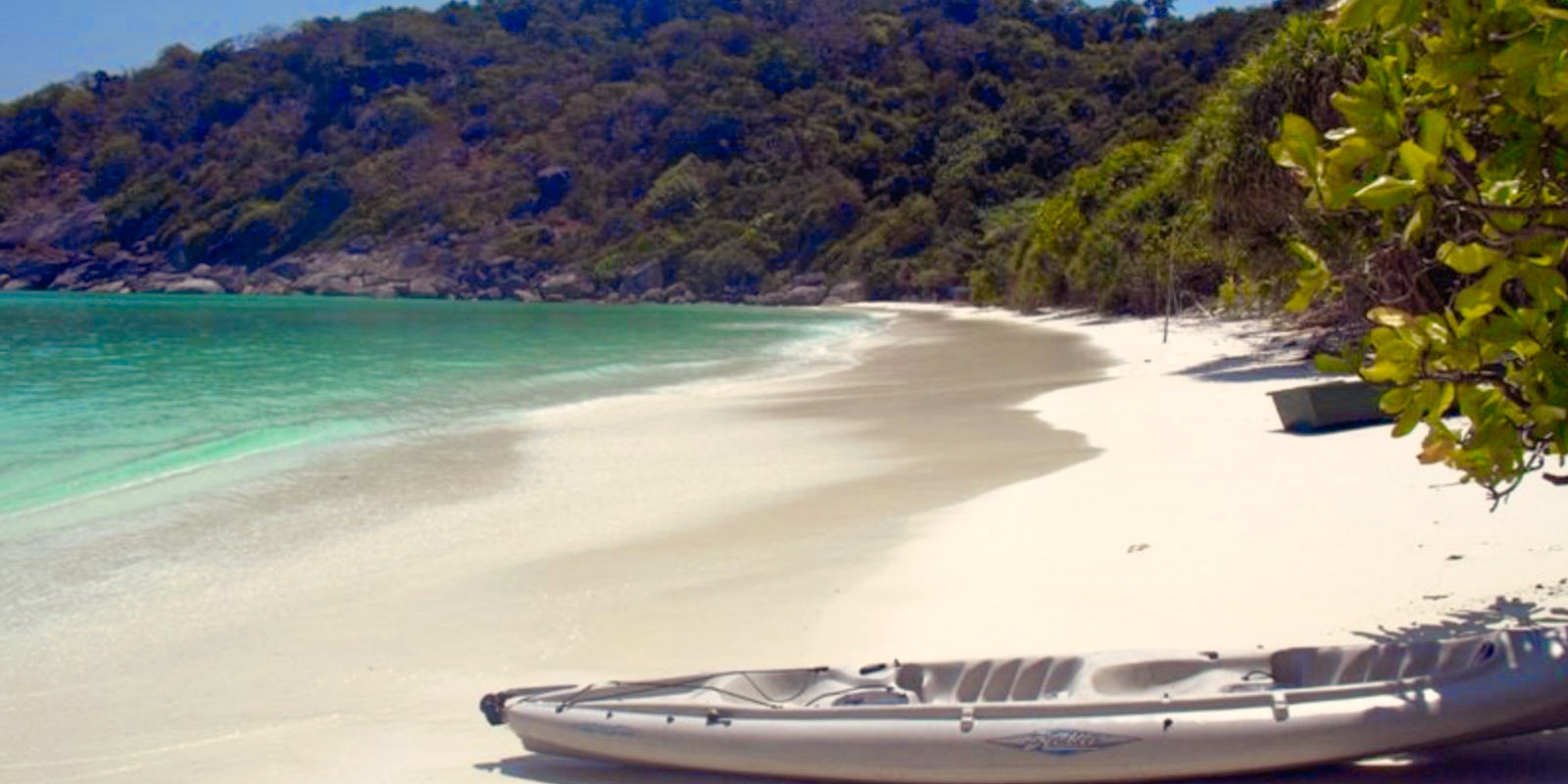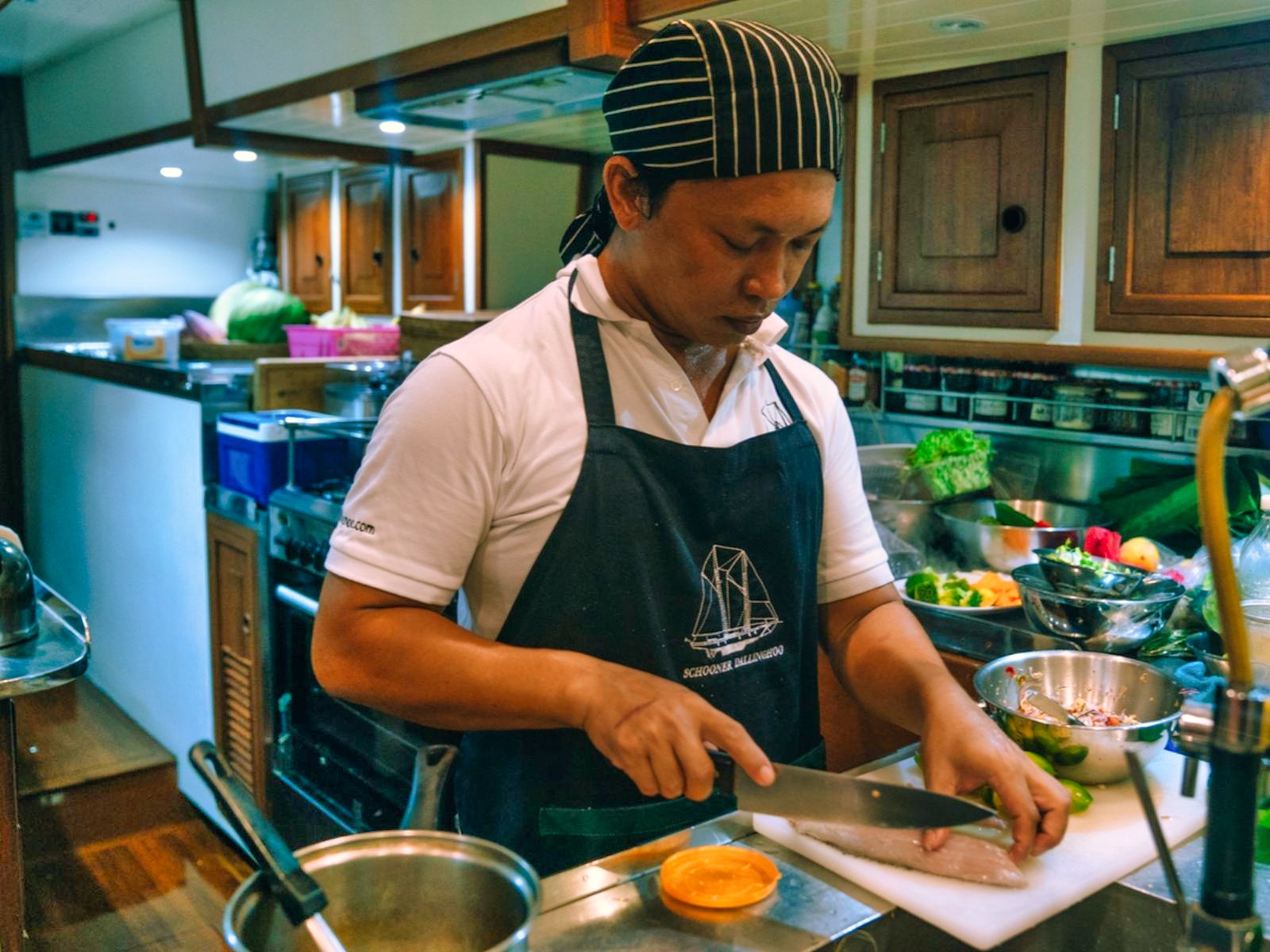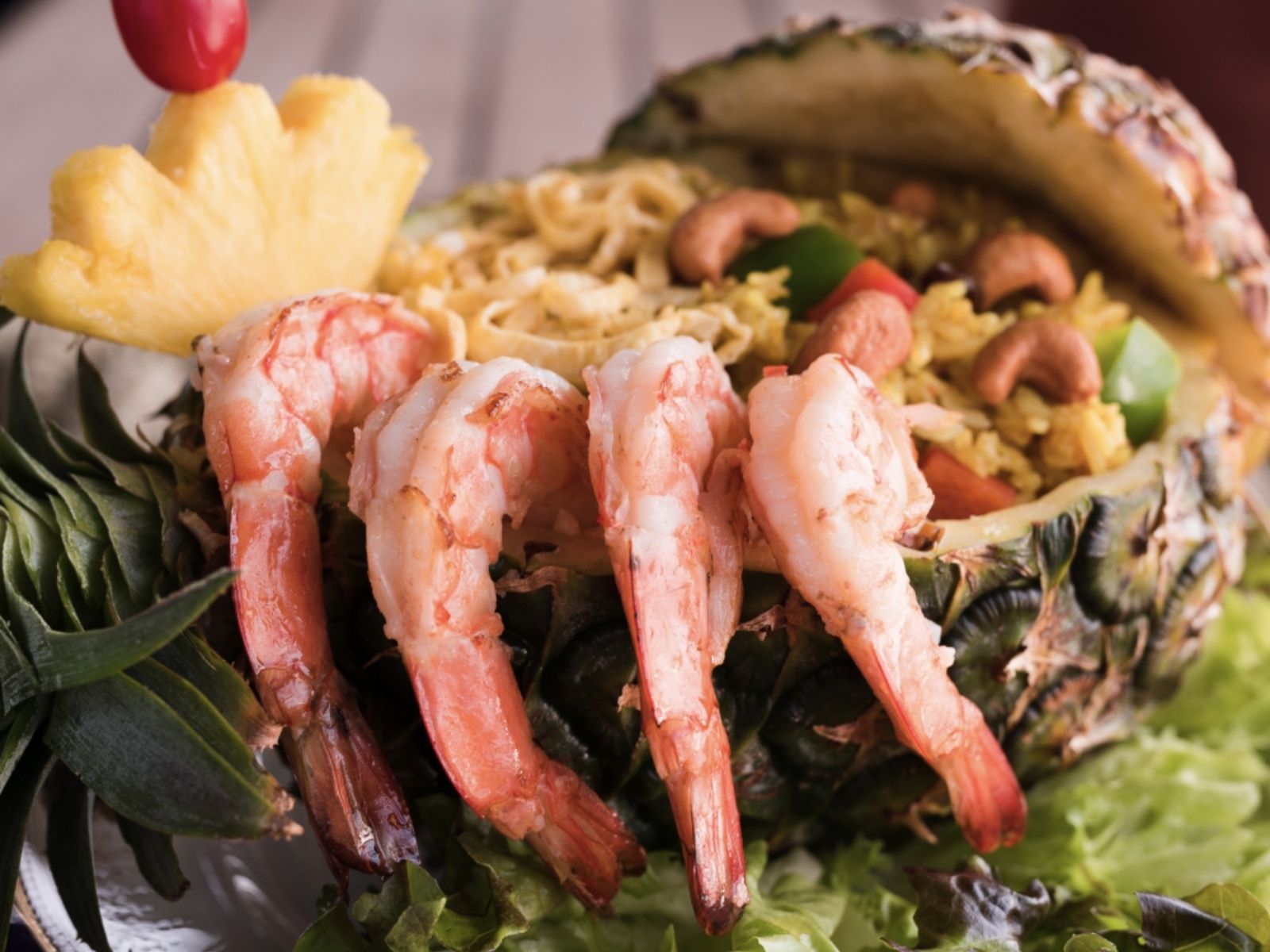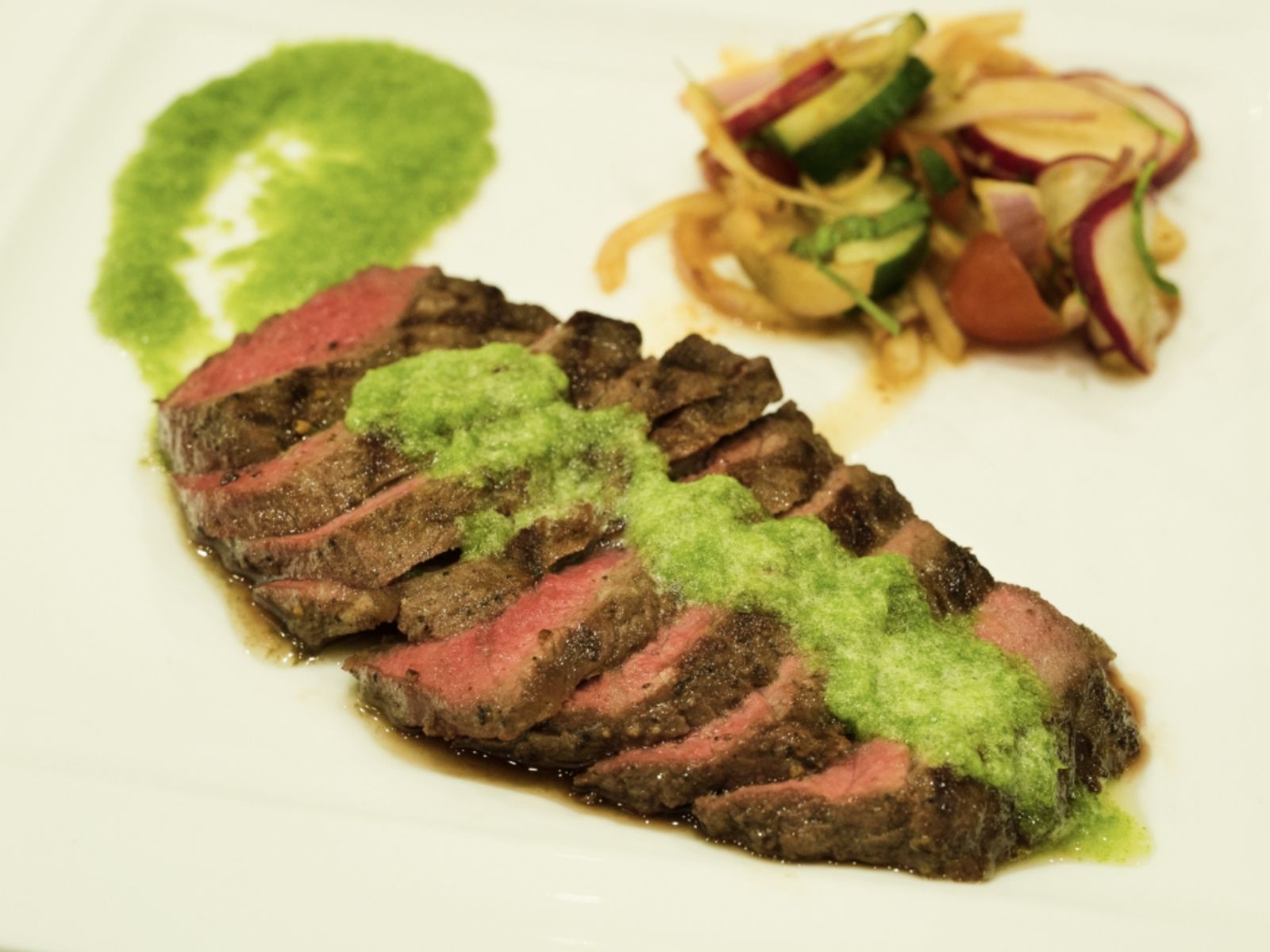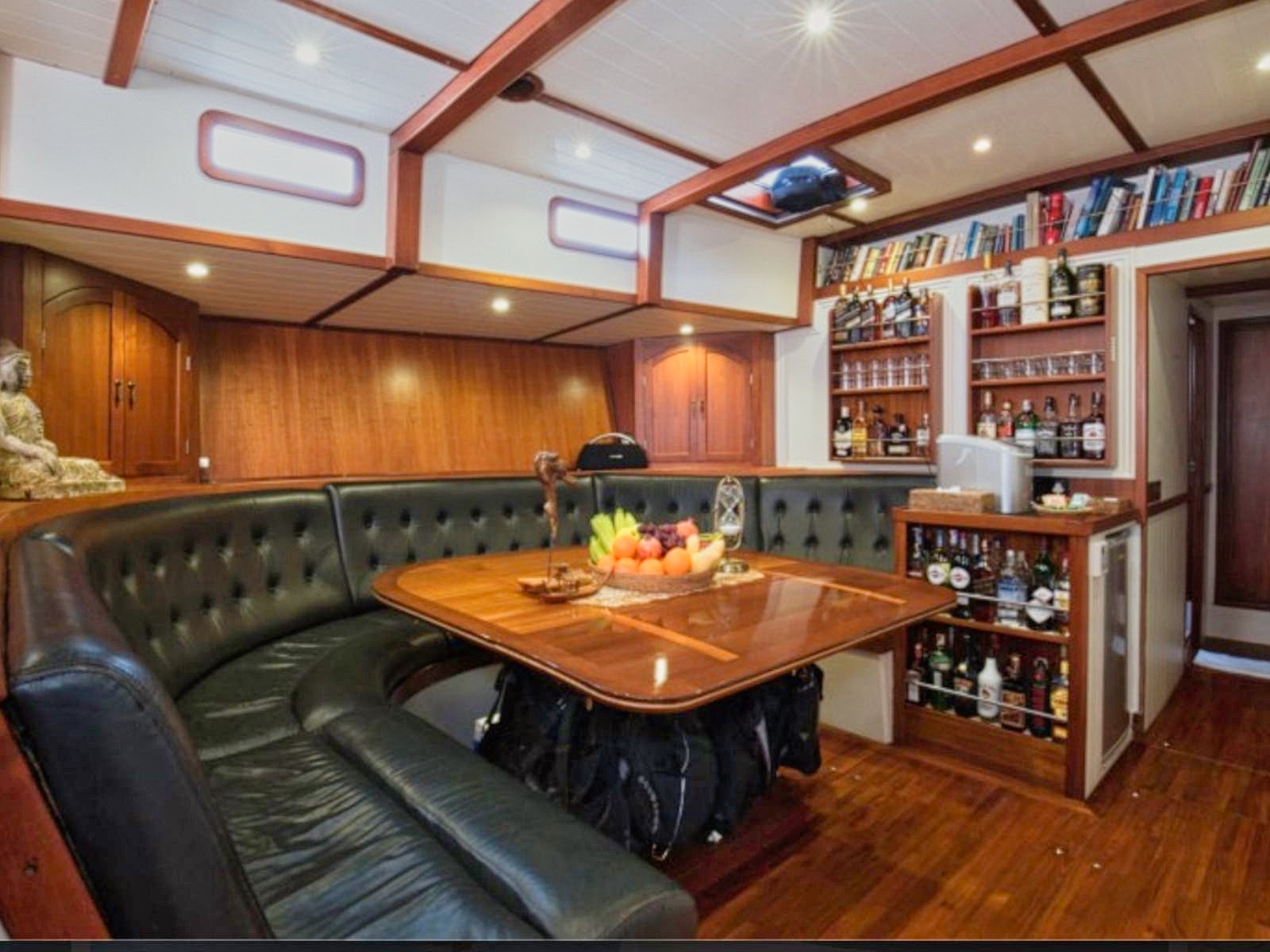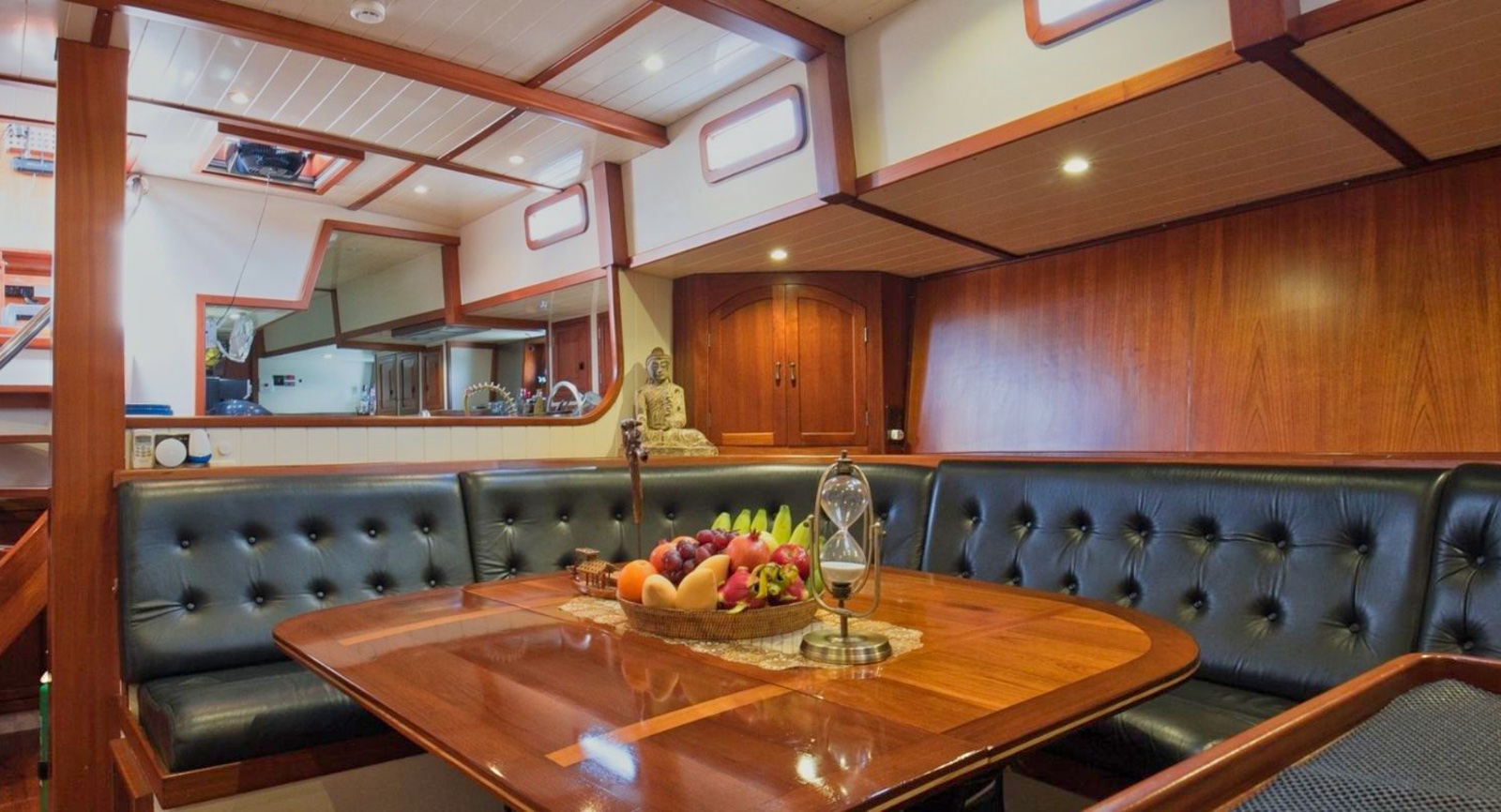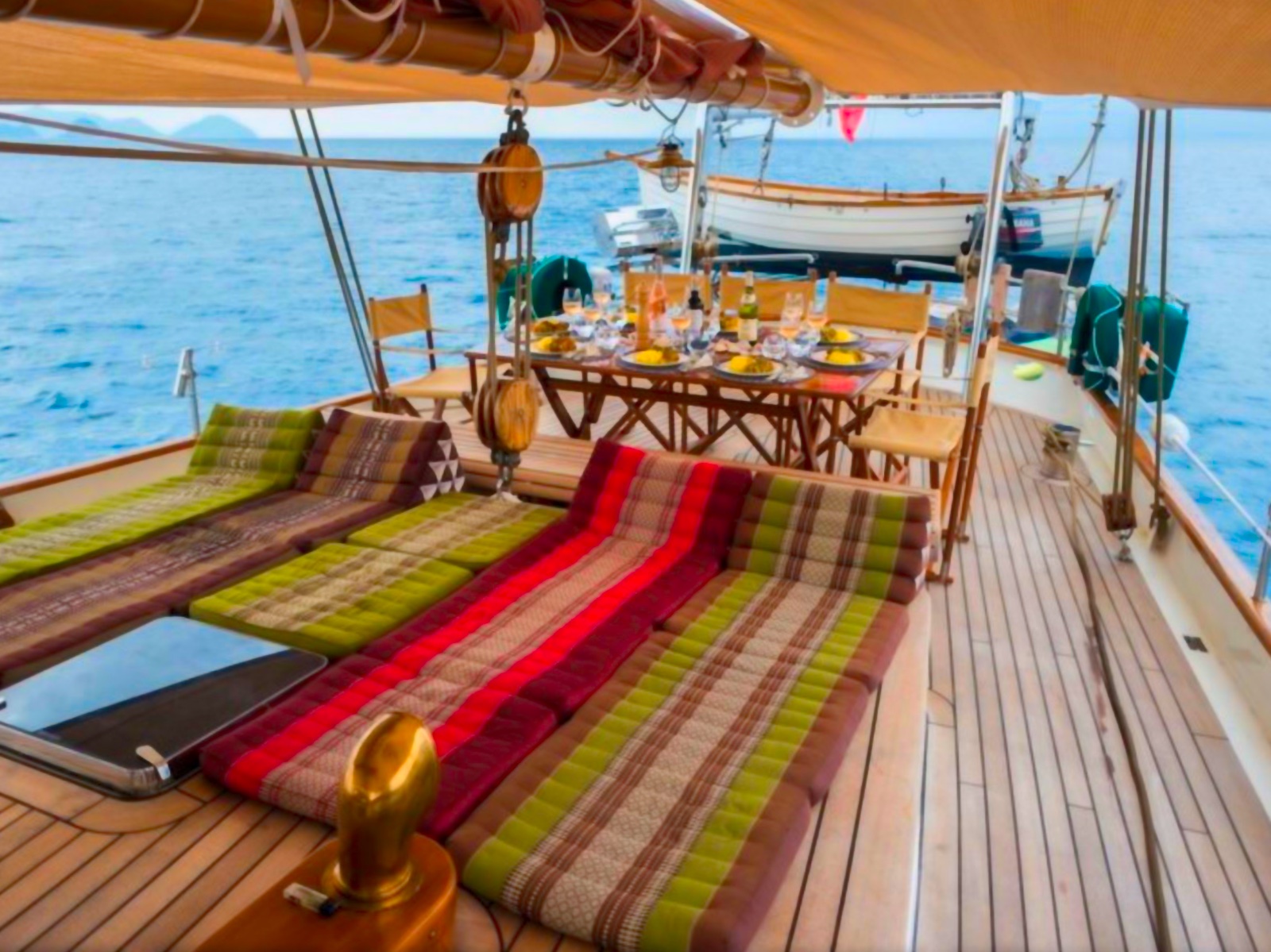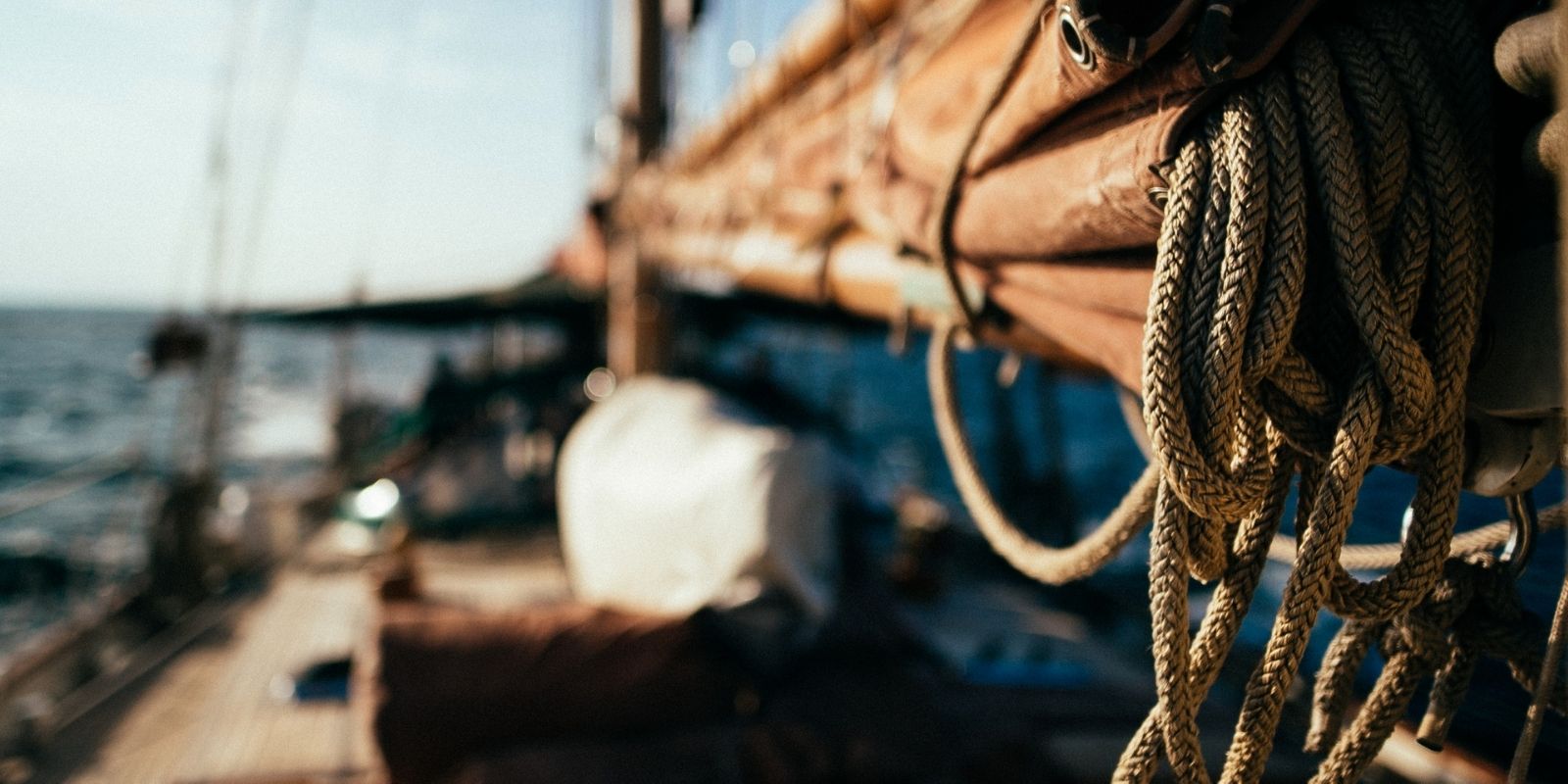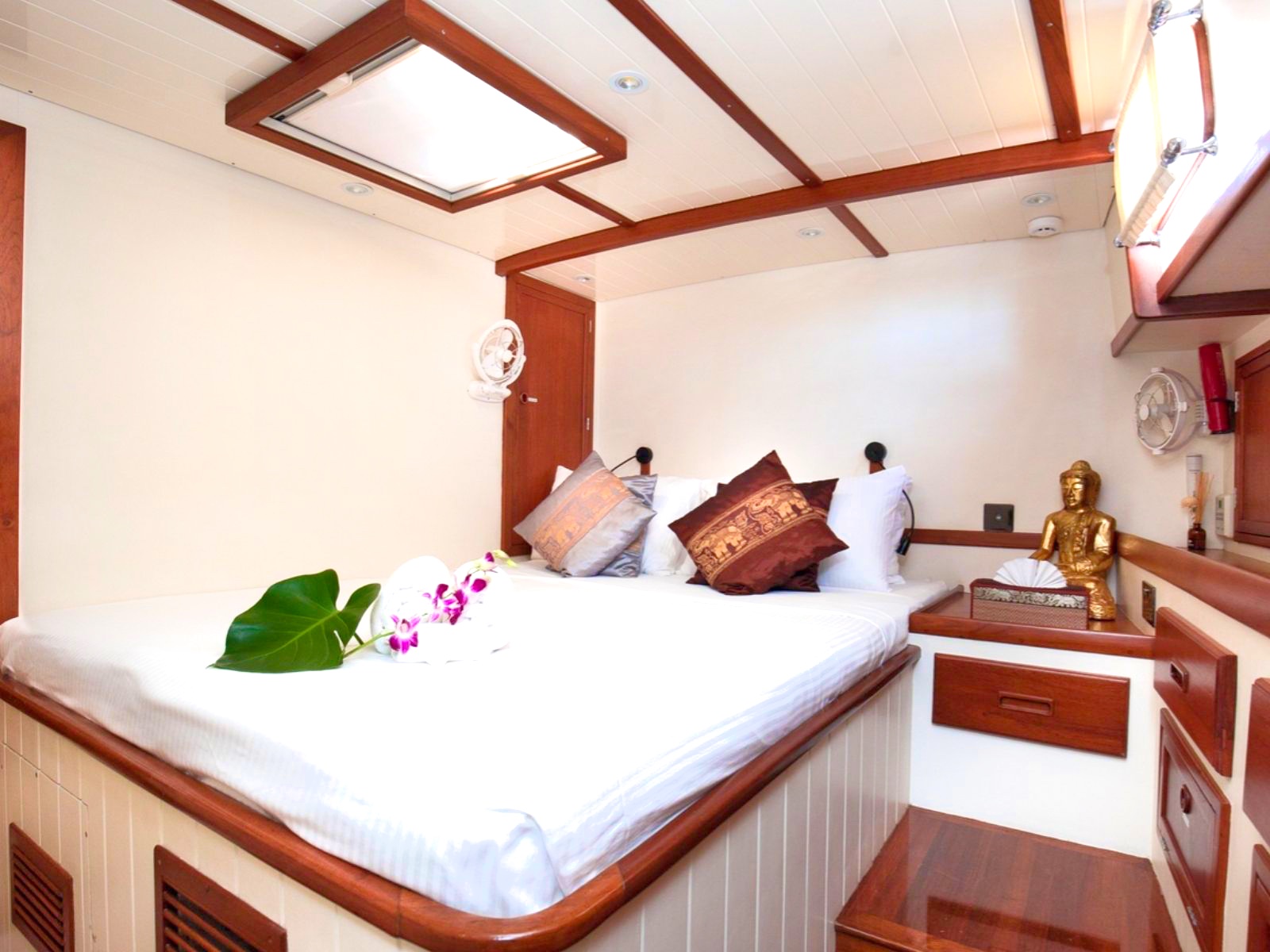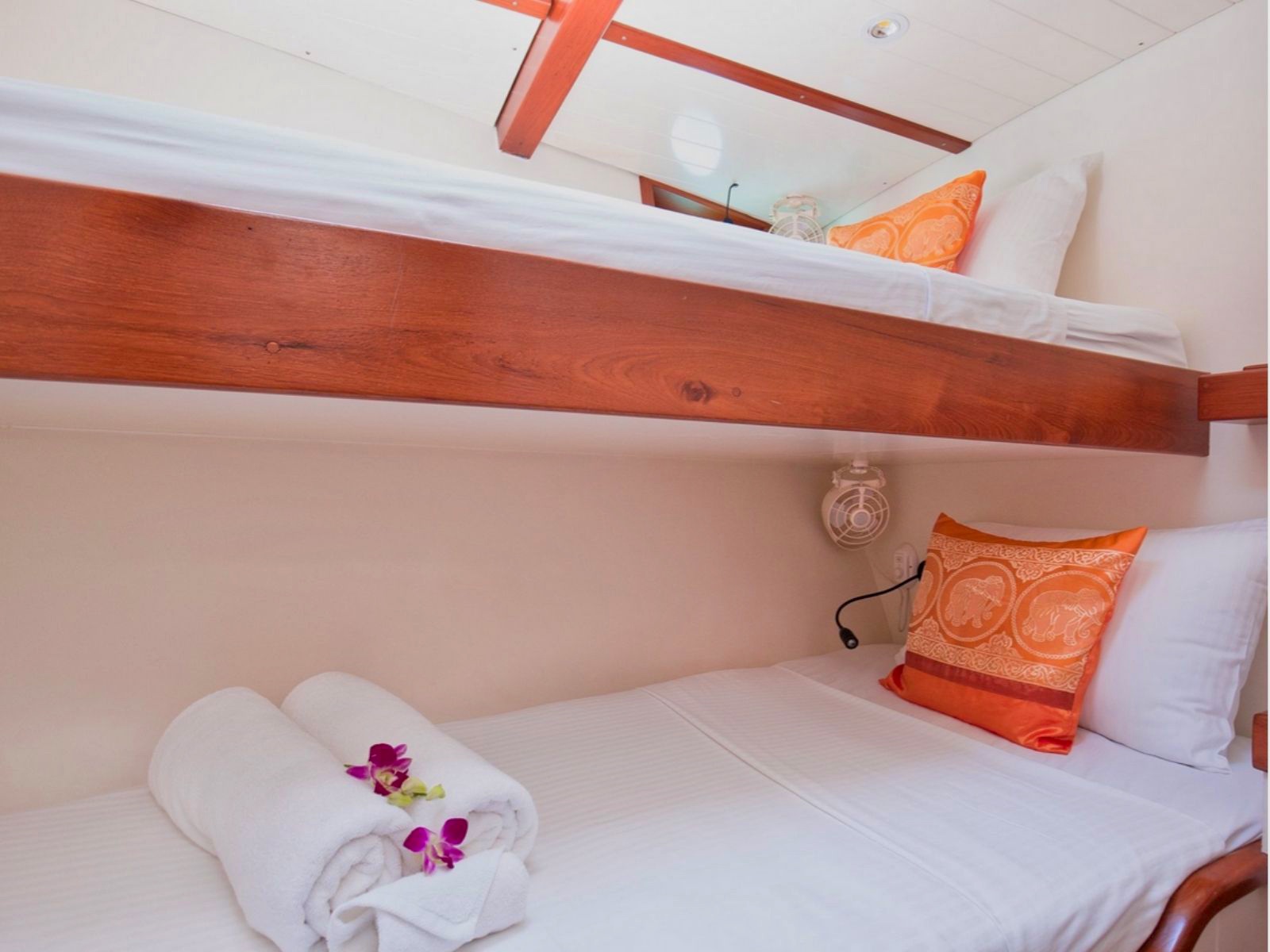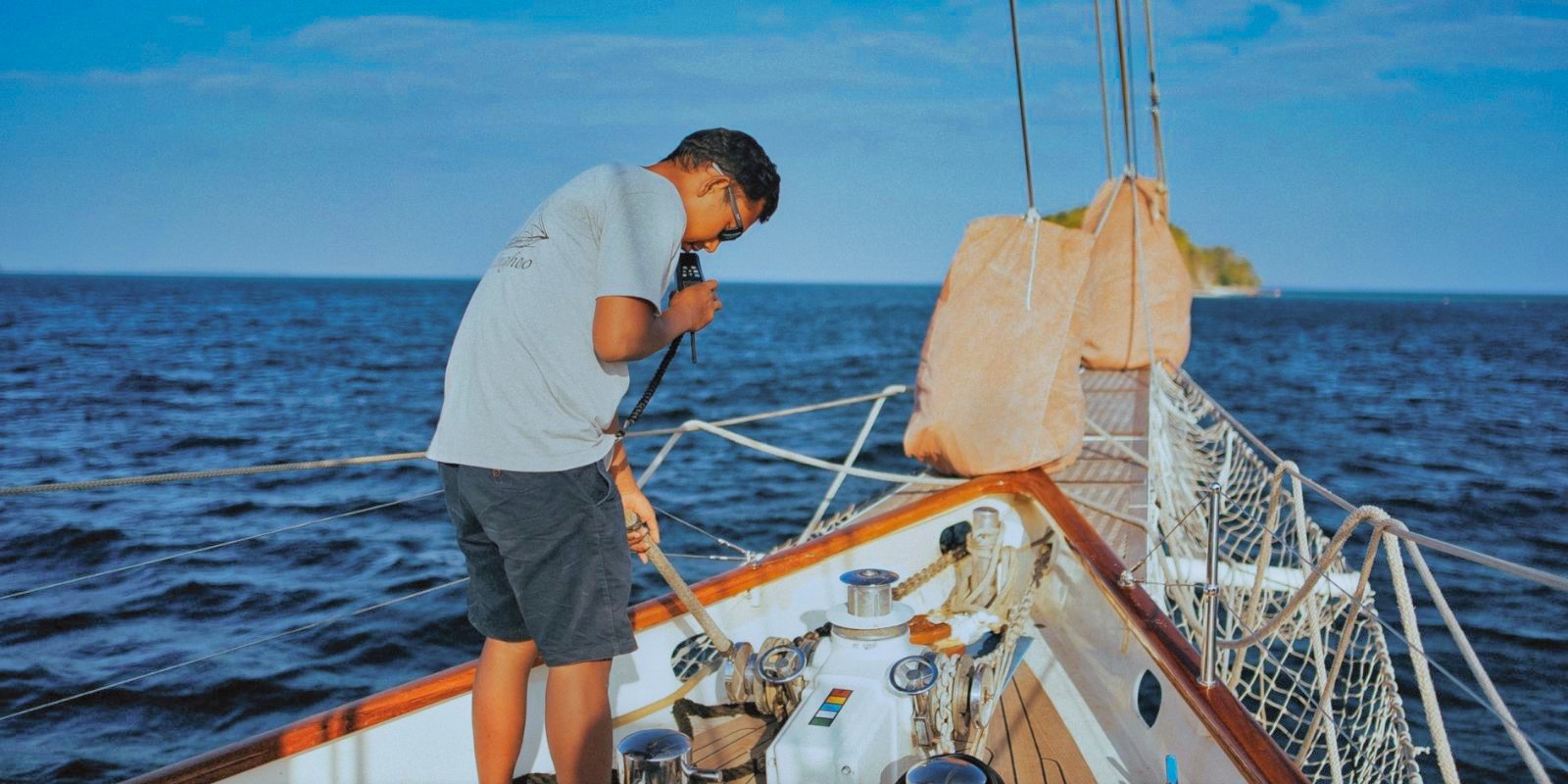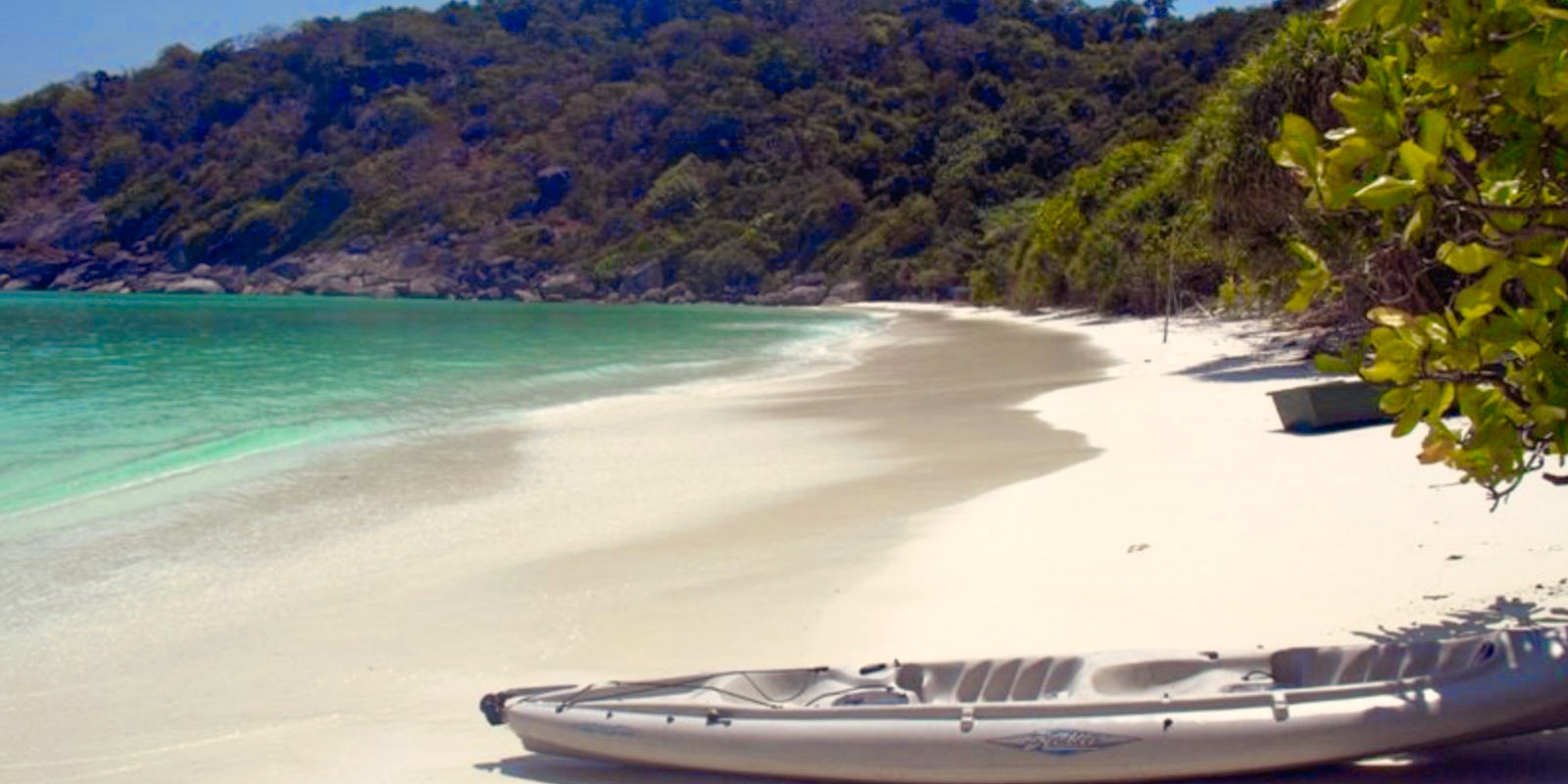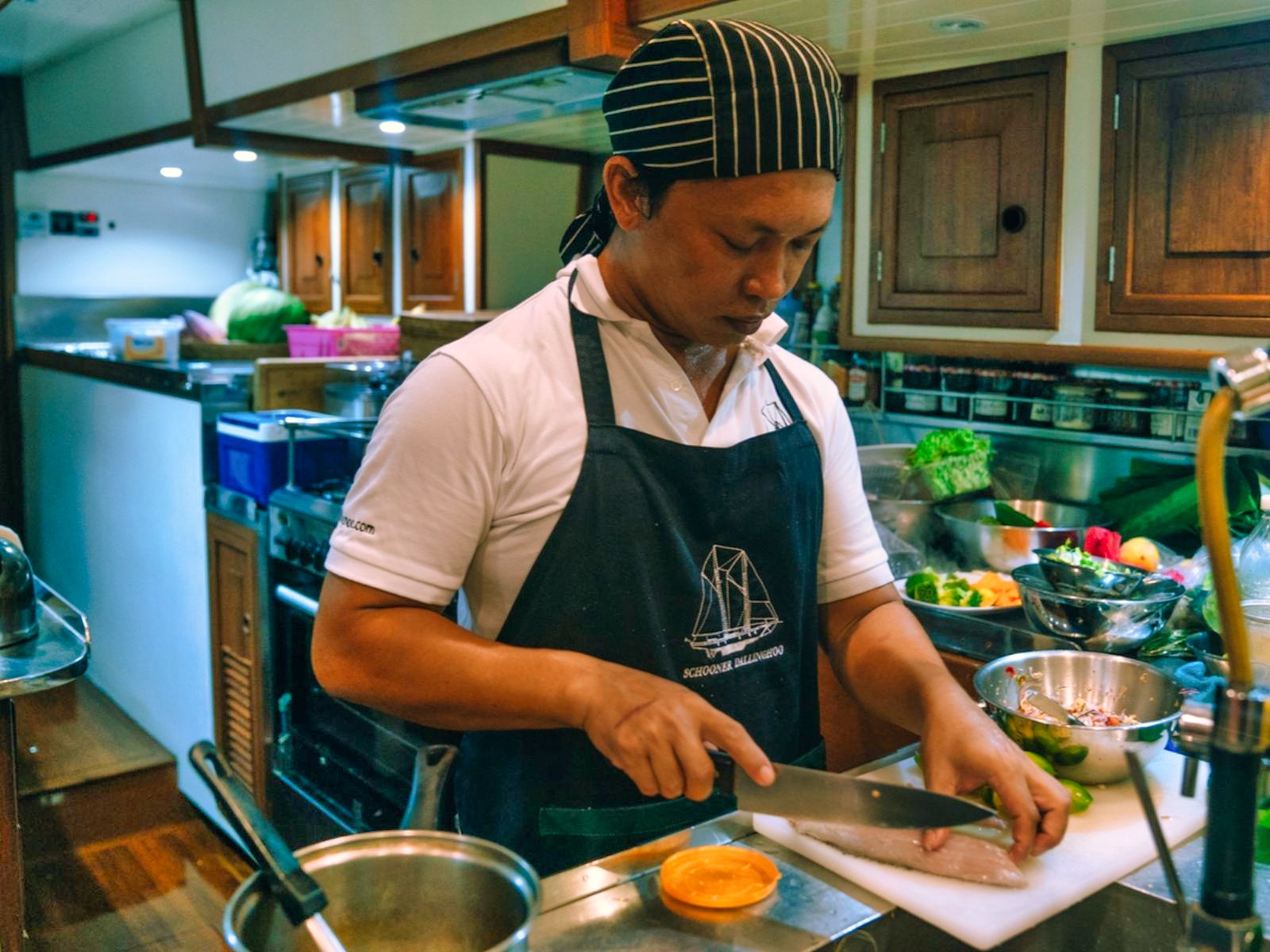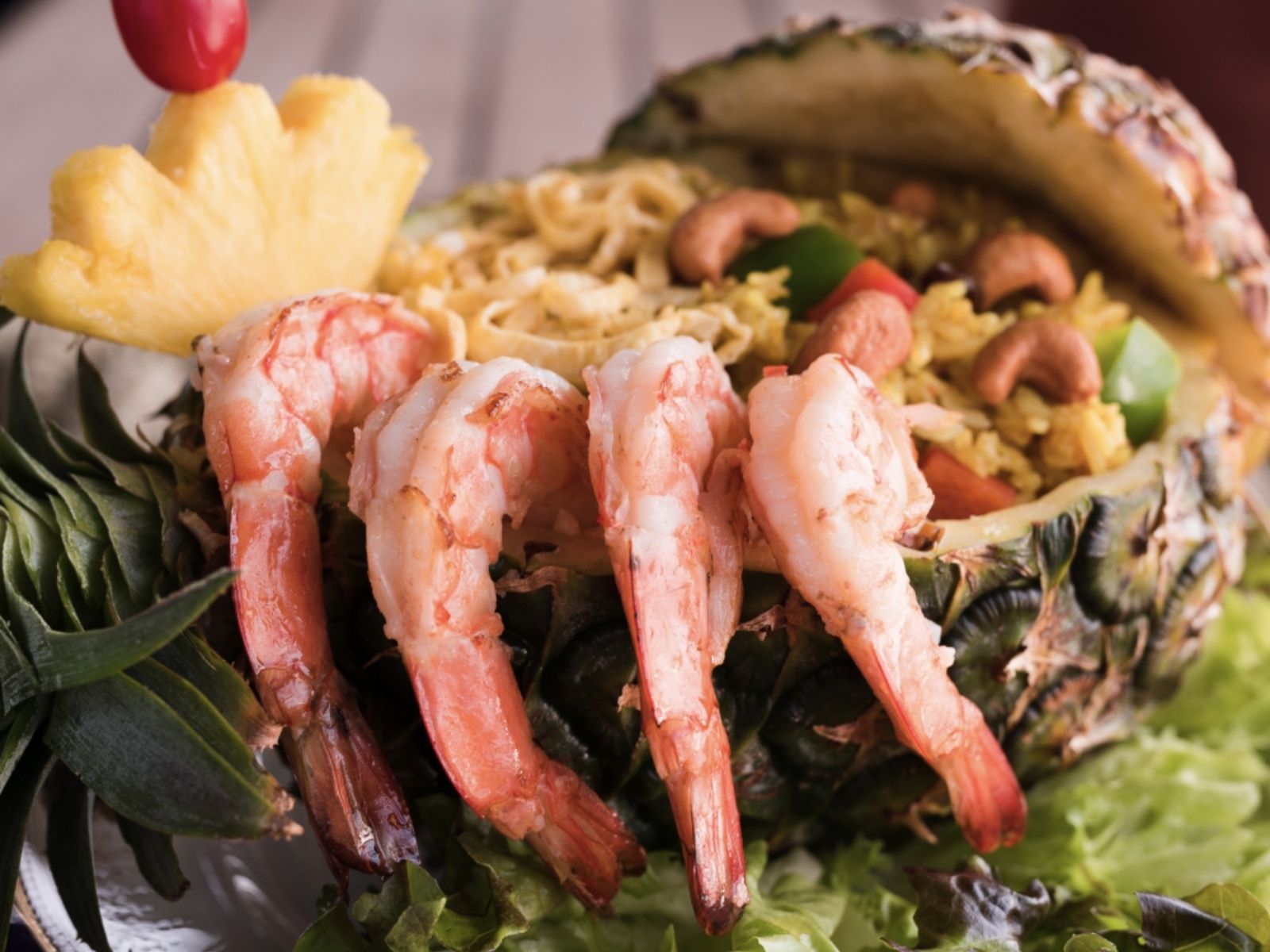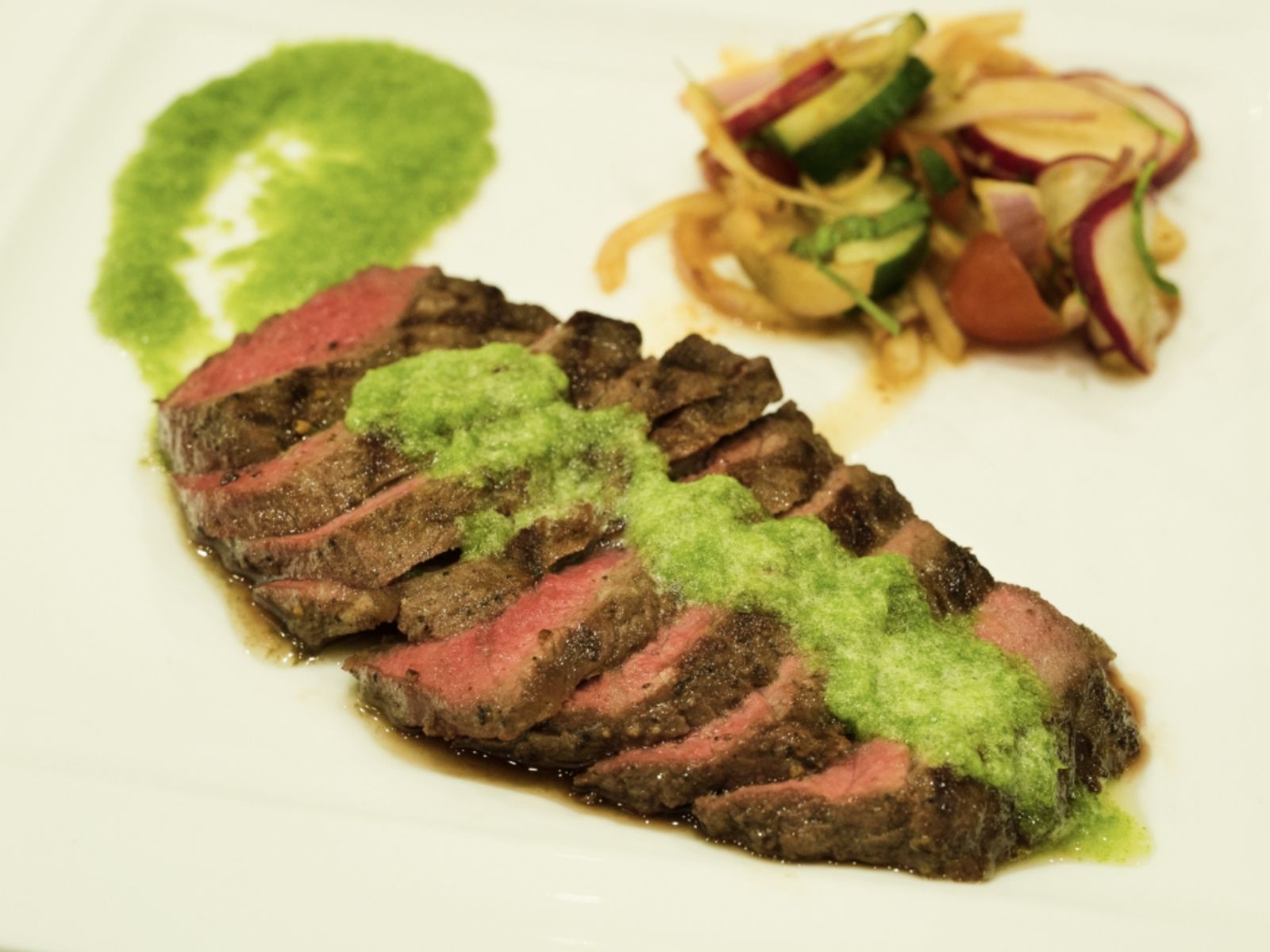 Techie Specs
Dudley Dix design, 1990
Total refit 2014-16
Length: 30m
Guests: 8
Crew: 6
Watermaker
Cruising speed 8 knots
Electricity: 12V / 220V
All cabins have en suites
Double fans & reading lights in all cabins
Full air-con available
Wifi onboard whenever in cell signal range
Boat toys
Tender
Snorkelling equipment
Fishing gear
4 sea kayaks
2 SUPs
Small gaff-rigged sailing dinghy
Dive compressor and scuba gear available for certified divers