Meet our first Thailand baby – Nyami !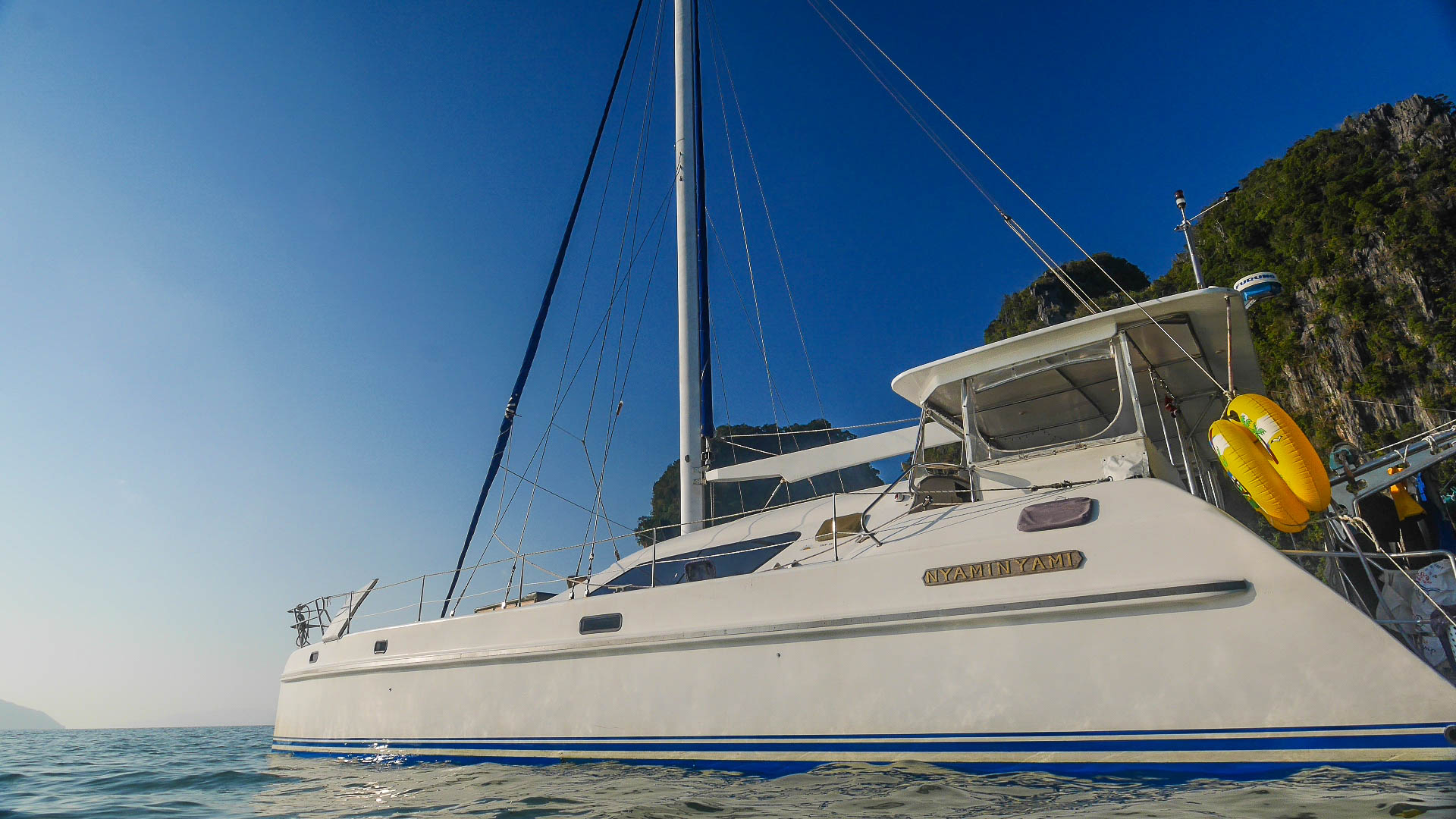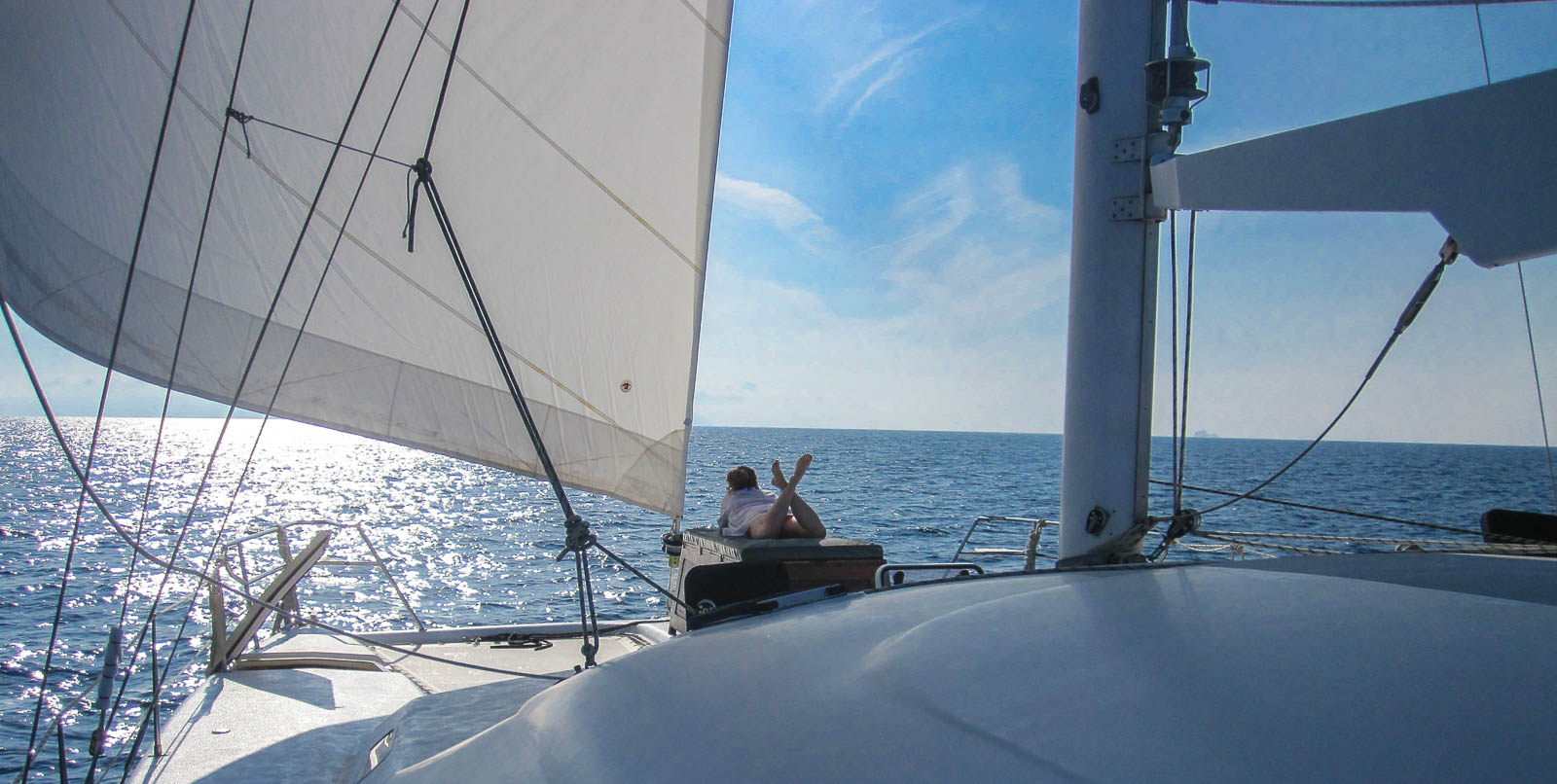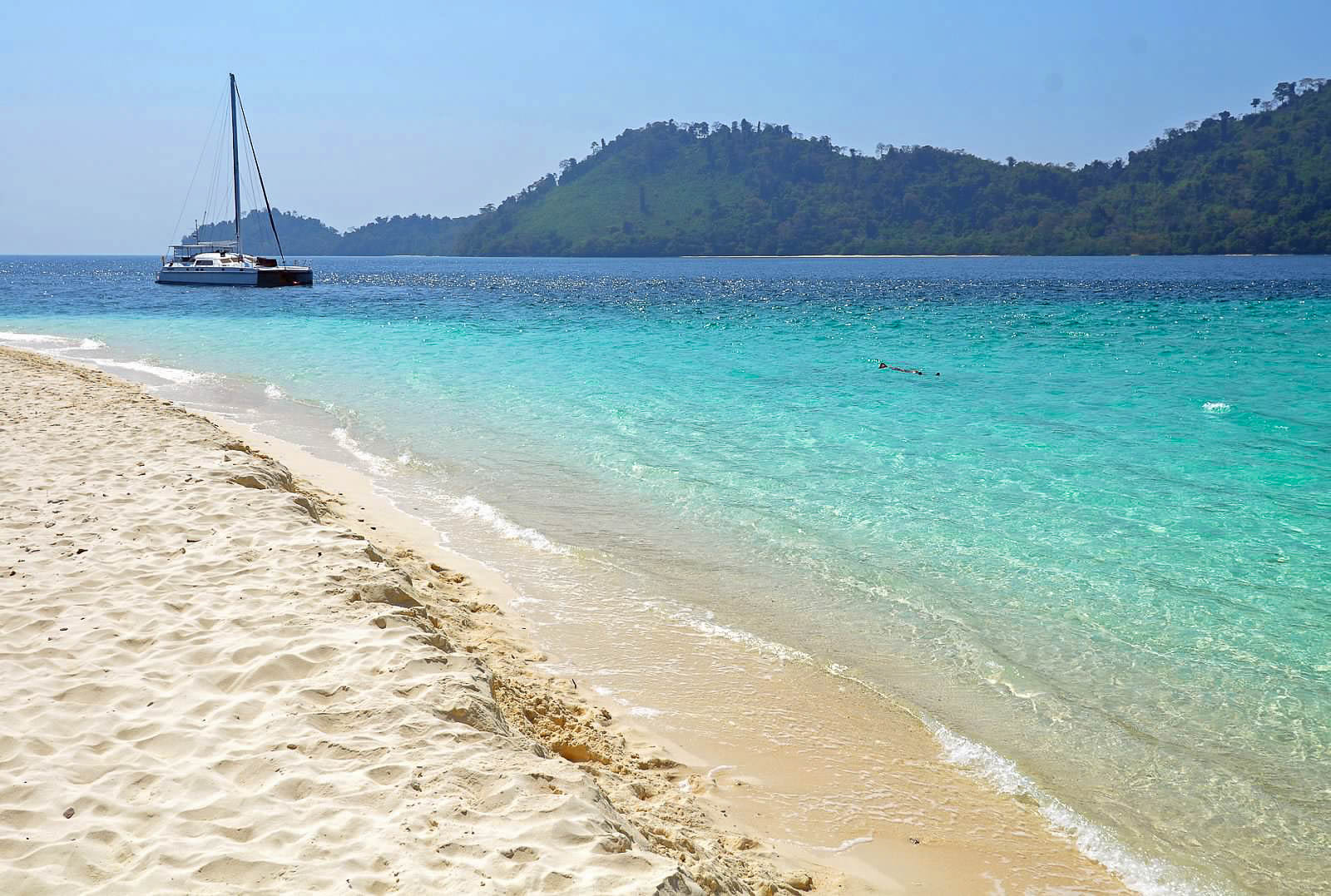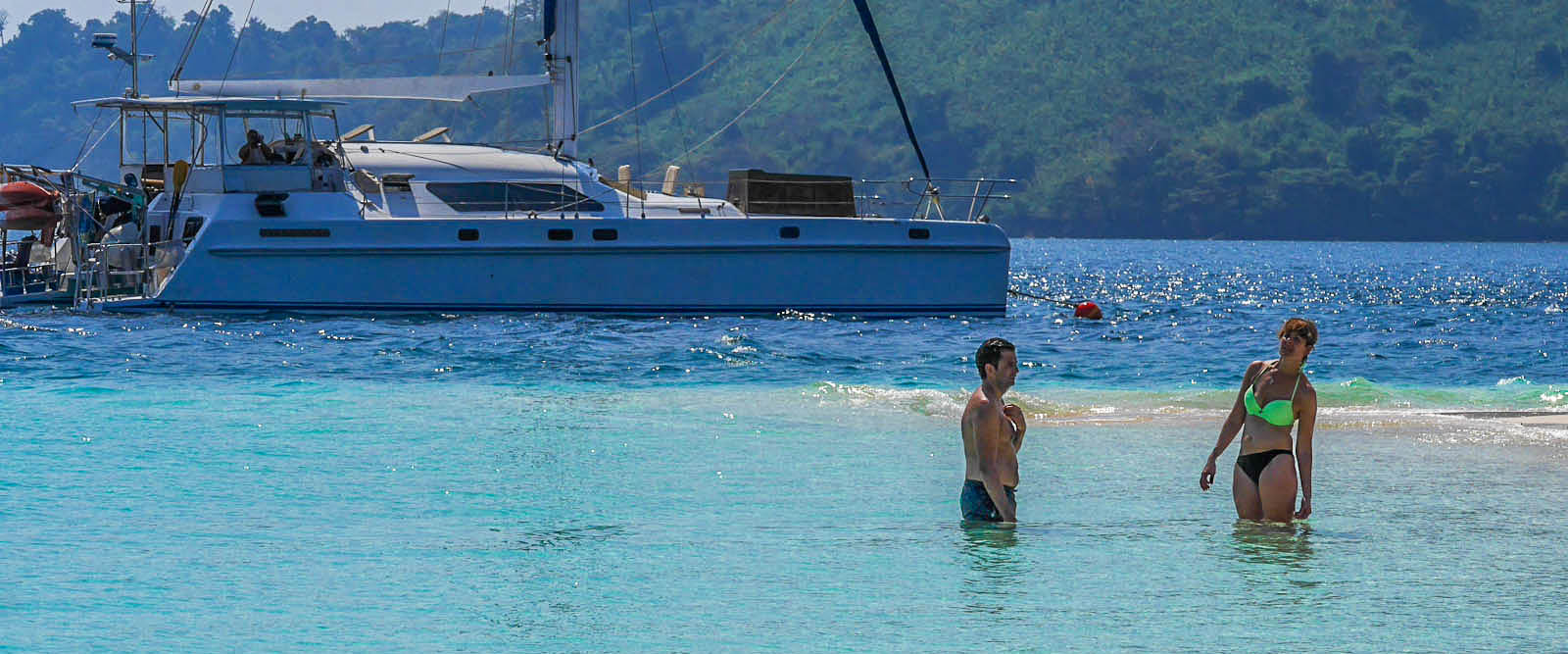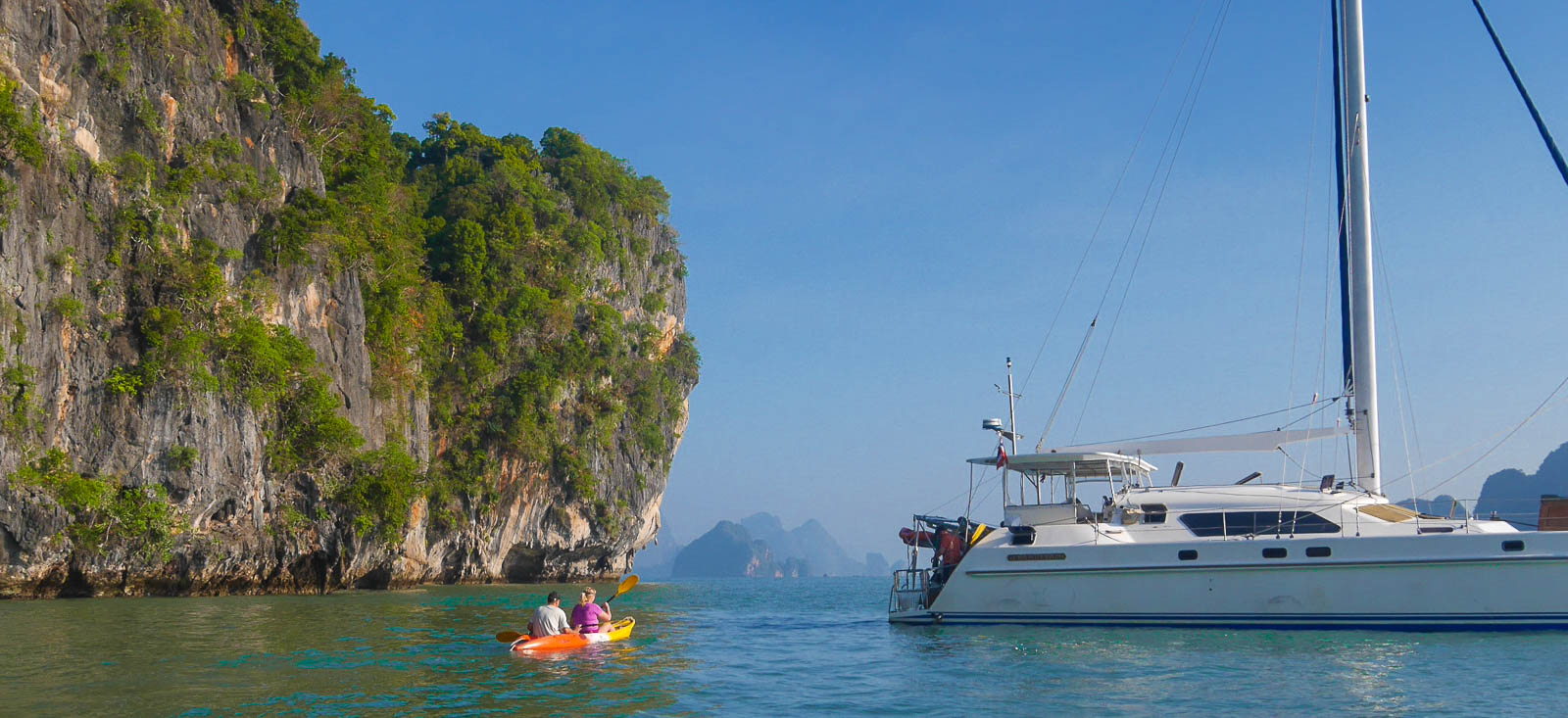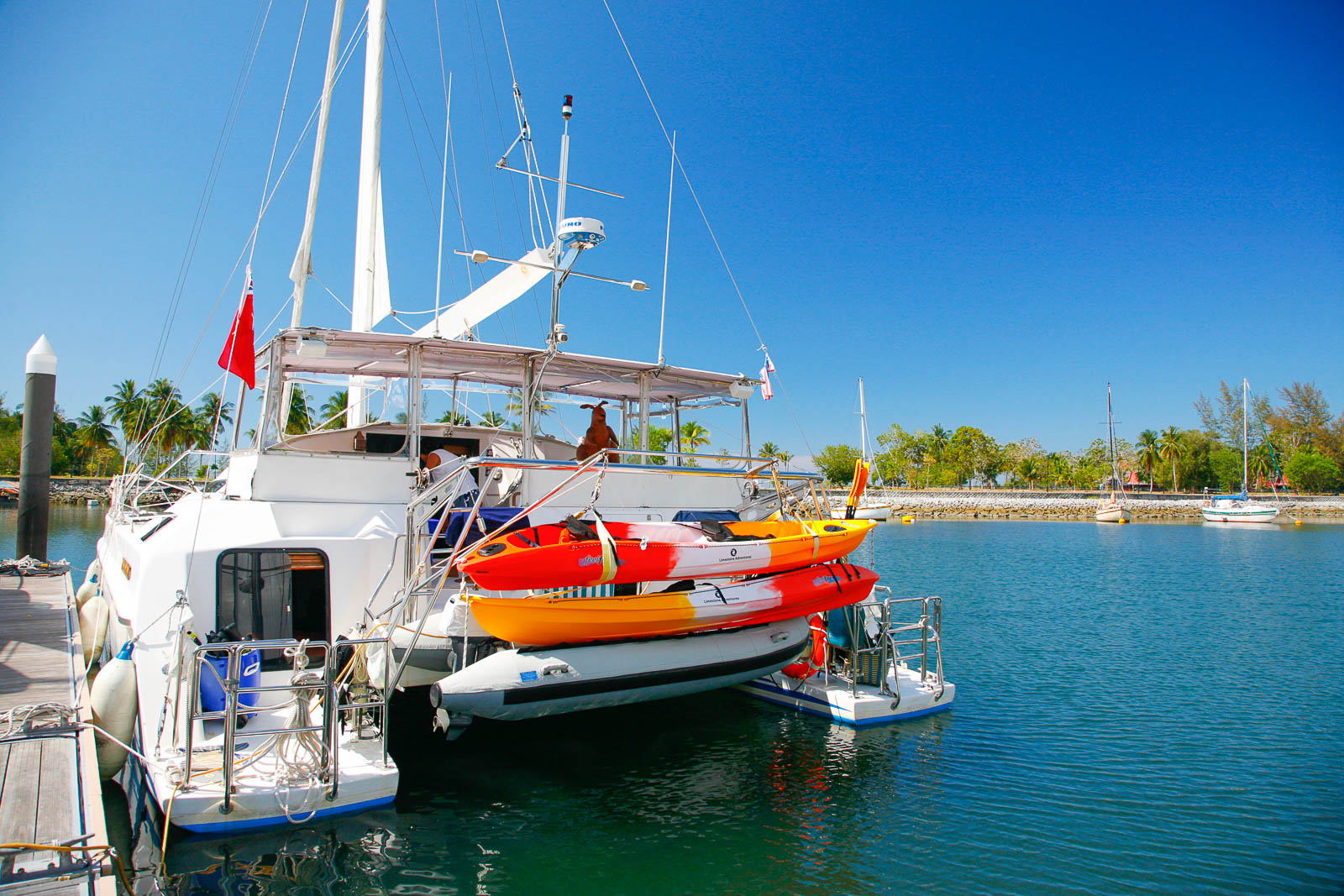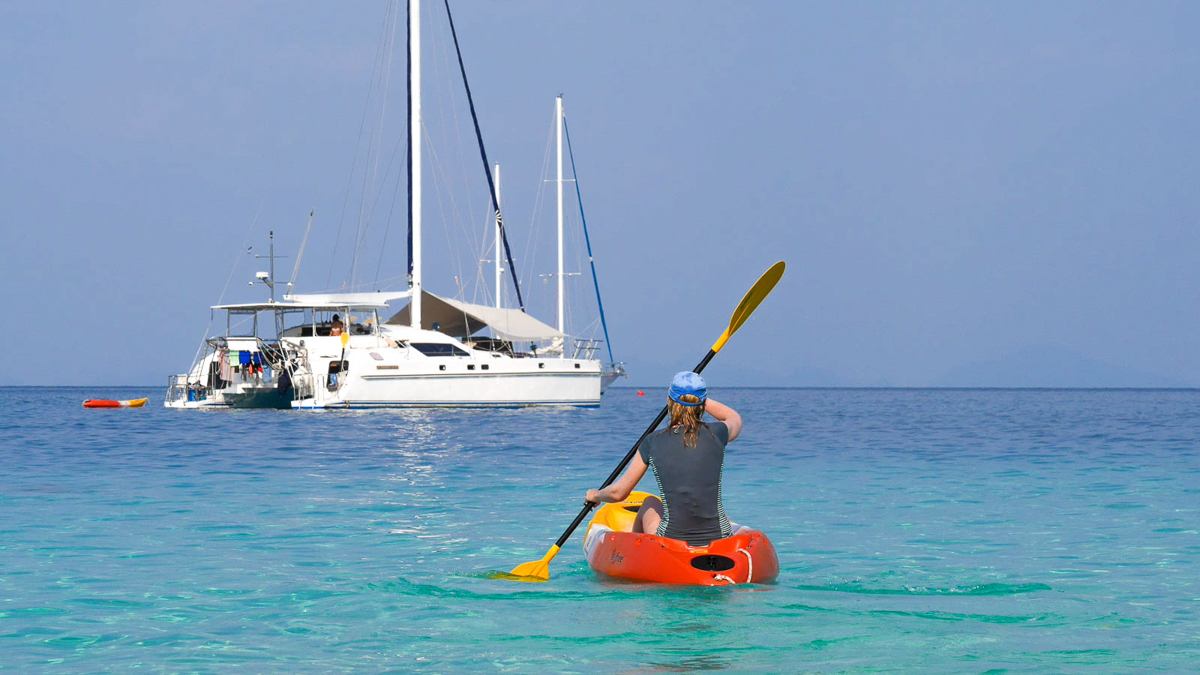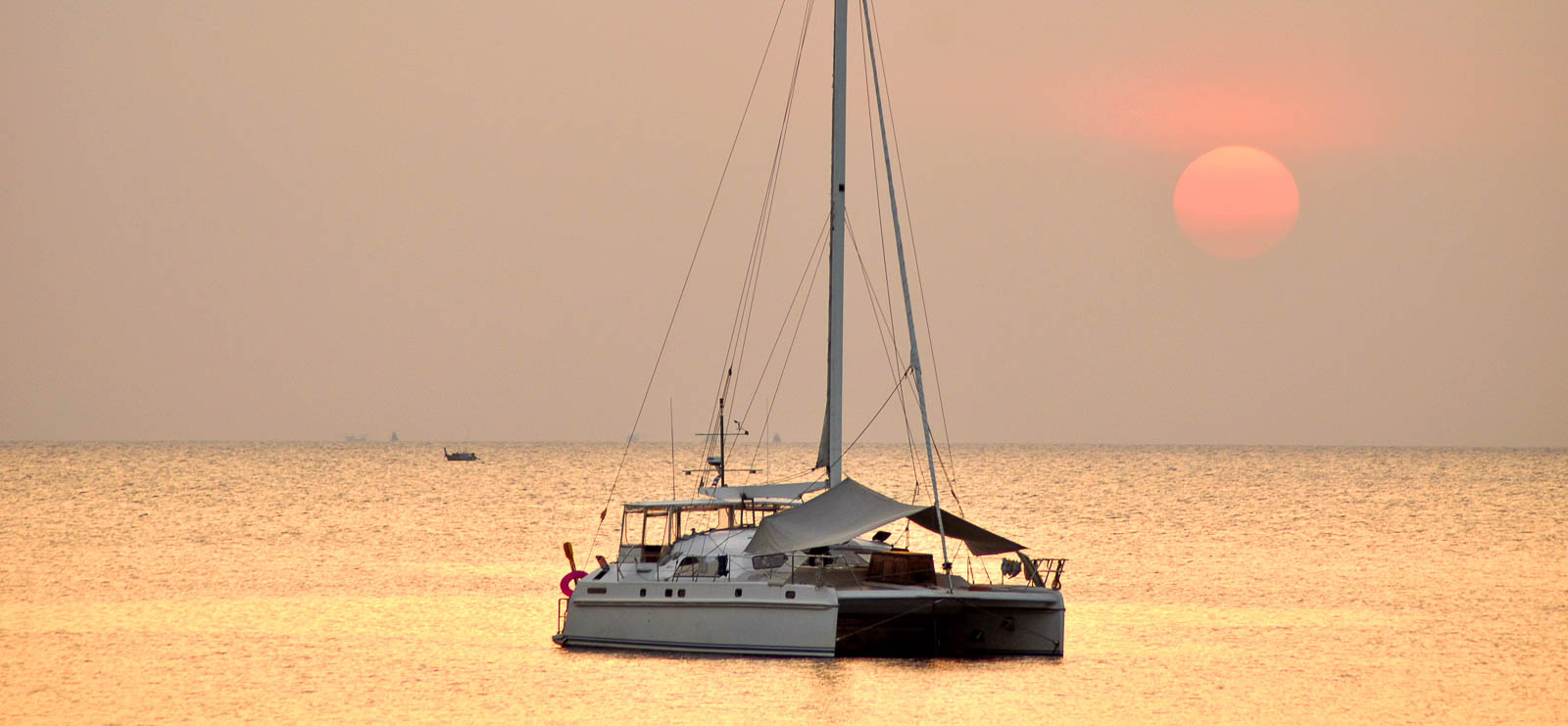 Ko Tanga, a tiny islet south of Phuket
Karen & Ade kayak in Phi Phi Li
Nyami - anchored at sunset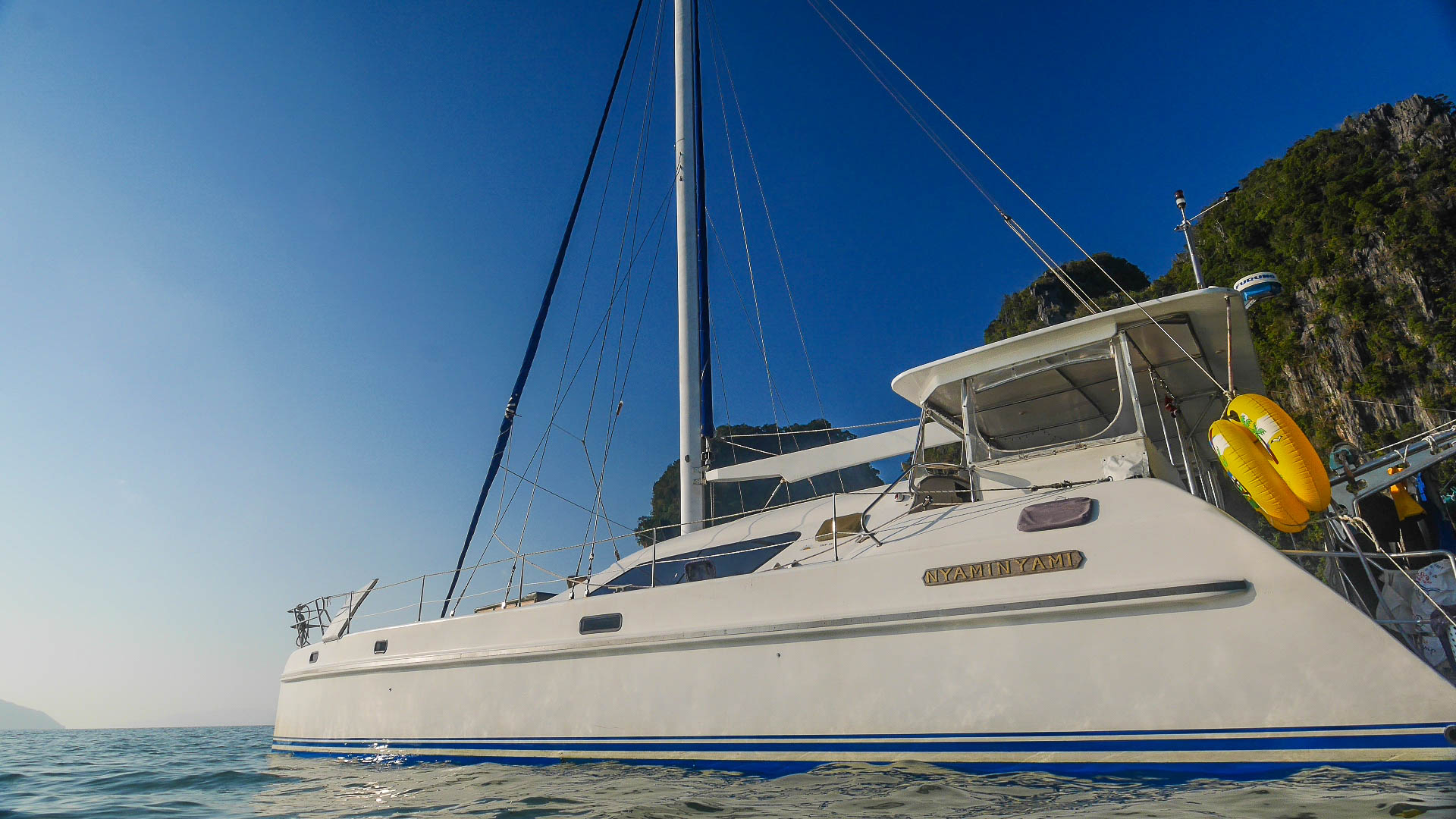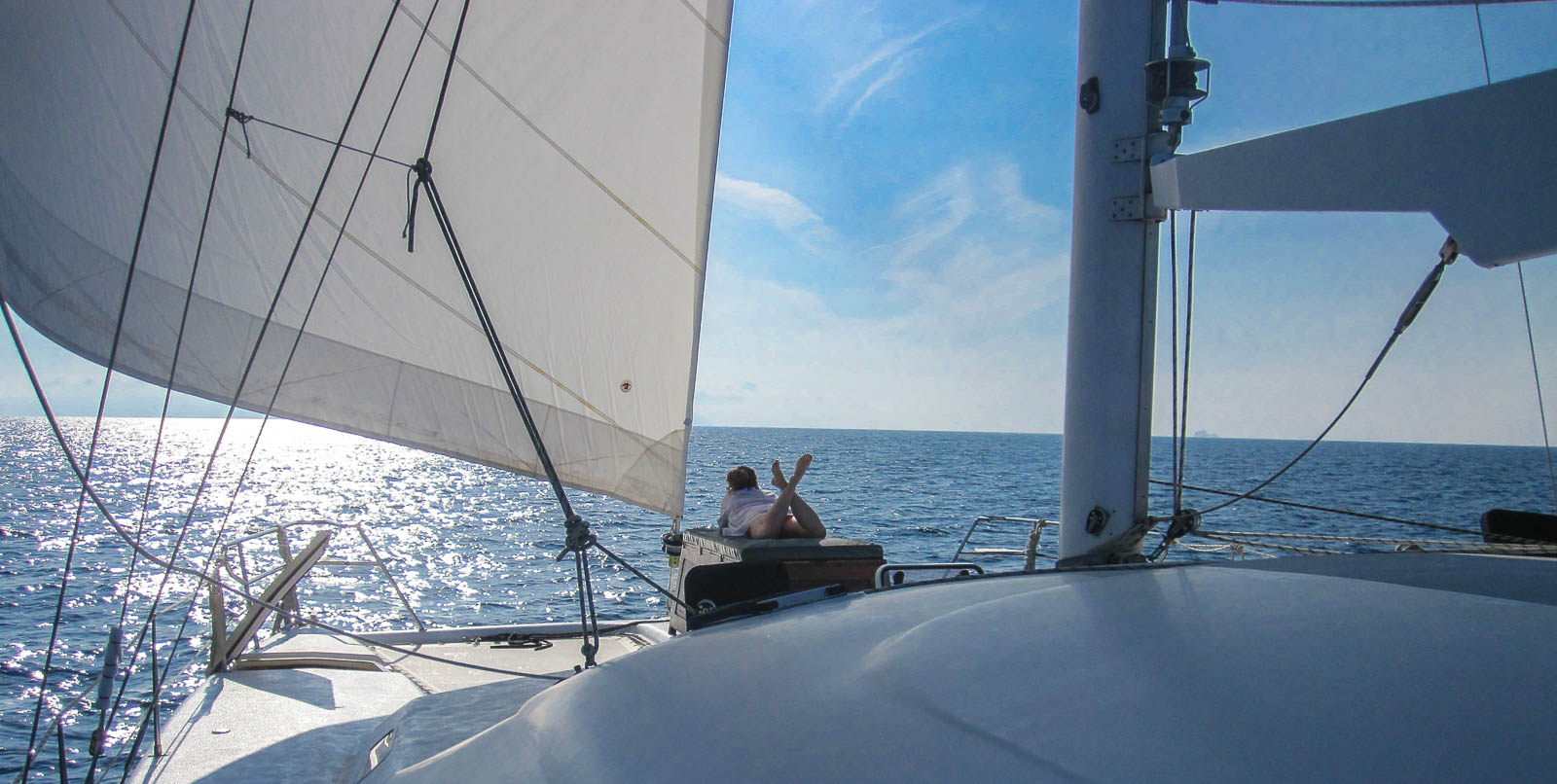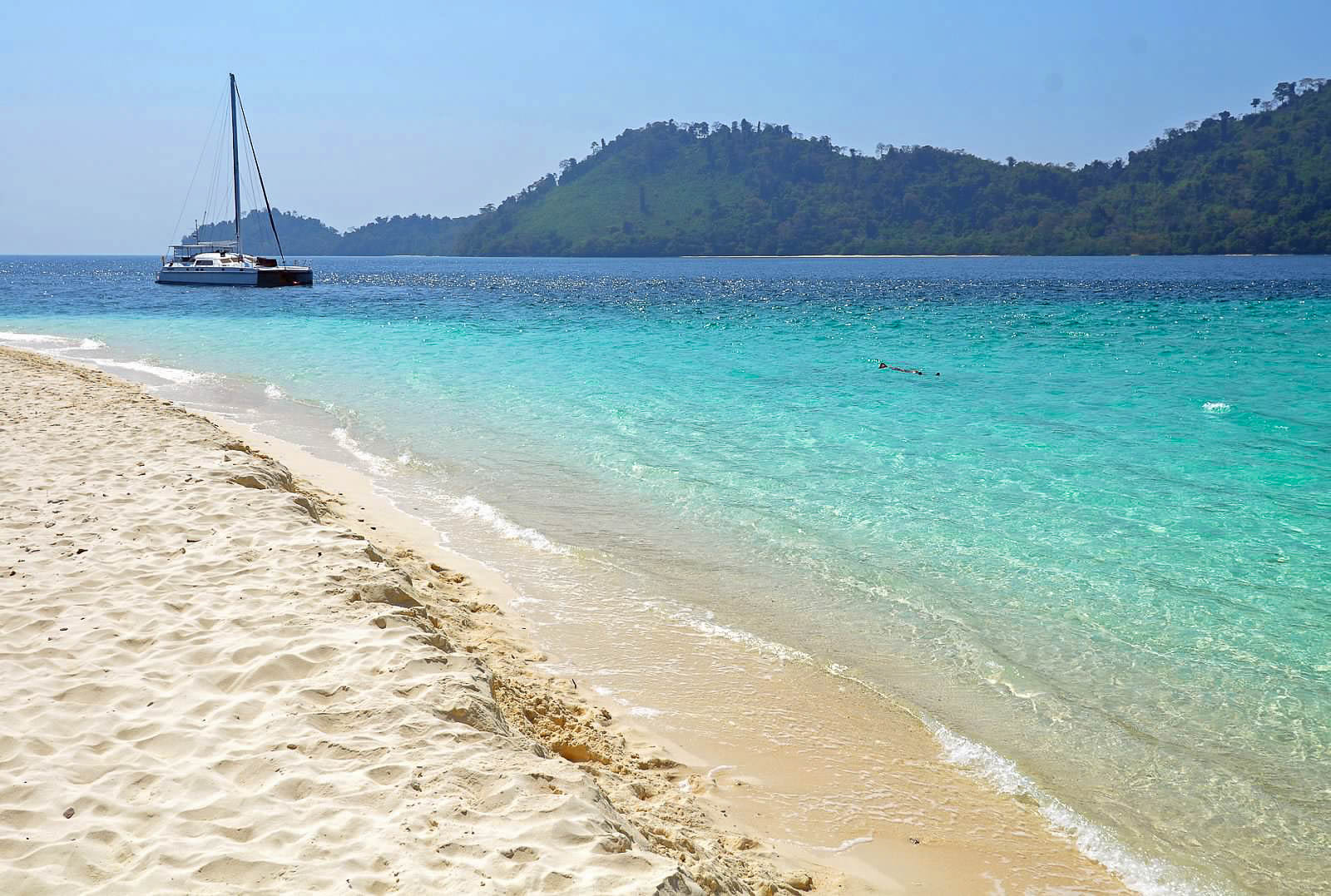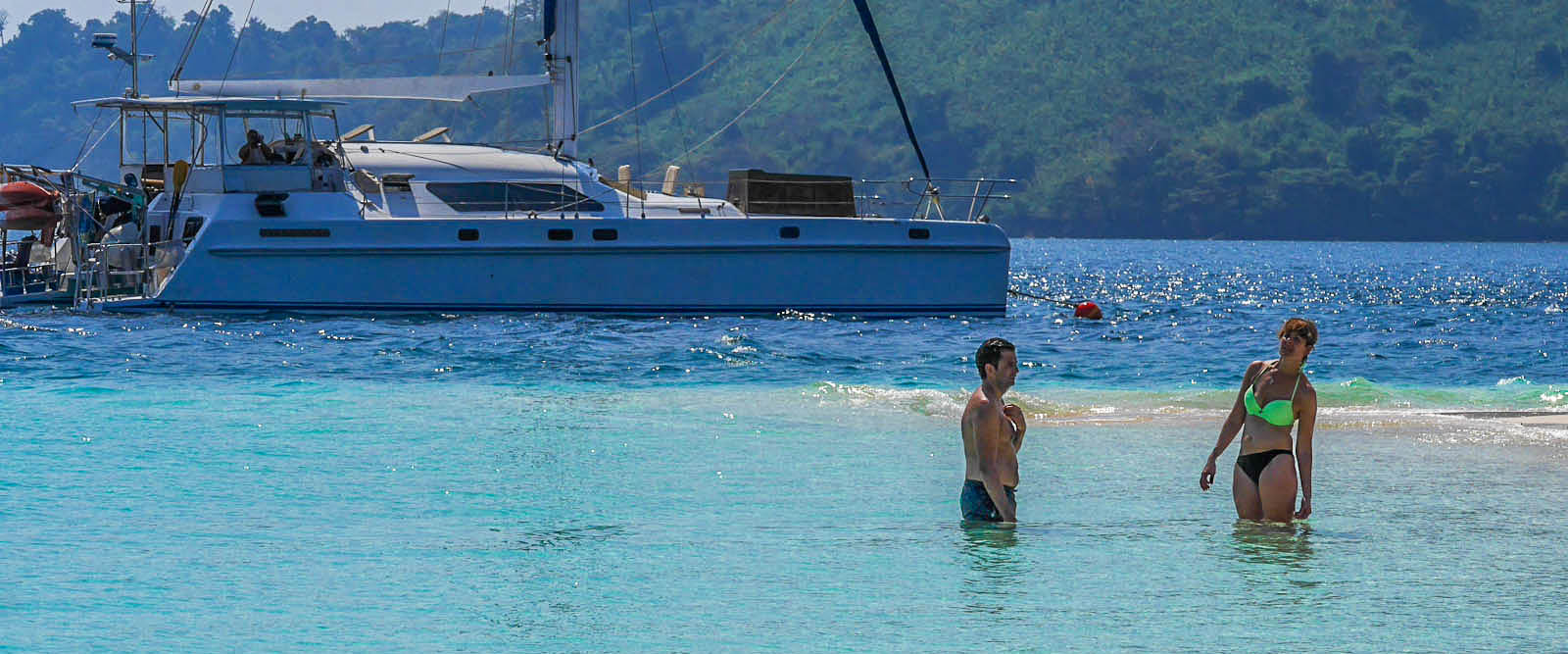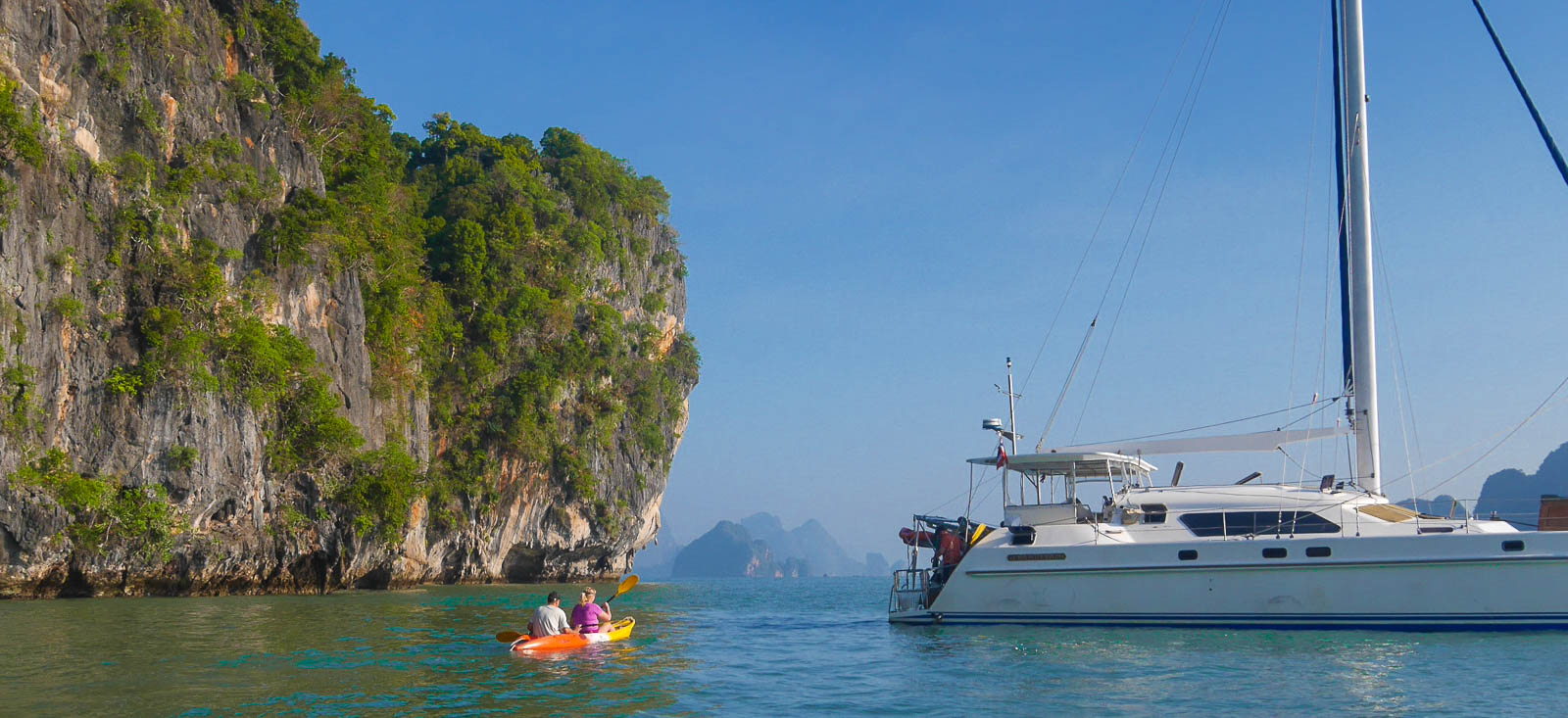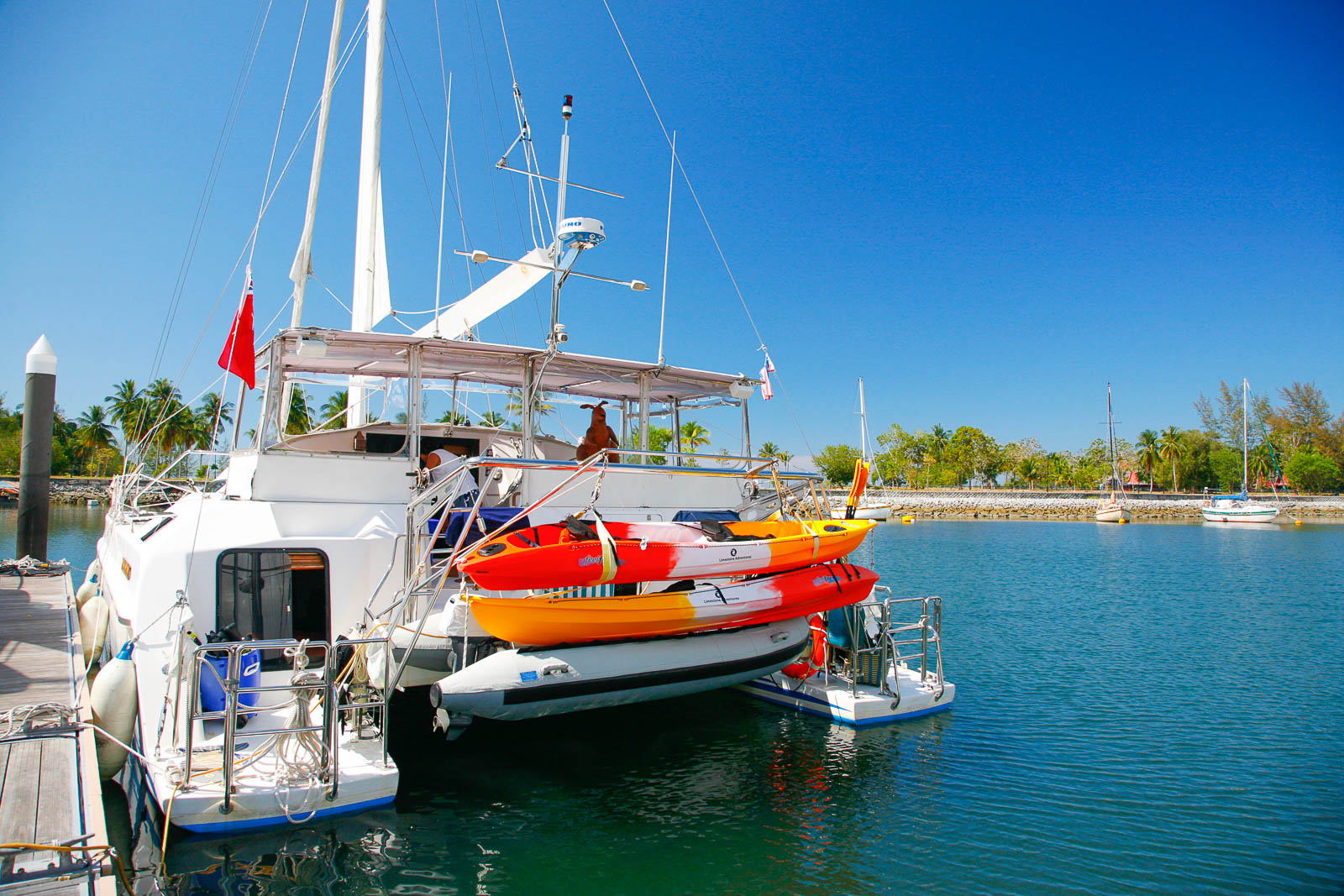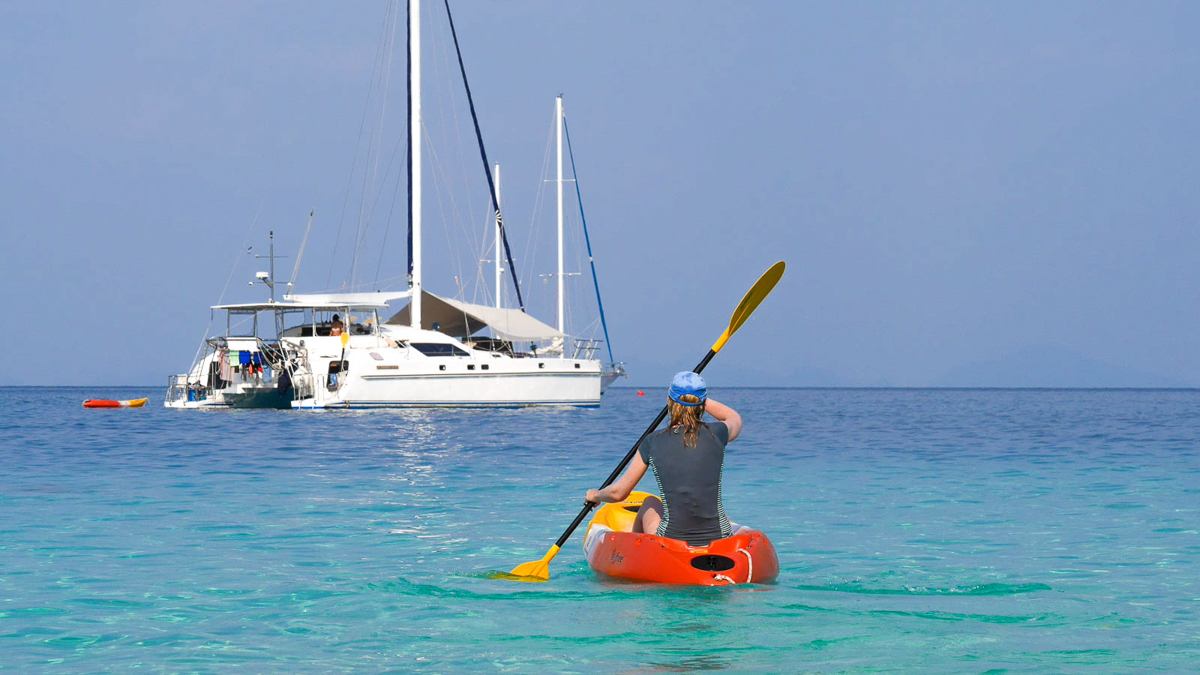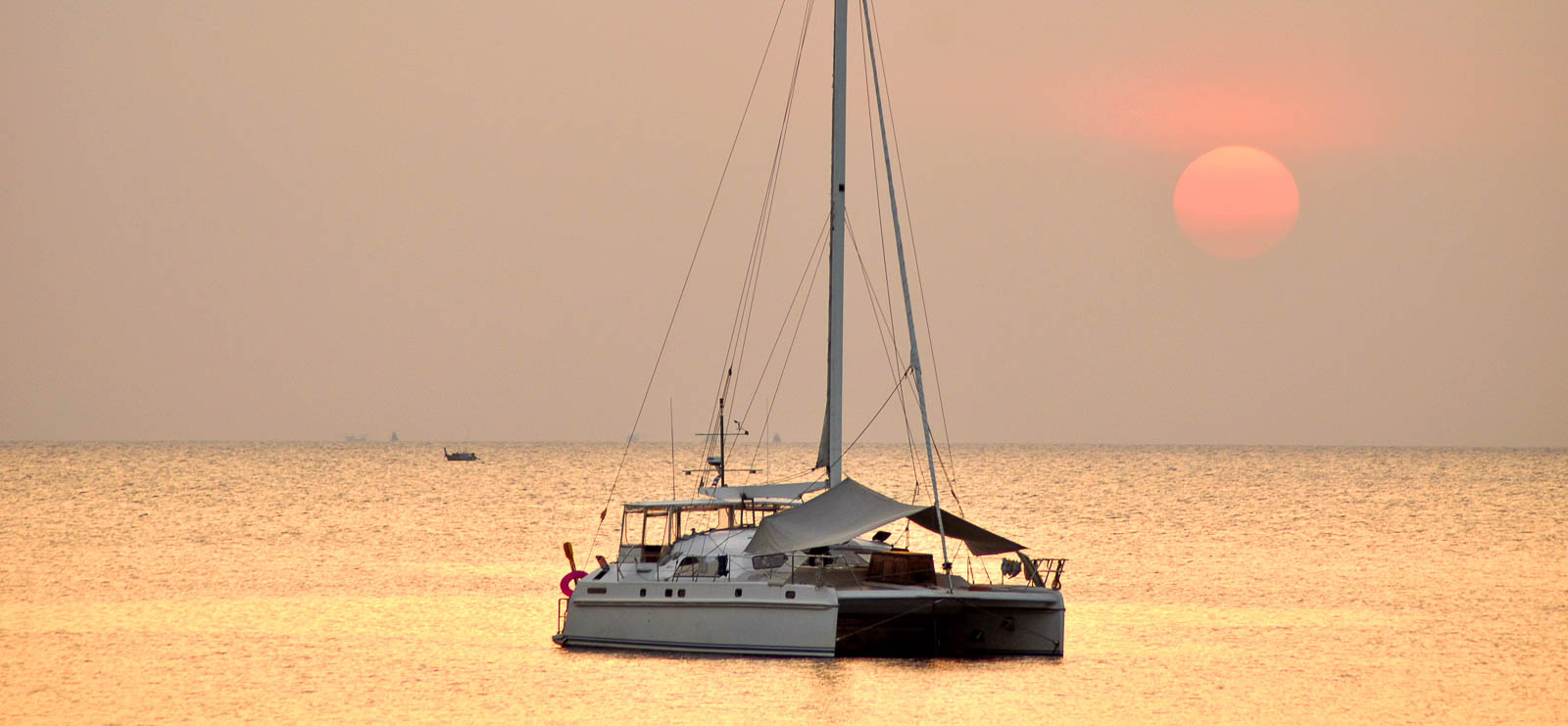 Built in Australia with world cruising comfort in mind, Nyami's expansive living areas and cabins make her the perfect sailing home for the tropics.
With a saloon big enough for a dance floor, and "real bed" sized cabins, she's also ideal for mixed groups with couples and singles, or families with kids. The forward cabins are luxuriously-sized queen beds, with en suites. The two aft cabins can be set up as either 2 single beds or convert to seriously huge king-size doubles.
Onboard are two 2-person sea kayaks and plenty snorkelling gear for all. The cockpit has full hard-top coverage from those tropical rays; and when anchored or motoring, we can rig a huge suntent over the trampoline area up f'ard.
Nyami also offers a shareboat ("cabin charter") option, where you can join a fun group of like-minded adventurers as a single or couple.
Layout
7 cabins in total
2 aft cabins – configured as 2 x twin beds or a mega-double
2 king-size cabins f'ard
3 single crew cabins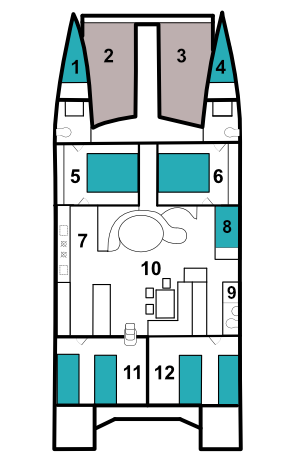 Crew cabin
Netting
Netting
Crew cabin
Double cabin
Double cabin
Galley
Crew cabin
Shared bathroom
Saloon
Double or twin cabin
Double or twin cabin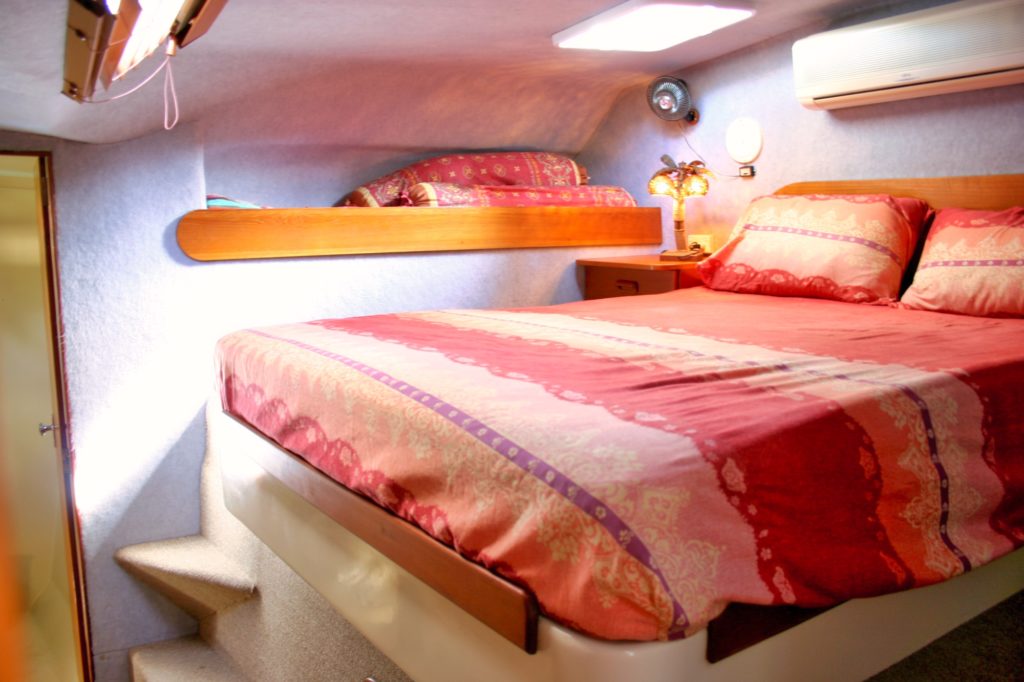 Meet the Crew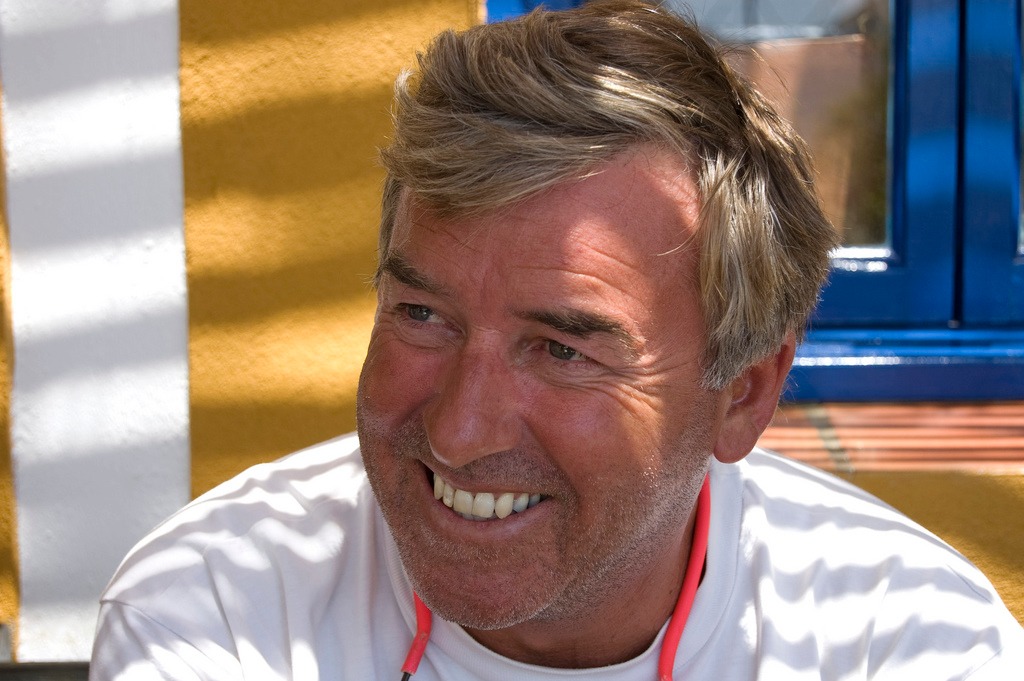 Cap'n Ray – aka our very own marine engineer; so if it goes wrong, it's all his fault :). Also known to lead unsuspecting guests astray in the infamous "Why Not" bar….at least his jokes get a little funnier after a few Changs!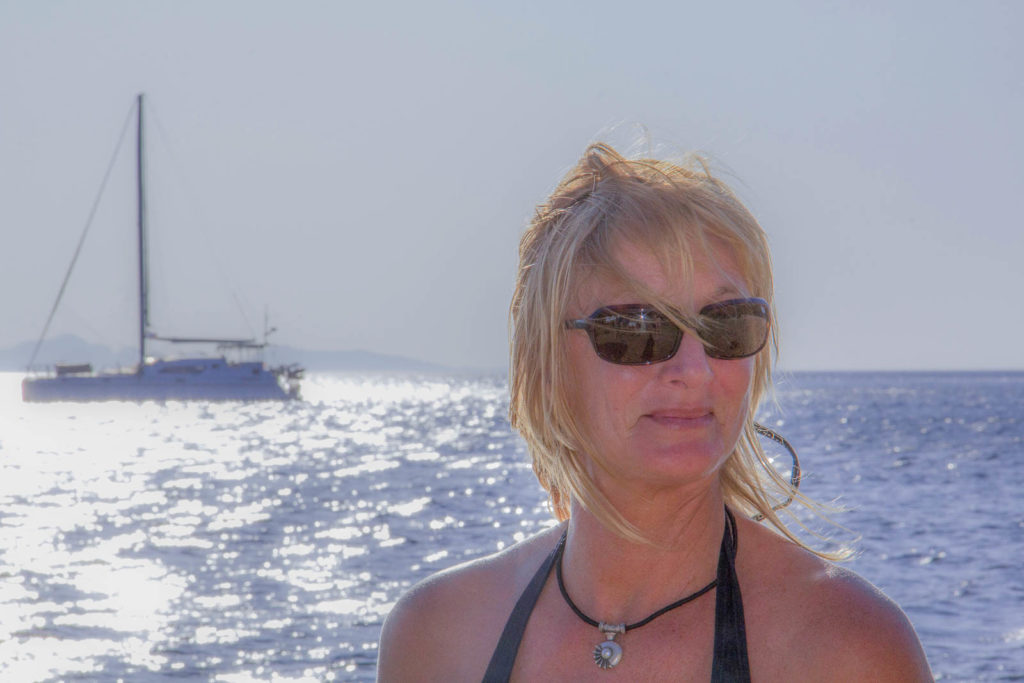 Cap'n Di – yes, we are co-captains when we are both onboard Nyami; a source of great entertainment for our guests, as we try hard to be diplomatic when it comes to eg, "where to drop the anchor". Boats being female, it must follow that a girlie skipper knows best, right??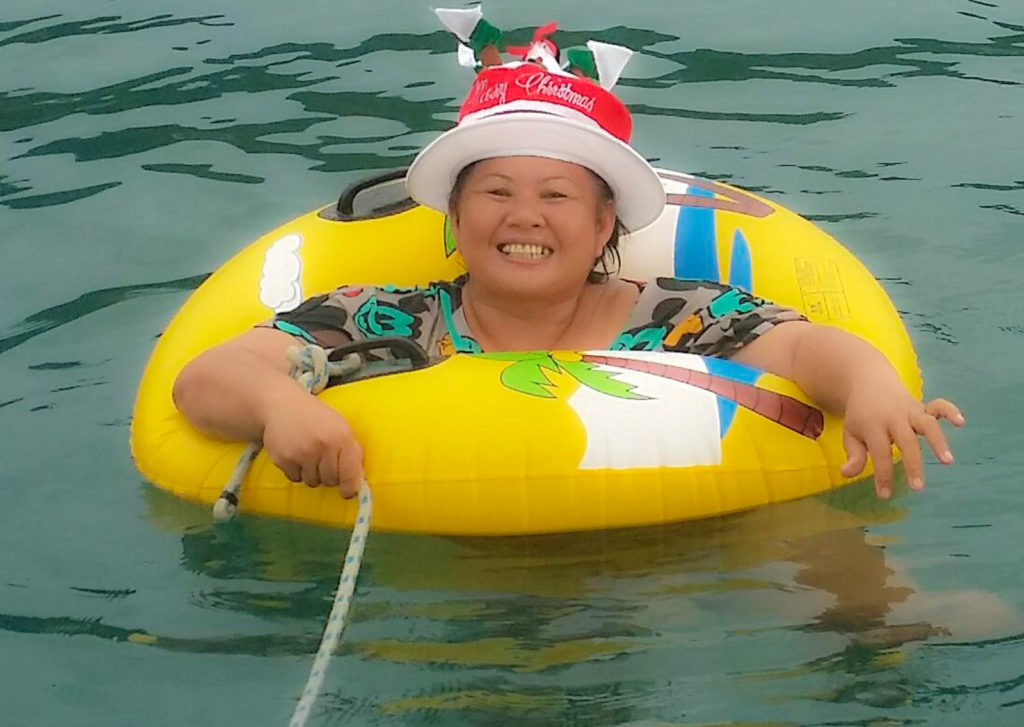 Our chef Nui –  by far the most important member of our crew. She could be running a 5 star restaurant if she chose; our sailors keep threatening to steal her away home with them! She spoils us with amazing Thai & western spreads, birthday cakes, pina coladas…everything with her inimitable Cheshire Cat smile.
Prices
| No. of guests | 1-30 Nov | 1 Dec-30 Apr | 1 May-31 Oct |
| --- | --- | --- | --- |
| 1 - 4 | 1290 | 1390 | 1190 |
| 5 - 6 | 1490 | 1590 | 1390 |
| 7 - 8 | 1590 | 1650 | 1490 |
SeaScape Skipper
Informal sailing instruction available too, if desired.
Thai cook
Top class food, both Thai and Western. Our cooks do all the provisioning, cooking and cleanup for meals on board
Soft drinks, tea, coffee, bottled water
Always available
Fresh fruit
Always available
Complimentary Happy Hour "starter pack"
We provide drinks for the first few evenings of Happy Hour - after that, it's BYO.
Breakfast & lunches; dinners onboard for 4 nights
For the other dinners, we eat ashore at little beach places with great local ambiance
All boat running costs
Mooring fees, fuel, water, local taxes, end-of-trip
cleaning
Airfares and transfers
Our local knowledge is at your service, though we don't directly book travel
Personal insurance
We very highly recommend travel insurance. It is not yet obligatory, but Thai law may soon require at least medical coverage.
Optional onshore excursions, national park fees
There are opportunities to visit local temples, visit elephant sanctuaries
etc. We can organise these for you at the time if you would like.
Food and drink ashore
We eat dinners ashore at little local places about 4 evenings on an 8 day trip.
Marine National Park fees. Vary between 200-400 baht/pp.
Payable for some environmentally-protected beaches and bays.
Life on Board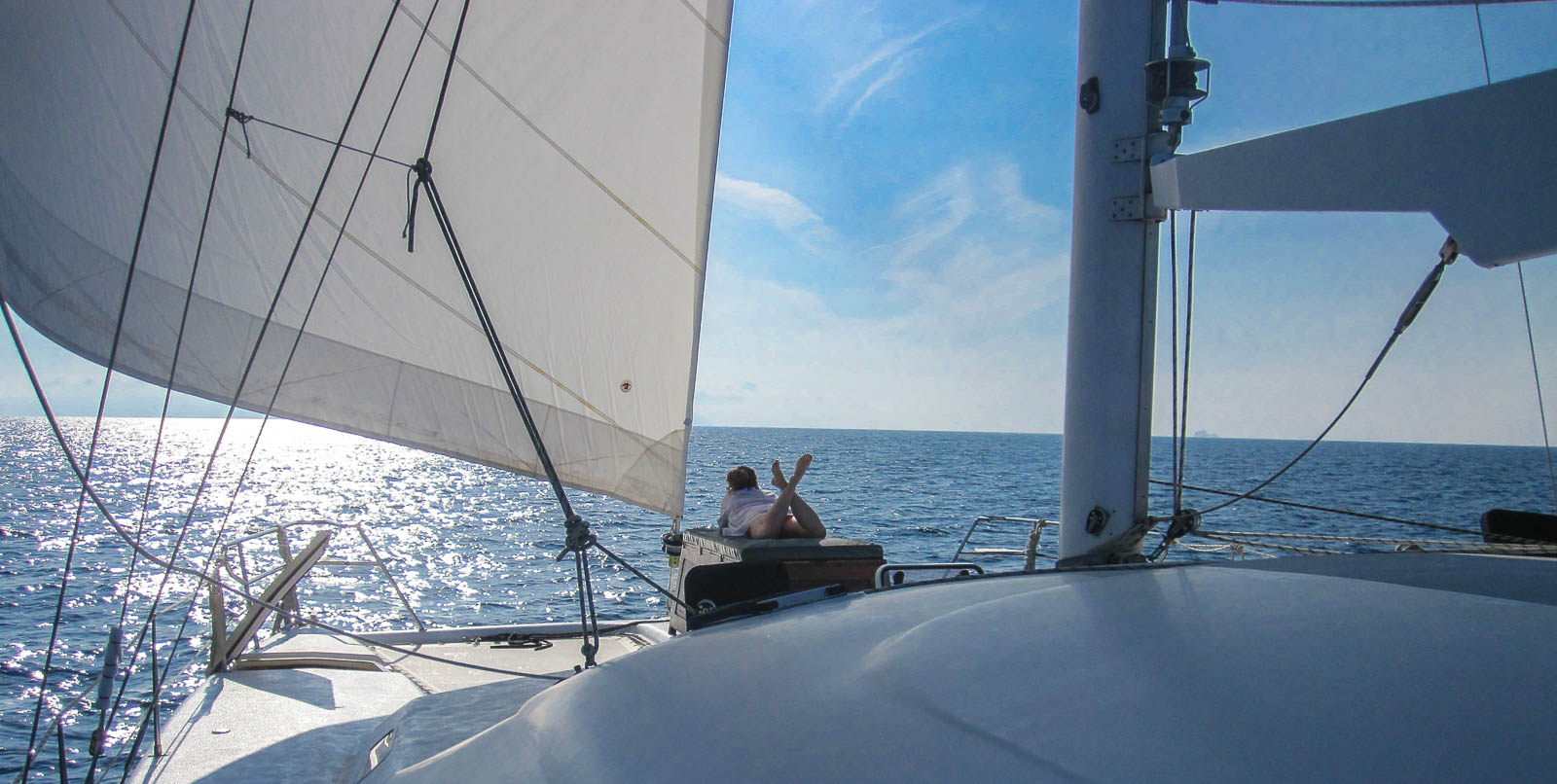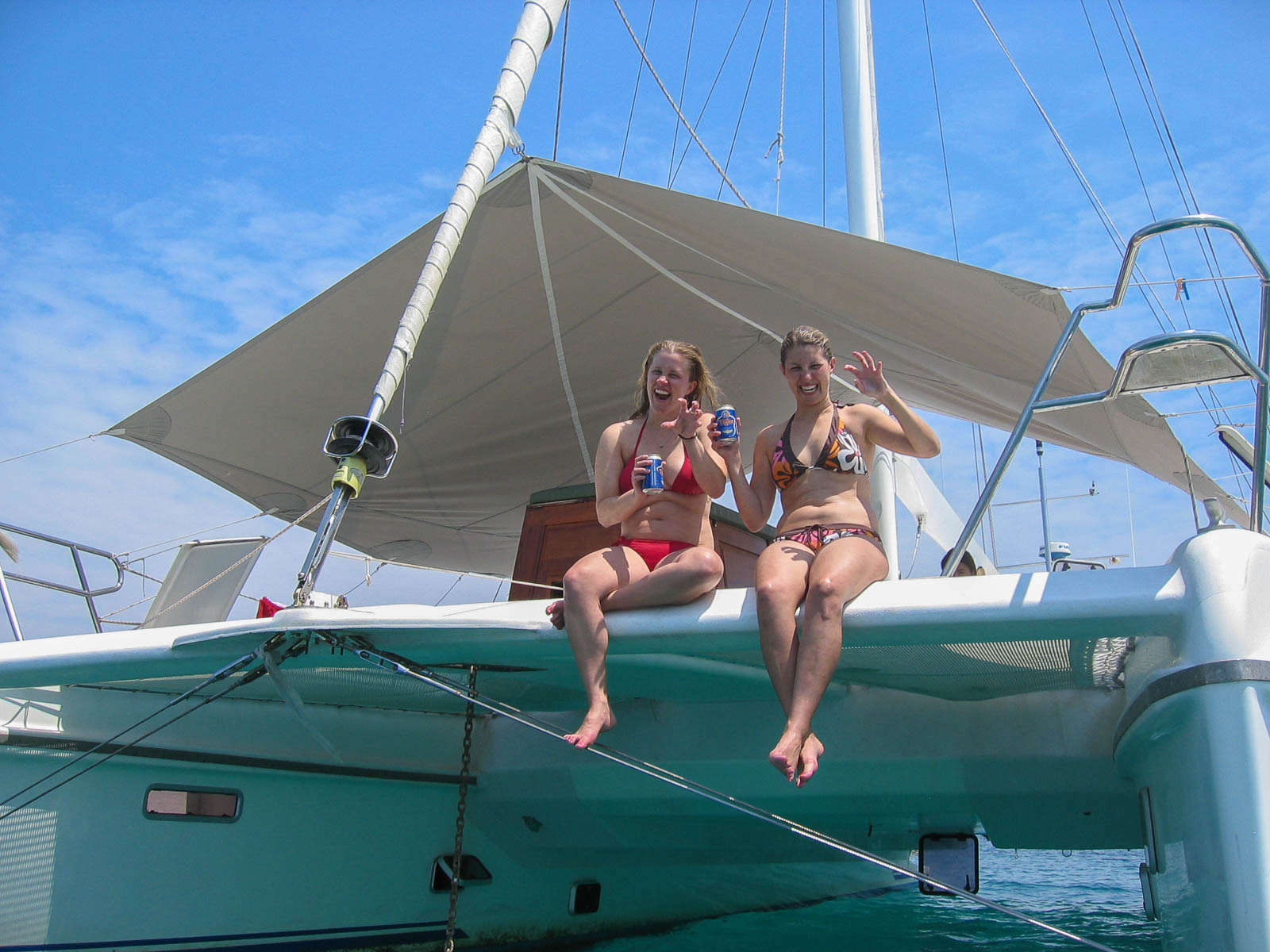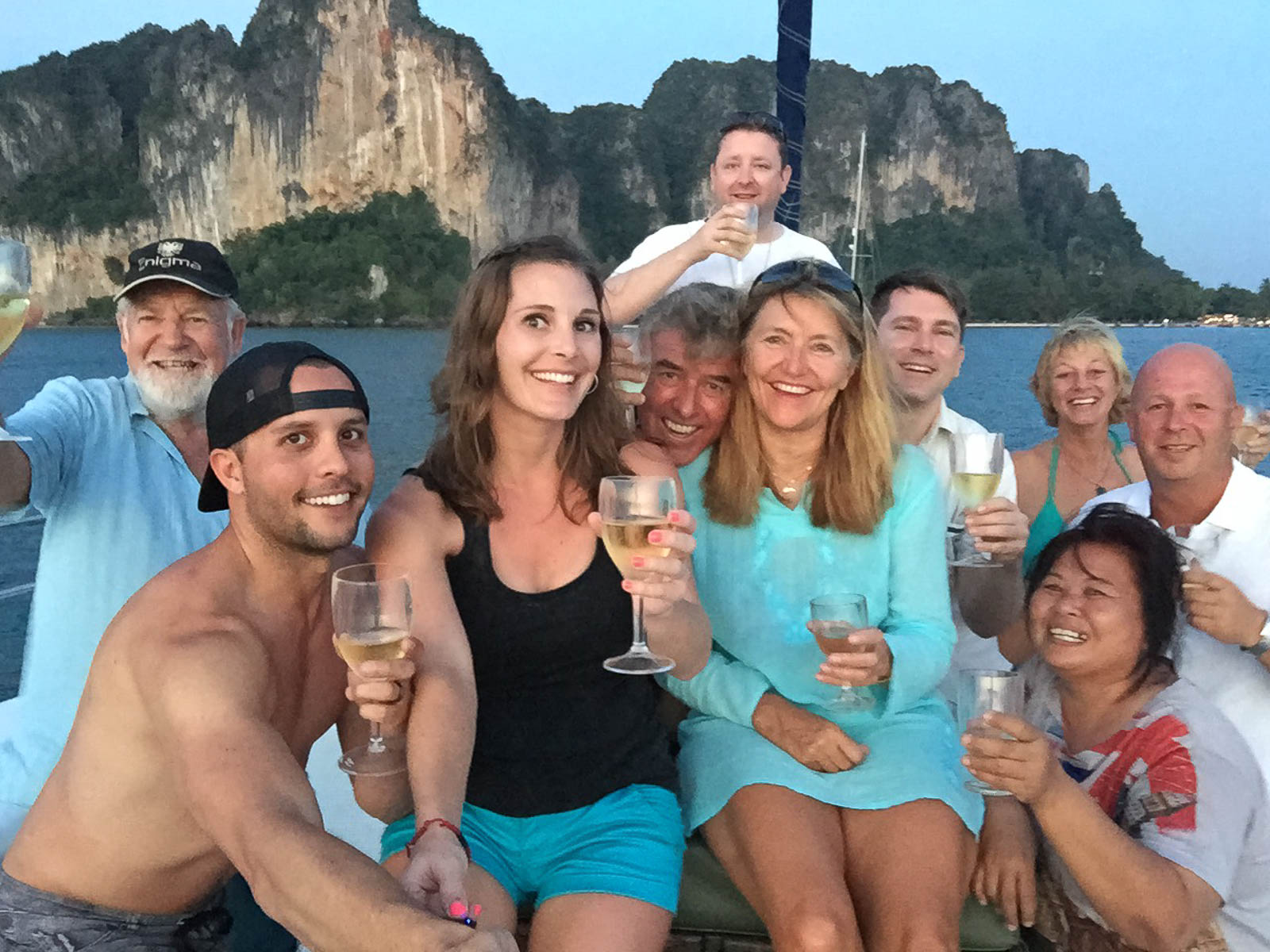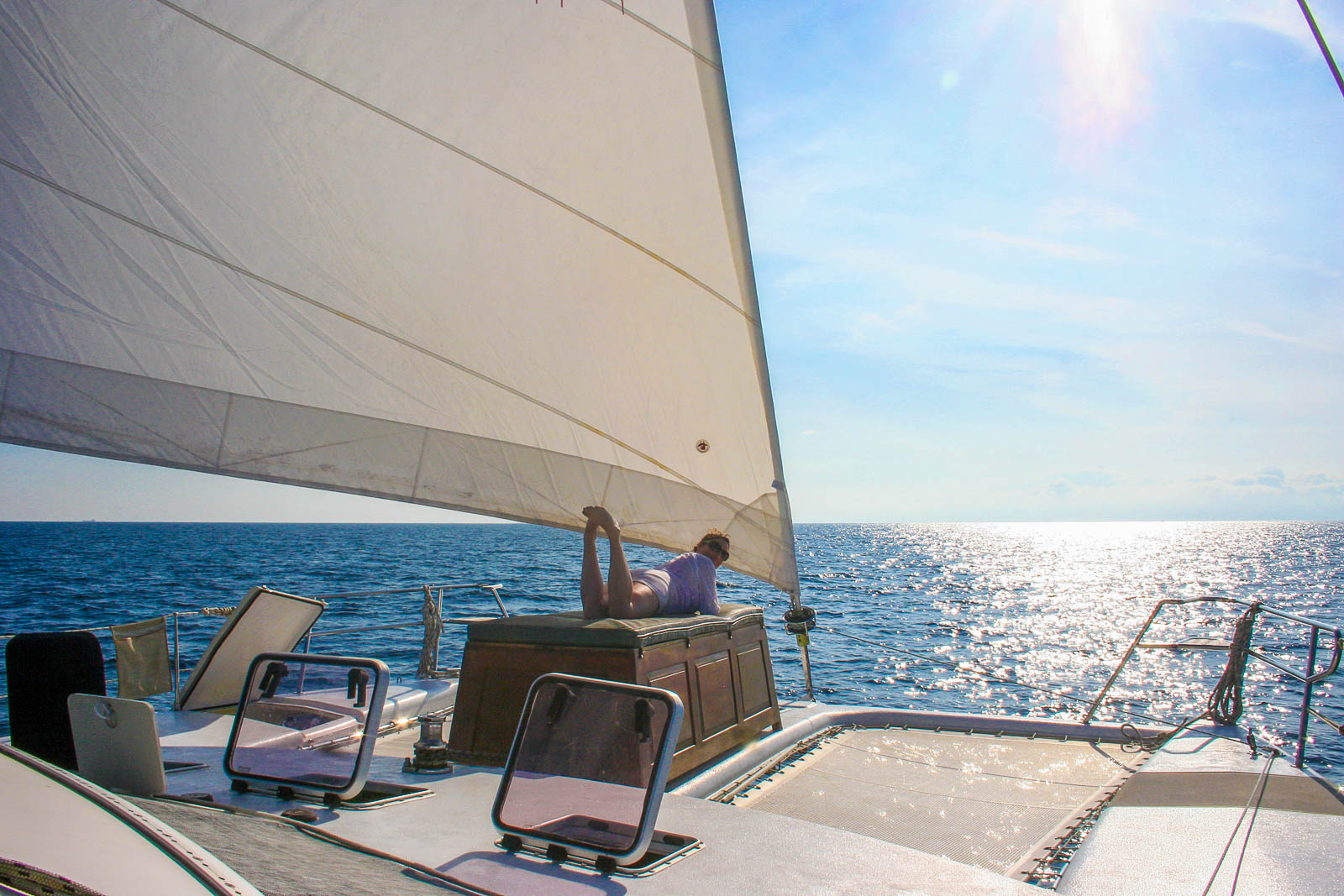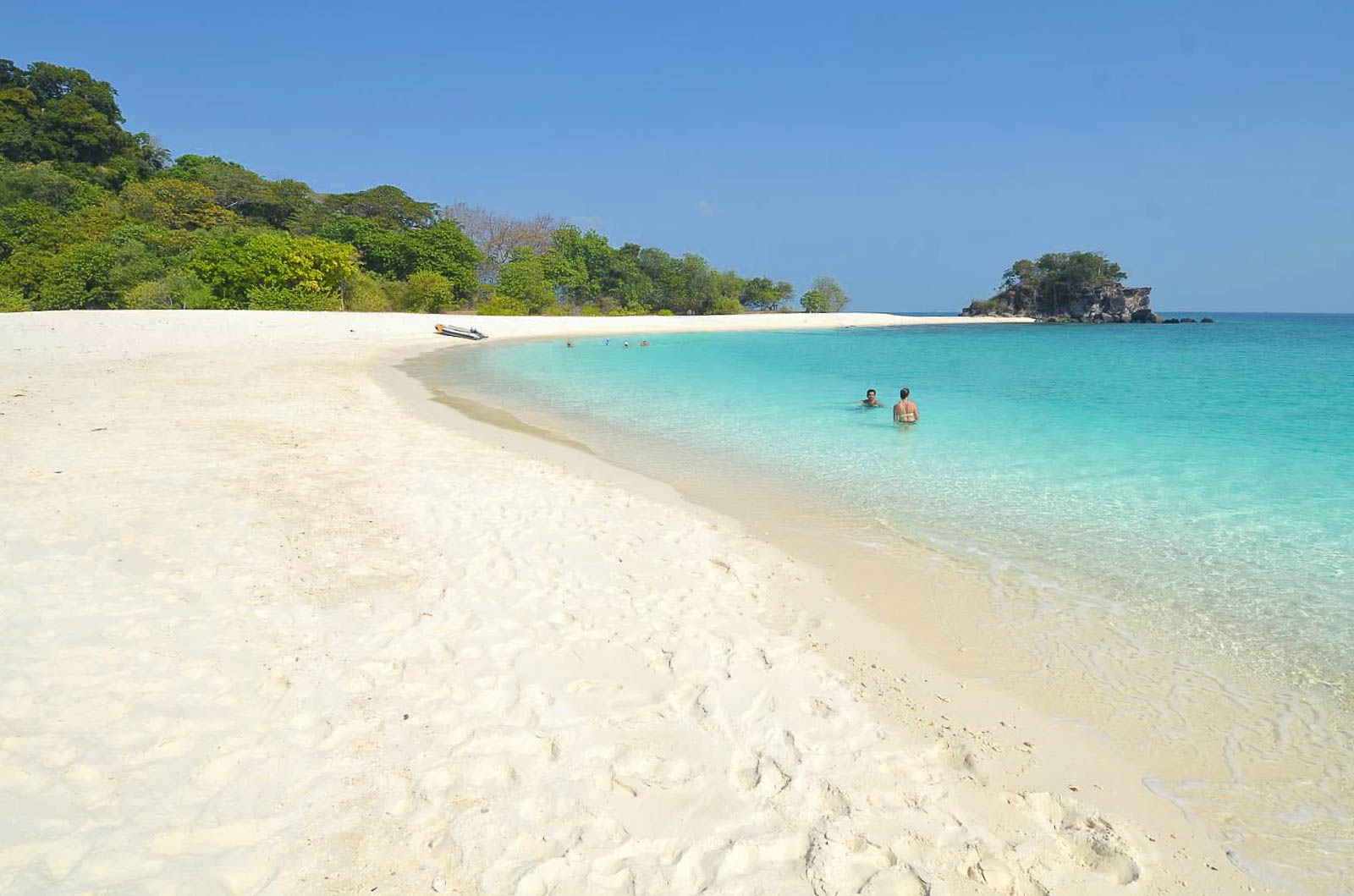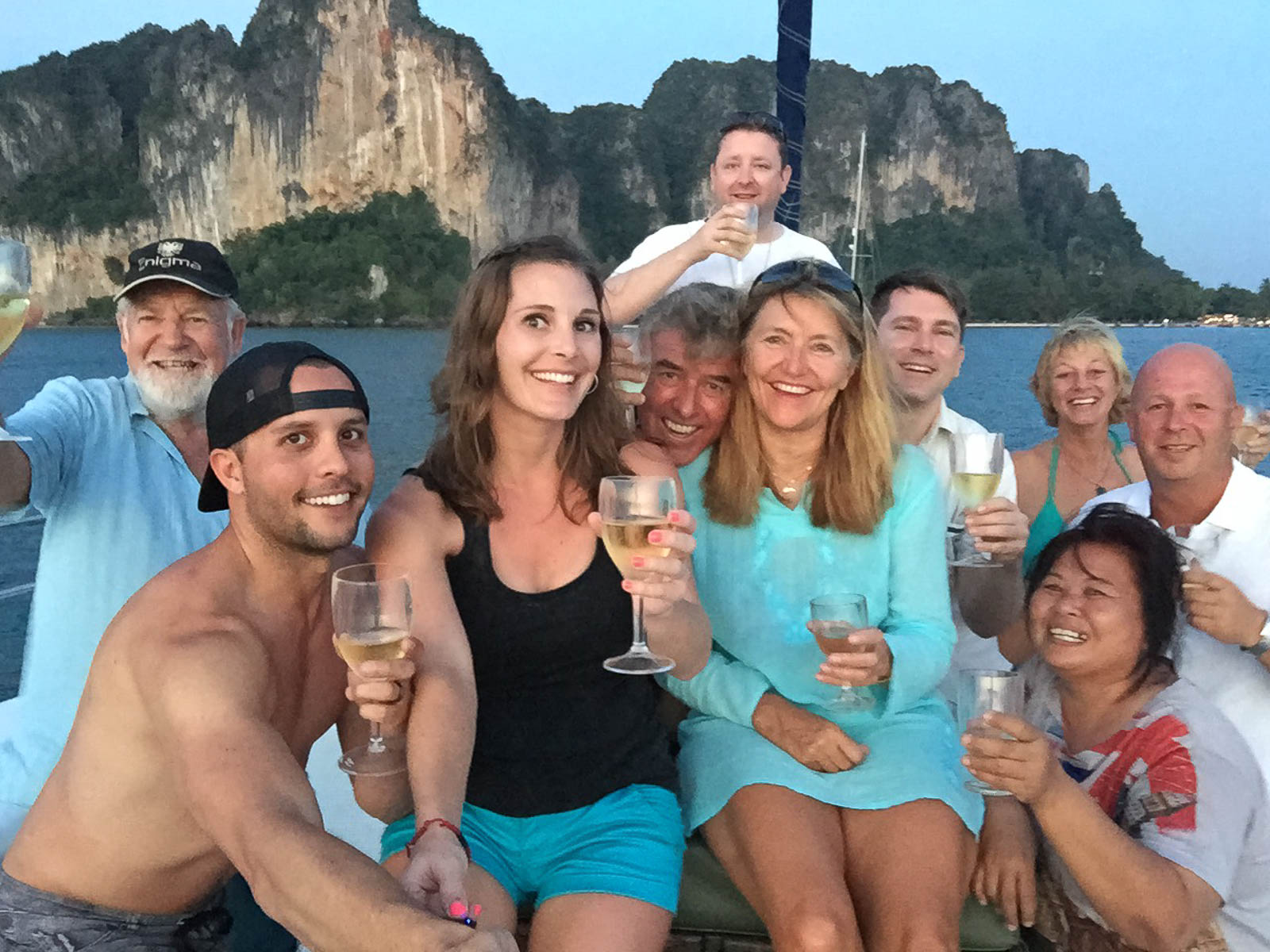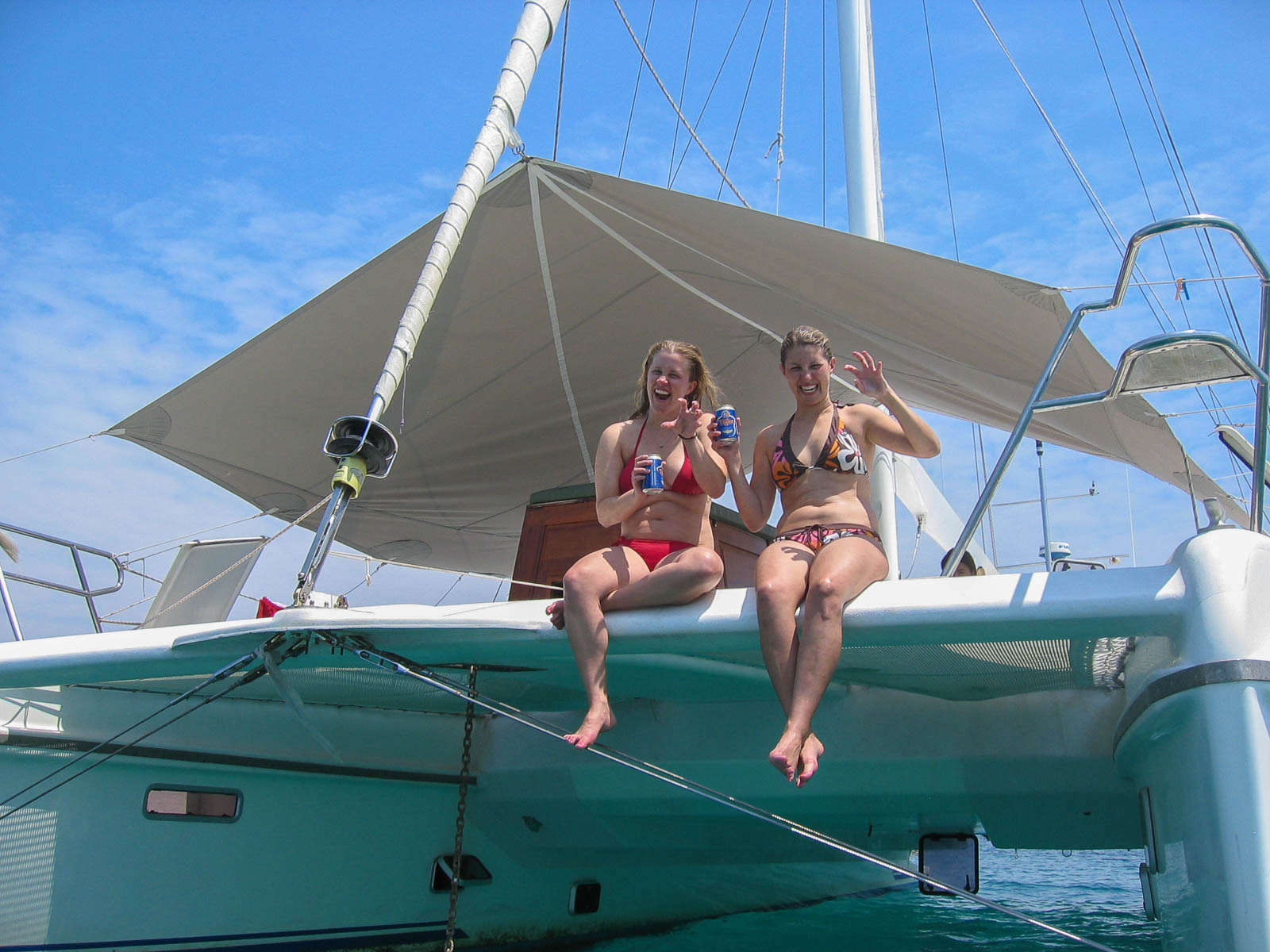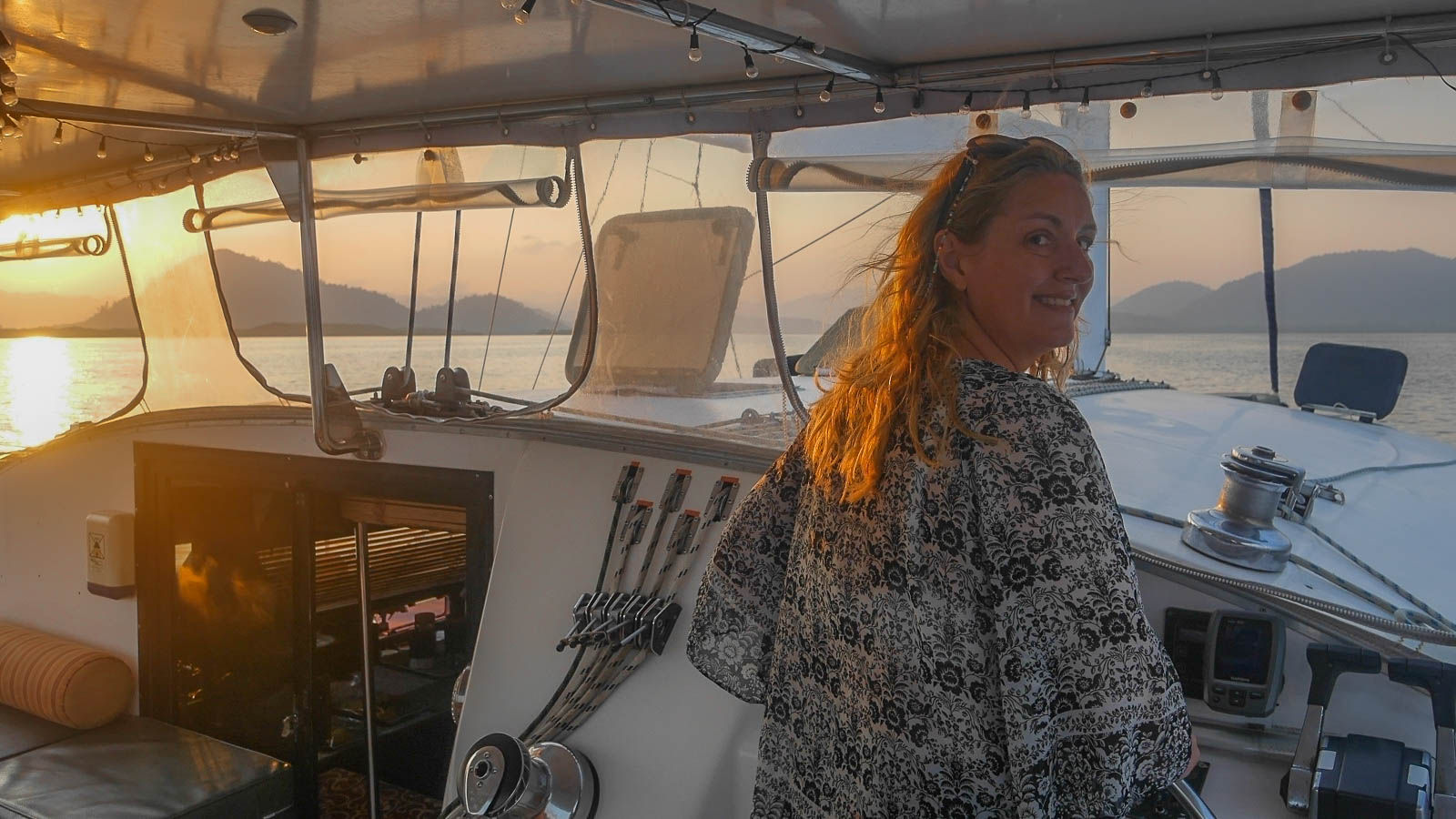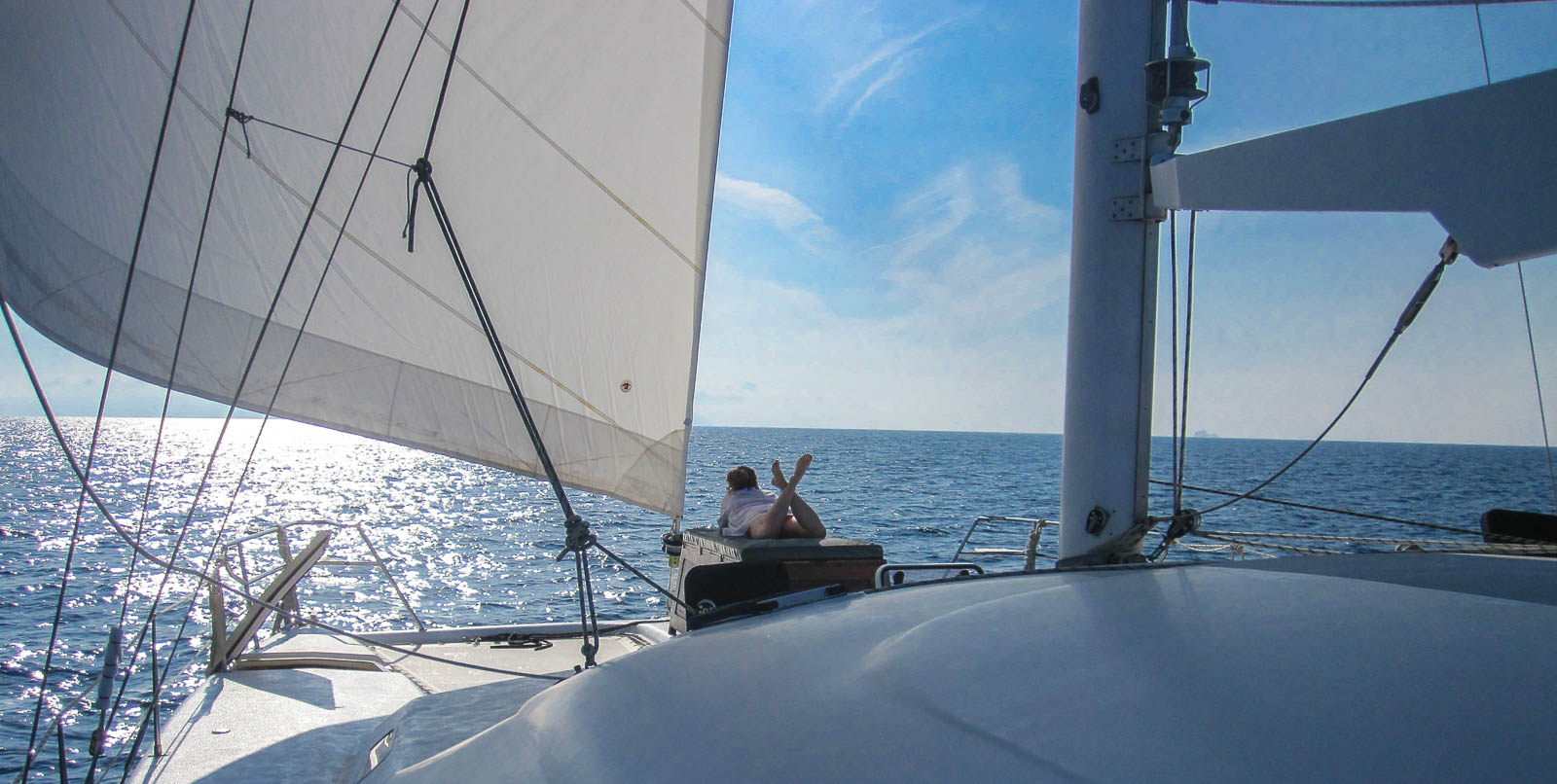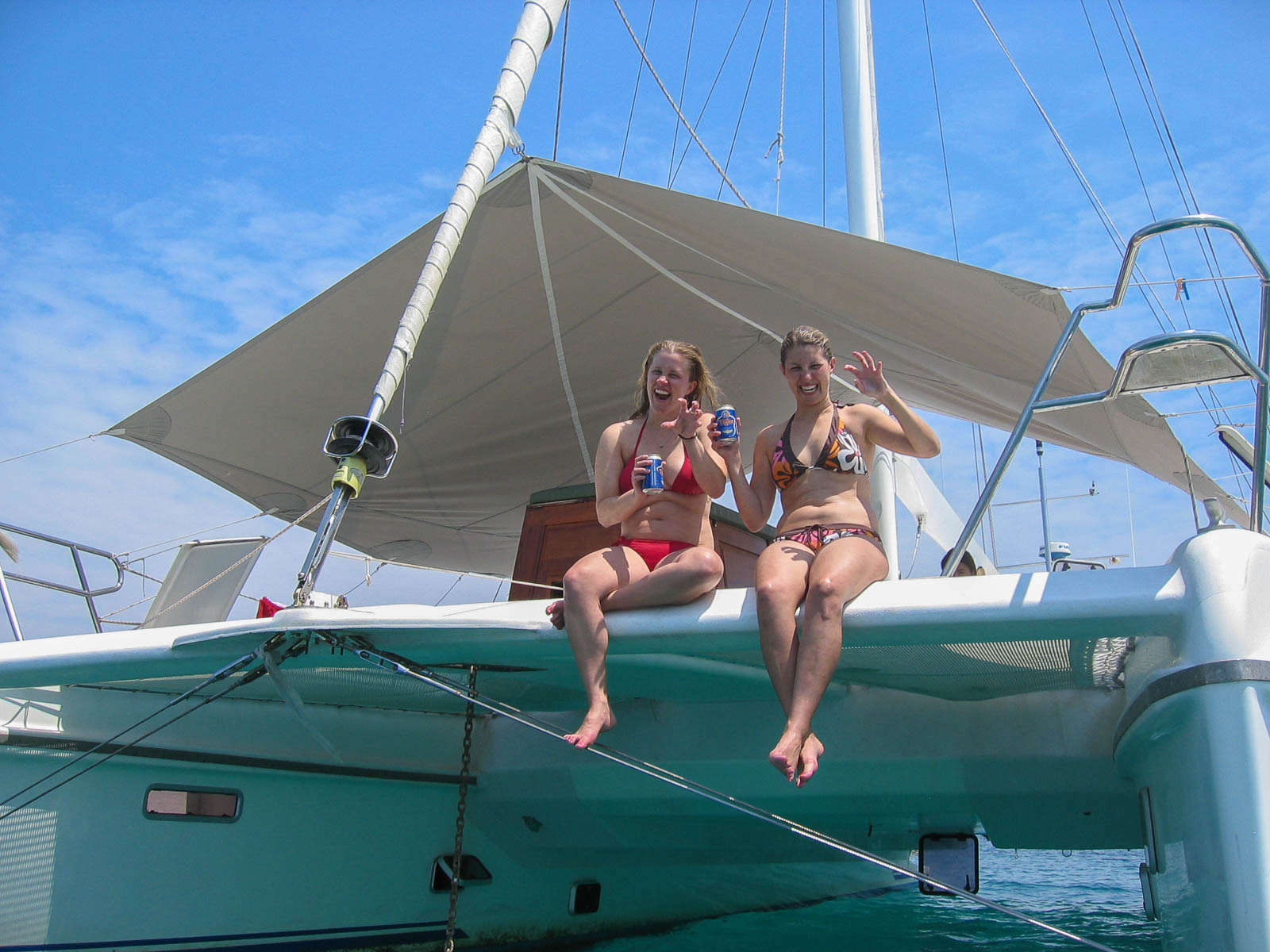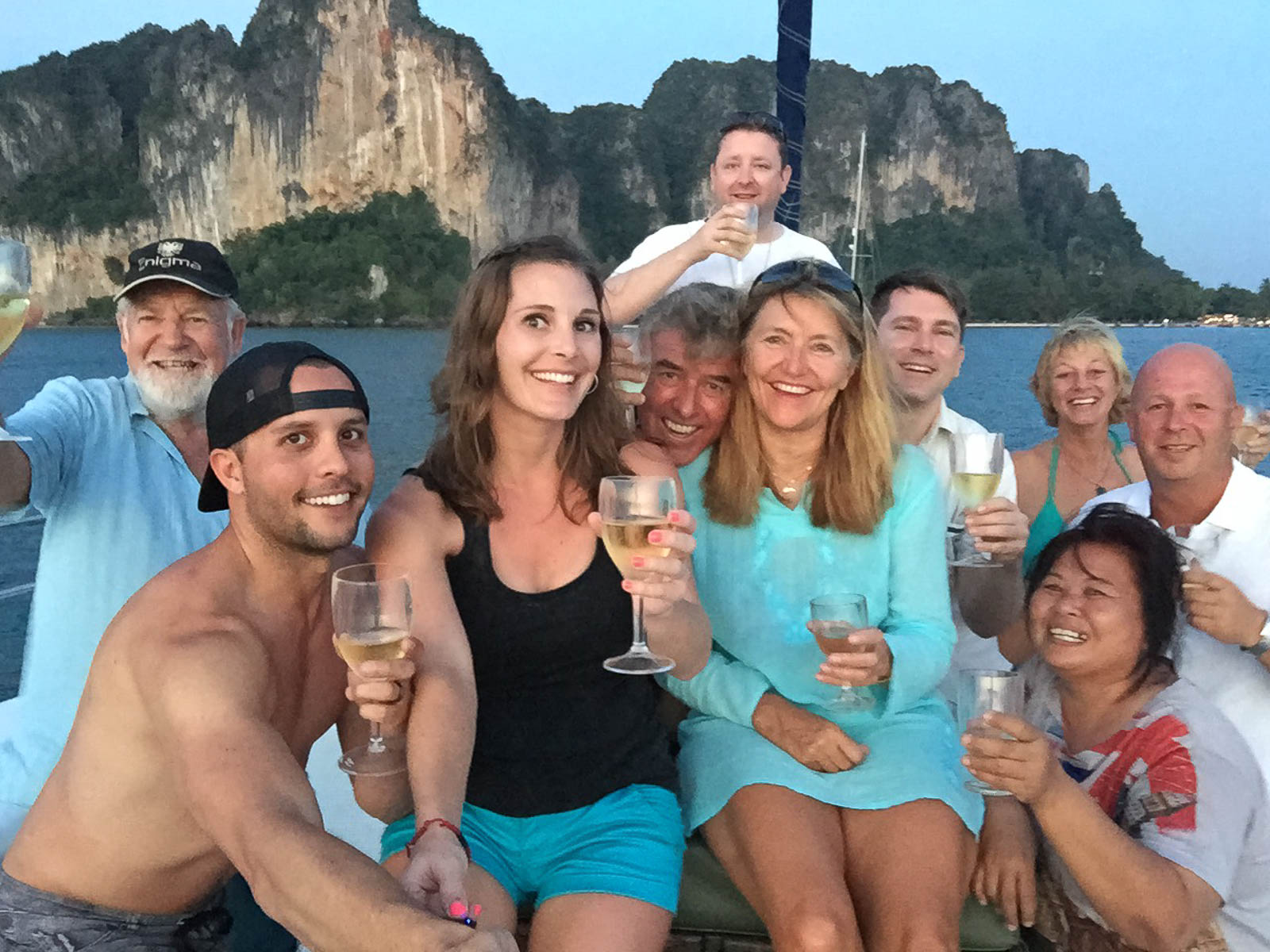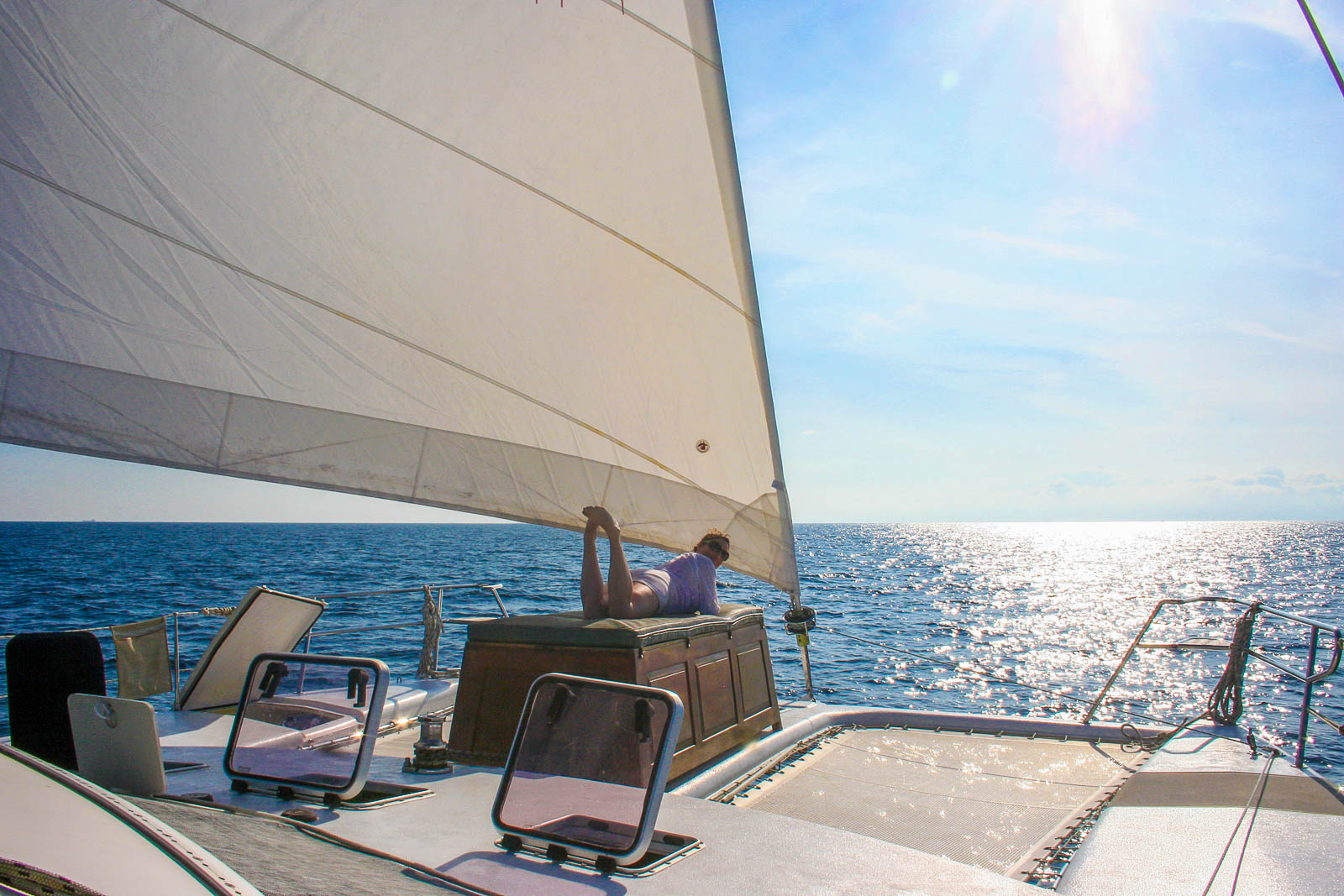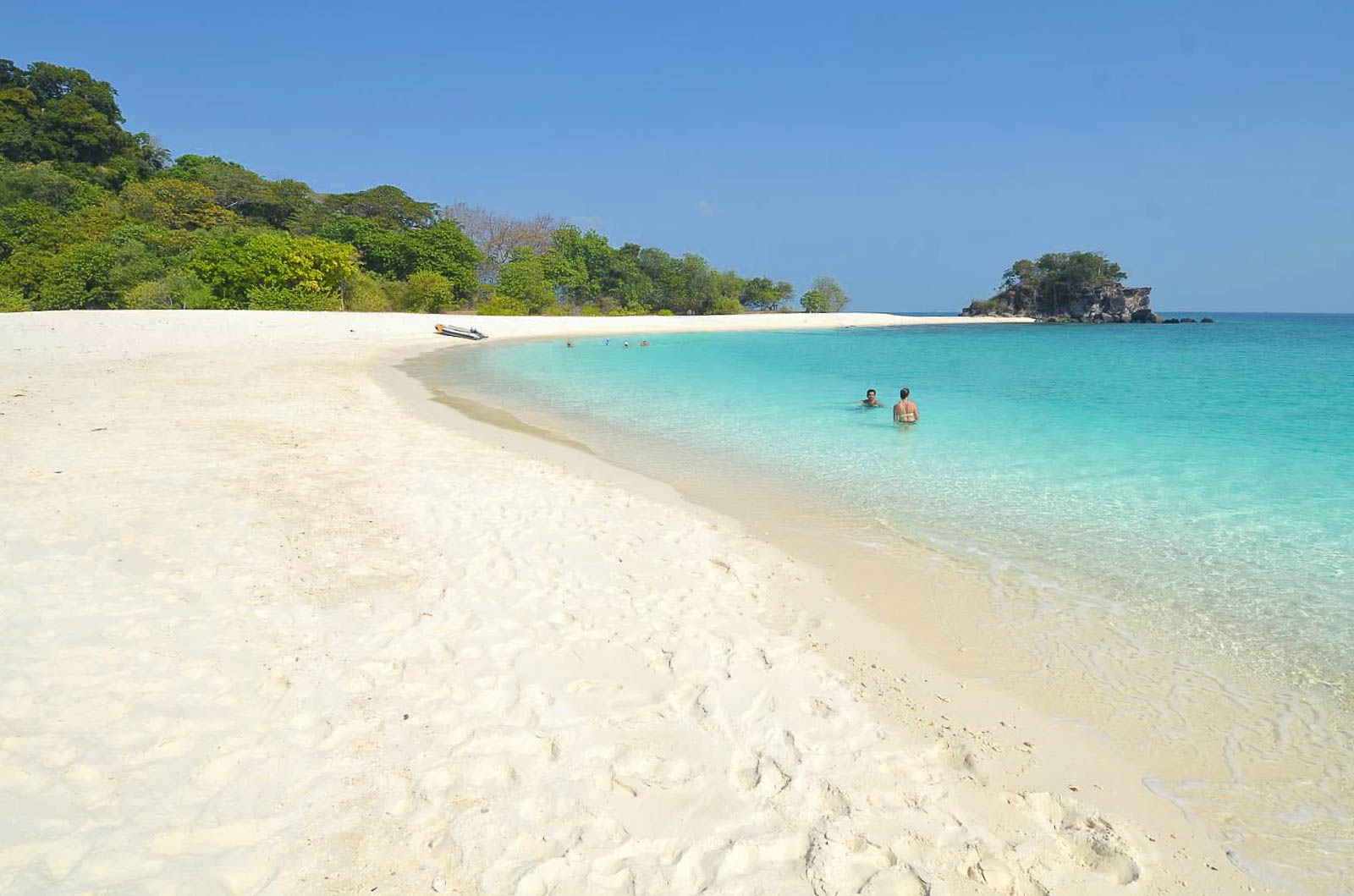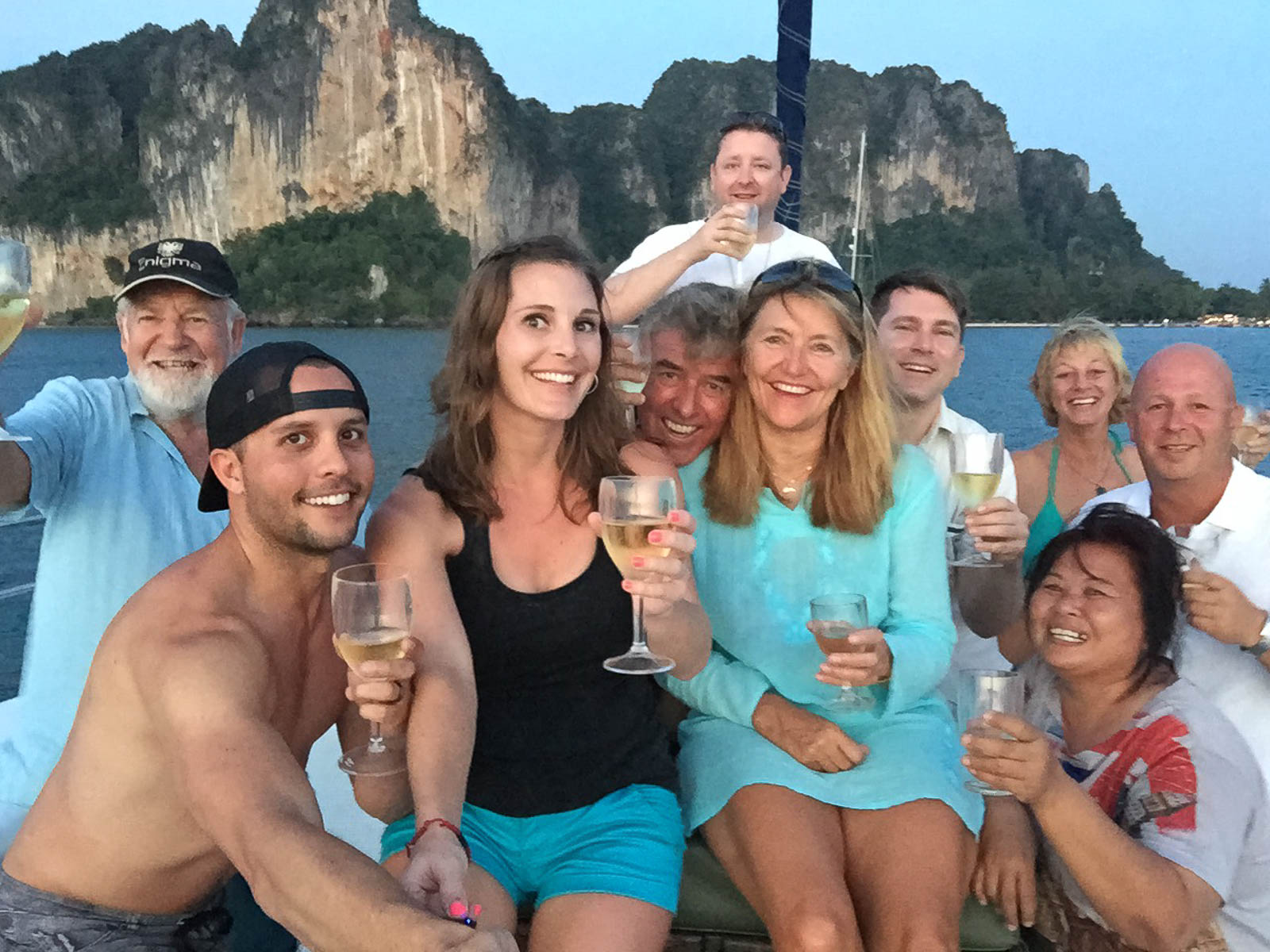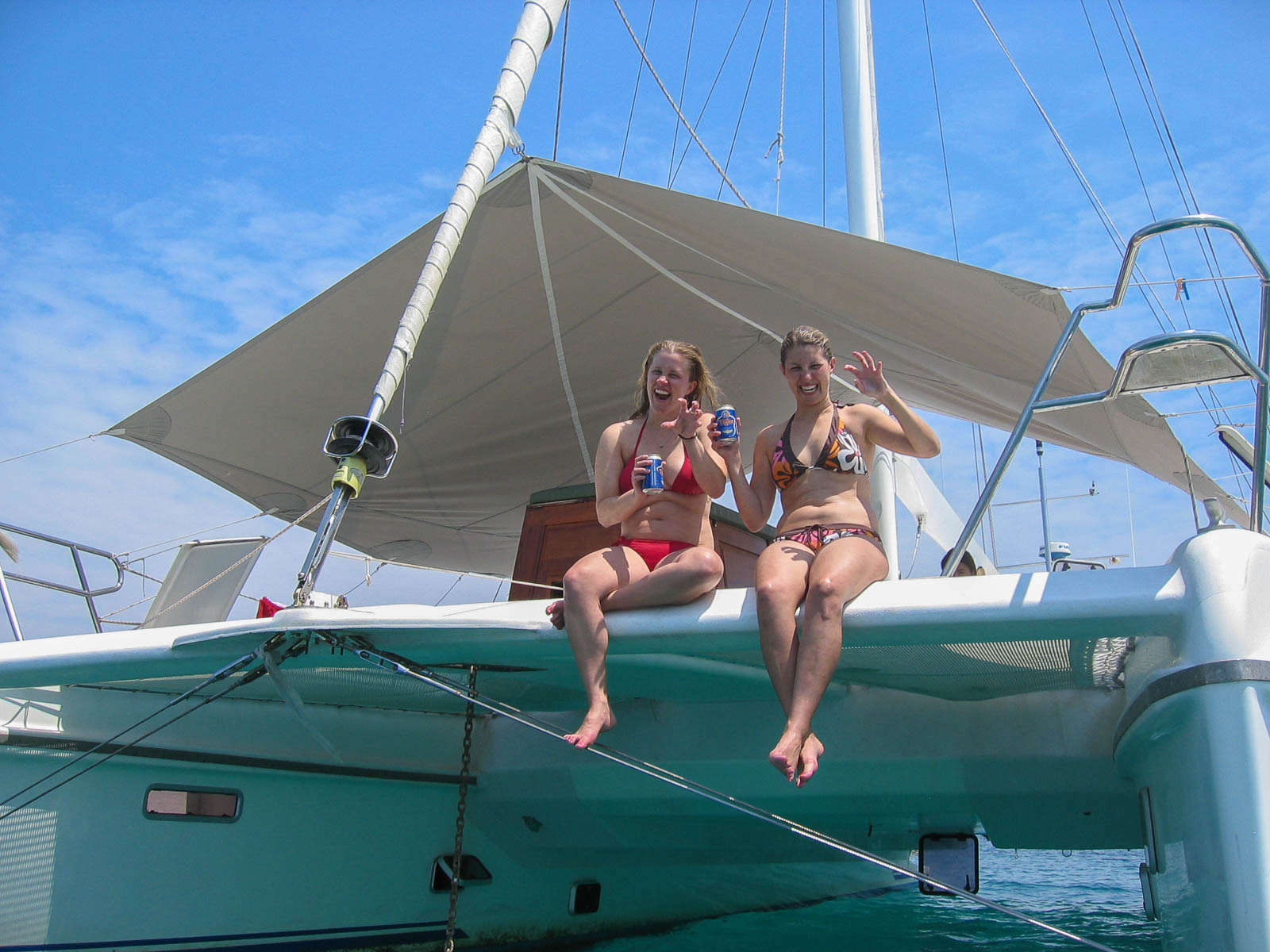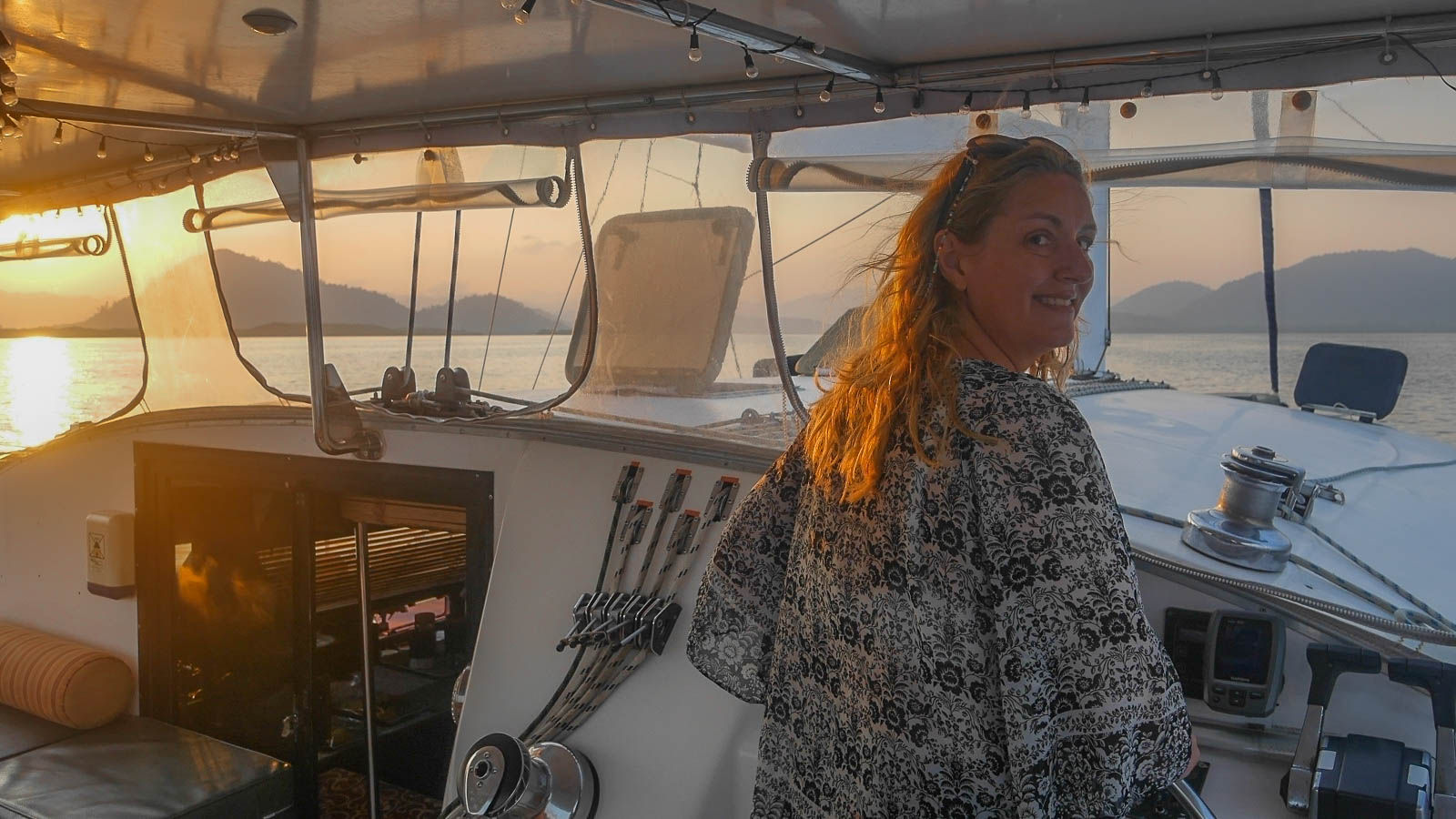 What's Included
We are very unusual in the yacht charter world in our "No Surprise Extras" philosophy. Read on for more details…
Inclusion
The 'Other Guys'
SeaScape
Diesel
Refill diesel tanks at end of charter
Allow around 200-250 €/wk
Unlimited
Water
20-30 euro per fill
Included
Boat insurance
Typical security deposit around 1500-2000€
Included
Mooring fees
Varies hugely from 0-80 €/night
Included
End cleaning
DIY at end of charter or pay up —approx 80-120 €
Included
Skipper
Anything between 150-200 €/day. "On duty" time generally considered to be sailing only.
Do your own shopping, sightseeing, and make sure you pay for/provide skipper's meals too!
Our skippers keep the boat well stocked with provisions, tell/show you the coolest local places to go.
Your insider connection to the locals and our little SeaScape "family".
Learn to sail?
Not usually.
Depends on the goodwill of the freelance skipper you get.
Informal sailing tips always available!
We're more than happy if people want to get involved in sailing the yachts.
Provisioning
Breakfasts, lunches, soft drinks, unlimited help-yourself snacks, fresh fruit, etc...
Alcohol
First Happy Hour round is on us - then you're welcome to BYO!
Dinner
Usually ashore in a restaurant
(in Thailand, about half of our dinners are onboard, prepared by our amazing cook!)
Meal service
We all help out!
Linen
Make your own beds!
We make 'em the first day; after that, it's up to you!
Price

Varies according to boat chosen.
Plus all the extras.

Add up all the extras for a bareboat-with-skipper and you'll find our prices are generally less.
Techie Specs
Built in Perth, Australia, 2001
Length: 16m
Beam: 7.5m
Guests: 8
Crew: 2-3
Fuel capacity: 1,000 l
Fresh water: 3,500 l
Engines: 2 x Perkins 65hp
Rigging: Furling main & genoa
Electricity: 12V / 220V
Fans in all cabins
Boat toys
Tender + 15 hp
NO movie system on this boat! We are IN a movie set already 🙂
2 x two person sea kayaks
Snorkelling equipment
Optional extras – masseuse, yoga instructor
Scuba can be organised with local dive outfits